Anyone who has followed Andre Blake knows the freakishly-athletic Jamaican goalkeeper is not nervous on the big stage. With back-to-back NCAA tournament wins going to penalty kicks and a shutout streak spanning almost 1000 minutes at UConn back when he was a freshman, the 6-foot-4 keeper has been calm under duress.
But when the Philadelphia Union traded up to the No. 1 overall spot in the MLS SuperDraft in order to select Blake, the young man was caught in a unique moment. Here he was in front of his new supporters as they chanted to him that he was now "one of us."
"Just being there, in Philadelphia, being drafted by Philadelphia Union at No. 1 is a great feeling," Blake told PST on Friday afternoon. "The fans reaction after it, I felt at home with it.
"The experience was a great experience, one you'll remember for the rest of your life."
RELATED: Surprise of the 2014 MLS Draft: Philadelphia took a goalkeeper. Hmmm… (by Steve Davis)
Having traded up to select him first, it's no surprise Philadelphia manager John Hackworth calls Blake  "the best guy in the whole draft." The Union boss loved his draft and the keeper was key to that adoration.
Yet Hackworth said Blake won't start and labeled the pick as the most significant competition for Zac MacMath, whose just 22, though you'd have to at least allow that it could be a show of lip service to the vet considering Hackworth's description of Blake is that the rookie "can do stuff now that nobody in our league can do."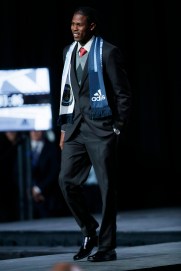 "I knew they were interested because I know the coach has been following me while I was at school," Blake said. "I had a talk with him two or three days before the draft, so I knew they were interested. I just didn't know what to expect."
Blake established himself well over three years at UConn that saw the Huskies advance past the NCAA quarterfinals in each year. As a freshman, Blake started all 25 games, going 19-3-3 with an absurd 15 clean sheets. As a sophomore, he repeated as BIG EAST Goalkeeper of the Year, with 12 clean sheets.
Though those gaudy numbers weren't quite replicated this season — he only had 10 shutouts — Blake proved invaluable when UConn eliminated UMBC and No. 1 UCLA from the NCAA tournament in penalty kicks.
How was that experience?
"That was just brilliant," Blake said. "People say it's a lot of pressure for the keeper but I took that and flipped it around. I put all the pressure on the kicker, knowing that the kicker's expected to score. It worked."
RELATED: MLS, Philadelphia having difference of opinion on Maurice Edu (by Steve Davis)
A member of the U-17 and U-20 Jamaican national teams, he says he has a good relationship with MLS Reggae Boyz like Darren Mattocks and Omar Daley.
Blake dreams of manning the nets for the full senior side in addition to becoming the top goalkeeper in Major League Soccer. And down the line, he sure would love to take shots on club soccer's biggest stages.
"My ultimate goals are to one day play in the Barclays Premier League," Blake said. "But I want to take it one step at a time and show MLS and Generation adidas that I'm very appreciative of them for choosing for me such a thing like this. I want to go into the league, be very dedicated to my team and take it from there."
Blake laughed when asked to pinpoint the most interesting thing about him. He's a cool customer who likes his Bob Marley and keeping a calm perspective.
"The most interesting thing about me is I'm a totally different person off the field than on it," Blake said. "I'm a laid back guy who wants to play a little bit of music and anybody can feel free to come up to me and have a conversation."