Manchester United continue to struggle against top of the table teams this season as a trio of goals from Samuel Eto'o extended Jose Mourinho's unbeaten Premier League run at Stamford Bridge.
The storied striker couldn't miss on the day, as everything went his way to give Chelsea a deserved victory.  United got one back late but it's little to hang their hat on as Nemanja Vidic was needlessly sent off late, adding insult to injury.
Eto'o struck with a deflected shot under 20 minutes in, and again just before halftime to give David Moyes no way back.  There was a clear gap in quality between the sides, as the new United manager will now find it nearly impossible to maintain his outspoken title hopes.
The visitors wasted no time getting their feet under them, as Ashley Young tested Petr Cech under two minutes from kickoff.  The Red Devils pressured every single Chelsea ball handler, and the home fans were vocally frustrated early.
The tough luck for Manchester United would continue though, as a very tough break would lead to a Chelsea goal against the opening run of play.
With Chelsea on the break in the 17th minute, the ball bounced around and fell to Samuel Eto'o.  A brilliant bit of individual play saw him send Phil Jones tumbling to the ground with a one-two move, and fire on goal from distance. The shot immediately deflected off Michael Carrick's outstretched foot, and the carom looped the ball up and into the top corner.
While the deflection serves as a tough-luck finish on the visitors, the move by Eto'o to get past Jones and give himself space for the shot deserves plenty of credit.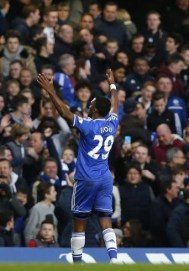 Adnan Januzaj, playing with free rein behind Danny Welbeck was fabulous for United in the first half, but had little support. A number of times he cut a ball across the face of goal with nobody there to connect.
The young Belgian found Welbeck in the 37th minute, but with the 23-year-old in on goal, Cesar Azpilicueta made a last-ditch tackle to force the striker into shooting straight at Cech. United fans may rue the lack of a penalty given by referee Phil Dowd, as Azpilicueta lashed through Welbeck's feet from the back without contact on the ball.
With Manchester United failing to finish their chances in front of goal, Eto'o would make them pay with his second just before halftime.  Ramires found Gary Cahill on the right flank, and the defender crossed perfectly to Eto'o who lashed home from close range. Manchester United goalkeeper David De Gea could have done better, but given little time to react the ball deflected off his feet and into the net behind him.
After the break, Eto'o would complete his hat-trick thanks to the hard work of Cahill yet again.  Off a corner Cahill slotted himself into a bit of space in the box, and the defender leaped above all else for the header.  De Gea's reaction save was on point, but Eto'o was waiting to pounce on the rebound and he did just that for the tap-in.
Manchester United made a few changes to personnel and tactics, looking to claw their way back into the match, but with time running out and Chelsea bringing on defensive reinforcements, they could only muster one consolation goal from substitute Javier Hernandez with 12 minutes remaining.
That was little consolation for Manchester United, who had to finish out the final three minutes of stoppage time with 10 men and will be without Nemanja Vidic for the forseeable future after the United defender hacked down Hazard in frustration and was sent off.  They were lucky not to receive another as just after Rafael went into Gary Cahill with two feet elevated but only received yellow from Phil Dowd.
The victory for Chelsea keeps them on pace with Arsenal and Manchester City, just two points off the lead in third place as Mourinho looks to make his case for the Premier League title.
For David Moyes though, his continued inability to get results against top clubs will allow Manchester United fans to continue to ask questions about his ability to take the club back to its former heights.  They remain back in seventh position, four back of Moyes' old club Everton and just one above Newcastle in eighth.
GOALS:
Chelsea – Eto'o 17′, 45′, 48′
Manchester United – Hernandez 78′
DISCIPLINE:
Manchester United – Vidic (straight red) 90+1′
LINEUPS:
Chelsea – Cech; Ivanovic, Cahill, Terry, Azpilicueta; Ramires, Luiz; Willian (Matic 86′), Oscar (Mikel 68′), Hazard; Eto'o (Torres 79′).
Manchester United – De Gea; Rafael, Evans, Vidic, Evra (Smalling 51′); Valencia, Carrick, Jones, Young (Hernandez 56′), Januzaj; Welbeck.