LONDON – Jose Mourinho celebrated his 100th Premier League win in charge of Chelsea on Sunday in style, as his swaggering side ruthlessly dispatched Manchester United with a sublime display of clinical finishing.
Mourinho, who reached the milestone after just 142 games, became the fastest manager in PL history to reach a ton and his Chelsea side is hitting peak form at just the right time.
On the pitch Samuel Eto'o was the hero, as the Cameroonian striker bagged a hat trick in a rout that showcased why Mourinho's men are serious contenders for the PL crown. With five wins in a row, the Blues are hot on the heels of Arsenal and Manchester City above them and they highlighted many of the reasons why Man United are languishing in seventh.
As for Mourinho's big day, the Portuguese boss brushed off his remarkable achievement when speaking to reporters after the 3-1 win.
"What it means to me is that we won today, I don't care about the record," Mourinho said. "I don't like these records like 'how many matches we have won at home', blah, blah, blah. I want to win the next match. It's quite a coincidence that the 100th win was against Man United, as the first win came against them and the previous owner of the record was the Man United manager, so it's quite a coincidence. But the important thing for me is that these 100 wins have given 300 points to Chelsea, and especially today these three points are very important for us."
After the third goal went in just after half time, the home fans around Stamford Bridge could relax. They promptly belted out chants of "Super Chelsea. Super Chelsea FC. We're by far the greatest team, the world has ever seen."
Many would argue they're the best team in the Premier League right now, and favorites to win the title, but what did Mourinho think of his sides performance?
"We have to improve, I want better," Mourinho said. "The first twenty minutes were not good, we have to improve. I want us to be in control of the game since the beginning and we were not. But the good thing was that we kept calm and kept the organization. But I want my team to do better. We have good kids and good players and the older one gave stability to the team."
(MORE: Chelsea 3-1 Manchester United: Eto'o hat-trick extends Moyes misery)
As Mourinho's comments reinforce, United were the better team for the opening 15-20 minutes, but Eto'o's opener change the complexion of the match.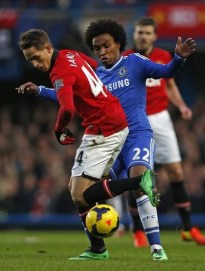 It was a big call from Mourinho to start Eto'o up top on his own (especially with Fernando Torres in blistering form with two goals in his last two PL matches) and have a young attacking trio of Oscar, Eden Hazard and Willian supporting him from midfield.
But Eto'o, and the young attackers, delivered. Big time. Eto'o, so often a man for the big occasion, came up with the goods once again in his glittering career, as the 32-year-old became only the fourth player in PL history to score a hat trick against United, joining Romelu Lukaku, Dirk Kuyt and David Bentley.
His first goal came courtesy of a curling effort that deflected off Michael Carrick and past David De Gea, while his second was a tap in from Gary Cahill's cross and Eto'o's third was a clinical prod home from close range.
Mourinho hailed Eto'o's clinical performance and gave his reasons for starting with the veteran, instead of in-form Spaniard Fernando Torres.
"It is a fantastic moment, for one of my players to score a hat trick against Manchester United," Mourinho said. "My thought was that Man United is not coming here to give me spaces behind the defensive line. United will come here to be compact, with Jones and Carrick in front of Vidic and Evans. I thought Samuel is more of a player that has better technical ability and is good in small spaces. His movement in small spaces is different than Fernando, it was a difficult decisions because Fernando is scoring goals. My feeling for this game was that Samuel was better adapted."
That hunch paid off big time for Mourinho.
Buoyed by Eto'o's opener in the 17th minute, Chelsea stormed forward in search of a second in the first half. Hazard showed United defenders Rafael and Nemanja Vidic a clean set of heels on numerous occasions as the Belgian youngster sped down the left wing with real purpose for most of the afternoon.
(MORE: Latest Premier League Standings)
In the 40th minute came a great example of what Chelsea's philosophy is all about. Willian raced clear down the left on the break, then played the ball inside to Hazard who jinxed and darted in amongst United's defense before cleverly scooping the ball to Eto'o. The Cameroon striker saw his effort deflected in the path of Oscar whose acrobatic bicycle kick went just over the bar.
You want to talk about Chelsea's style? In that 20 second passage of play, all that's good about Mourinho's counter-attacking philosophy was on display. This was a glimpse of how the Blues can win the title, as they clinically dispatched the visitors.
That's a quality Mourinho admires and enjoyed from his side.
"My players showed solidarity," Mourinho said. "Normally we need four or five chances to score a goal. Today first shot, first goal. Second shot, second goal. So things were going in our favor."
Chants of "Jose Mourinho, Jose Mourinho" rung out from the majority of the 41,465 fans crammed into one of English soccer's most famous grounds as the game petered out into a comfortable Chelsea win as the home side got the breaks. Were Chelsea that good? Or United just quite bad? It's unclear whether or not this was the best examination of the West London sides title credentials.
Regardless, the 'Special One' got a ruthless and clinical performance from his side, as their defensive solidity and lightning-quick attacks showcased exactly how Mourinho plans to get another 100 wins in the PL. If they carry on like this, it's hard to not see them winning the PL title this season.