With Manchester City flying high, strike man Edin Dzeko may be headed elsewhere in search of regular playing time as Sergio Aguero has returned from injury.  The Bosnian has bagged 15 goals across all competitions for Manchester City (five in the Premier League), but with the trio of Aguero, Alvaro Negredo, and Jesus Navas firing on all cylinders, Dzeko will be sent back to the bench.
According to German outfit Die Welt Wolfsburg could make a run at their former striker, fresh off shelling out £16 million ($26.2 million) for Chelsea winger Kevin De Bruyne.  The 27-year-old spent three and a half seasons at the Bundesliga club before making a big £30.5 million ($50 millio) move to the Etihad in January of 2011.
That would be a heck of a January haul for the 5th place club, and would give Wolfsburg a massive boost as they search for a return to the Champions League.
As one rumor sees a star Premier League player possibly headed to the Bundesliga, there has been plenty of noise that young Julian Draxler could be headed in the other direction.  His Schalke manager Horst Heldt has done his best to quell the speculation, and while that may be impossible, he's certainly sewed the seeds of doubt across Gunner nation.
"I have not been told that Julian would like to leave us, either in the winter or the summer," 
Heldt said
. "There have not been any requests from any club regarding Julian. It boils down to wild speculation, which has been happening in England. The clubs would have to tell us if they were interested."
Draxler has been publicly coveted by Arsenal defender Per Mertesacker, while it's no secret manager Arsene Wenger feels the same. However, they'll be put on alert now that his home club has come out to make a stand against losing their best young player.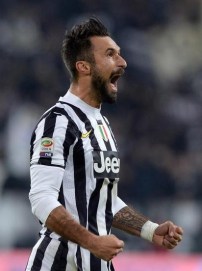 Many media outfits are speculating that ultimately the fate of this transfer lies in the hands of Arsenal's biggest rivals, Tottenham Hotspur.  They are rumored to be in negotiations to offload Lewis Holtby onto Schalke and the Spurs winger could serve as a replacement for Draxler, allowing them to then sell their man to Arsenal. But if Tim Sherwood decides he wants to nix Draxler's chances of seeing Premier League action, he could pull the plug on Holtby's move, causing Schalke to think twice about selling their 20-year-old assist machine.
Wenger is a seasoned vet when it comes to his media reaction to speculation.  Therefore, he wasn't biting when prompted with another rumor, a loan move for Juventus striker Mirko Vucinic.  Wenger stated Arsenal are "not especially interested in" the owner of 8 Serie A appearances this season. Relegated to a squad depth role at Juventus Stadium, 30-year-old Vucinic could be tempted by Wenger who is searching for a striker to serve a similar role. However, with the Serie A league leaders disappointingly out of the Champions League, this could be another chance for Vucinic to serve a role in Europe's highest competition.
Another name fresh on the lips of English media is Atletico Madrid's Spanish youngster Saul Niguez.  At just 19 years old, Niguez has impressed on loan at Rayo Vallecano in a holding midfield role.  But according to the Daily Mail Atletico have alerted Premier League clubs such as Manchester United, Chelsea  and Arsenal that he would cost a whopping €24.3 million ($32.8 million).  With a 79% pass completion rate and 49% of his tackles won (according to Squawka statistics) in a holding midfield role, it's unlikely anyone would pony up that kind of money for such a risk.