As managerial debuts go, it could have been worse. Four days into his coaching career, Clarence Seedorf already seemed to be having an impact on Milan, who controlled their Sunday game against Hellas Verona. Keeping 70 percent of the ball while recording seven shots on target, the Rossoneri left last week's embarrassment at Sassuolo in the past, a 1-0 result giving Milan a win in its first game since firing Massimiliano Allegri on Monday.
A cynic would note Milan failed to score from open play, Mario Balotelli's second half goal from the spot all that separated them from sixth place Verona. The underlying numbers, however, hint goals will come. It wasn't just the seven shots on target or the 25 overall shots toward goal. Seedorf's team dominated their opponents in those categories, their 620 passes marking the fifth time this season Milan's eclipsed the 600-mark (they're 2-1-2 in those games).  From a team that had only won once in their five previous league outings — one that hadn't hit that 600-mark since Dec. 1 — this was progress.
The way Seedorf set his team up also gave Milan fans reason to hope. Kaká played as a No. 10 behind Balotelli, with Robinho (left) and Keisuke Honda coming in from their respective flanks. The two-man shield of Nigel de Jong and Ricardo Montolivo allowed right back Mattia Di Sciglio and, to a lesser extent, left back Urby Emanuelson to burst forward. Daniele Bonera and Cristian Zapata, problems in central defense, were protected in part by formation, in part by possession.
Given the flaws in Milan's squad, it's pretty much the only way you can imagine them playing, though it's unfair to compare this set up to the ones Allegri used. The former boss never had a fully integrated Honda. He also didn't have the luxury of being able to discard promises and allegiances in the face of a failed fall. Seedorf gets the benefit of a clean slate.
Through one match, he's put that clean slate to good use. Though the team didn't convert his plans into goals, there's every reason to think they can, going forward. At least, the underlying numbers say they will. It's just a matter of continuing this level of performance next week at Cagliari.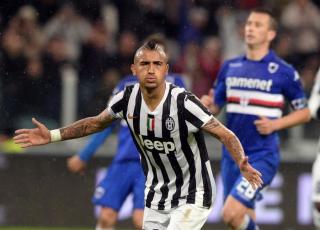 Goals keep pouring in for unbeatable Juventus
Juventus came into this weekend having scored at least three goals in four straight games, the latest victories in club record-tying 11-match winning streak that stretches back to Oct. 20. Although few thought visiting Sampdoria would hand the defending champions their second loss of the season, there was a chance Sinisa Mihajlovic's team could slow the Bianconeri down.  Before Saturday's trip to Turin, it'd been over two months since Samp had given up more than two goals.
But we're long beyond comparing Juventus to the rest of Serie A. As they showed again this weekend, any reference to what the rest of their league is doing is meaningless. Led by two goals from Arturo Vidal (bringing the Chilean to 10 in Serie A this season), Juventus posted a 4-2 win over Mihajlovic's team, bringing their season goal total to 50 goals through 20 rounds. Still eight clear of Roma at the top of the table, the question is less whether Antonio Conte's team will win the title than what records will they set along the way.
The club record for goals is 103, with Juventus currently on pace to score 95 times this season. With their recent uptick in scoring, however, that 63-year-old mark becomes a distant yet possible goal. While Juve would need to average 2.94 goals per game over the rest of the season to tie the mark, they're averaged over three per game since Dec. 1. Maintain that pace, and Conte's crew will have another club record.
The other milestone to shoot for is the team's points record. In 2005-06, their last season before being relegated during calciopoli, Juve accrued 91 points. This season, they're on pace for 104.
One way or another, this looks to be a record-setting year for Juventus, with their 12th consecutive win already earning this team a place in the club's record books. Should they continue to approach Inter's league mark of 17 wins in a row, other records will surely fall.
Elsewhere
Roma 3, Livorno 0 – First half goals from Mattia Destro and Kevin Strootman allowed Rudi Garcia's team to cruise, with Adem Ljajic's late insurance proving unnecessary in the Giallorossi's second straight victory.
Udinese 2, Lazio 3 – Down a man and a goal after an hour, Lazio came back through Antonio Candreva, Andrea Lazzari (own goal) and Hernanes, the Brazilan midfielder's 90th minute winner giving Edy Reja his second win in since returning to the Aquile.
Genoa 1, Inter 0 – The Nerazzurri wasted their chance to put some room between themselves and Verona, with Luca Antonelli's 83rd minute winner giving the Rossoblu their second win in three games.
Bologna 2, Napoli 2 – Down a man approaching full-time, Bologna got a second goal from veteran forward Rolando Bianchi, their draw leaving Napoli four points behind second place Roma.
Sassuolo 0, Torino 2 – After scoring four times last week against Milan, Domenico Berardi was kept off the scoresheet, with Ciro Immobile and Matteo Brighi giving Torino valuable points in their quest for Europe.
Atalanta 1, Cagliari 0 – Giacomo Bonaventura's 68th minute was enough to hold off Cagliari, who hit the woodwork three times while being kept off the scoresheet.
Chievo 1, Parma 2 – Alessandro Lucarelli's 93rd minute winner decided a match that'd gone over an hour without a score, with Alberto Paloschi and Antonio Cassano's early goals leaving the match deadlocked into stoppage time.
Catania 0, Fiorentina 3 – Alessandro Matri is paying early dividends for the Viola, with the Milan loanee's first half double leading Sunday's outburst.
Others
Juventus 4, Sampdoria 2
Milan 1, Verona 0
Standings
| | | | | | | | | | | |
| --- | --- | --- | --- | --- | --- | --- | --- | --- | --- | --- |
| Team | GP | W | D | L | GF | GA | GD | Home | Away | PTS |
| Juventus | 20 | 18 | 1 | 1 | 50 | 14 | 36 | 10-0-0 | 8-1-1 | 55 |
| Roma | 20 | 14 | 5 | 1 | 42 | 10 | 32 | 9-2-0 | 5-3-1 | 47 |
| Napoli | 20 | 13 | 4 | 3 | 43 | 22 | 21 | 7-2-1 | 6-2-2 | 43 |
| Fiorentina | 20 | 12 | 4 | 4 | 37 | 20 | 17 | 6-2-1 | 6-2-3 | 40 |
| Inter Milan | 20 | 8 | 8 | 4 | 38 | 24 | 14 | 5-4-1 | 3-4-3 | 32 |
| Verona | 20 | 10 | 2 | 8 | 34 | 31 | 3 | 8-0-2 | 2-2-6 | 32 |
| Torino | 20 | 7 | 8 | 5 | 33 | 27 | 6 | 4-5-1 | 3-3-4 | 29 |
| Parma | 20 | 7 | 8 | 5 | 31 | 27 | 4 | 4-4-2 | 3-4-3 | 29 |
| Lazio | 20 | 7 | 6 | 7 | 26 | 28 | -2 | 6-1-2 | 1-5-5 | 27 |
| Genoa | 20 | 7 | 5 | 8 | 20 | 24 | -4 | 5-3-2 | 2-2-6 | 26 |
| AC Milan | 20 | 6 | 7 | 7 | 32 | 30 | 2 | 5-3-2 | 1-4-5 | 25 |
| Atalanta | 20 | 7 | 3 | 10 | 21 | 29 | -8 | 6-2-2 | 1-1-8 | 24 |
| Sampdoria | 20 | 5 | 6 | 9 | 24 | 31 | -7 | 3-3-4 | 2-3-5 | 21 |
| Cagliari | 20 | 4 | 9 | 7 | 19 | 29 | -10 | 4-4-2 | 0-5-5 | 21 |
| Udinese | 20 | 6 | 2 | 12 | 20 | 31 | -11 | 4-1-5 | 2-1-7 | 20 |
| Chievo | 20 | 4 | 5 | 11 | 15 | 26 | -11 | 2-2-6 | 2-3-5 | 17 |
| Bologna | 20 | 3 | 8 | 9 | 19 | 35 | -16 | 2-6-3 | 1-2-6 | 17 |
| Sassuolo | 20 | 4 | 5 | 11 | 21 | 43 | -22 | 3-1-6 | 1-4-5 | 17 |
| Livorno | 20 | 3 | 4 | 13 | 16 | 36 | -20 | 2-3-5 | 1-1-8 | 13 |
| Catania | 20 | 3 | 4 | 13 | 13 | 37 | -24 | 3-4-3 | 0-0-10 | 13 |