"Hello you've reached the police, how can I help?"
"Yeah, could I speak to Sir Alex Ferguson, please?"
"Not by the 999 line, I'm afraid."
So begins an entertaining, yet completely inappropriate, call to the GMP Manchester North after Manchester United's loss to Sunderland in Thursday's second leg of the Capital One Cup semi-finals. A supporter was so filled with alcohol disgust at the Red Devils performance that he needed to speak with Sir Alex Ferguson.
And what better way to get a hold of him than by dialing 999 (England's version of 911)?
The Manchester Evening News has the audio here, and it's might as well be a radio show's comedy bit.
After the initial exchange of pleasantries, the caller goes on to ask for his hero again.
CALLER: "Sir Alex Ferguson… the result is all wrong. You have extra time and it was a total and utter load of rubbish."
OPERATOR: "Sir, you're actually on the 999 police line. Is there any crime you need to report to the police this evening?"
CALLER: "Yeah, a crime. I'll report a crime."
OPERATOR: "And what crime is that?"
CALLER: "The crime is that Manchester United, Manchester United, were absolutely knackered."
Look, I'd be troubled, too, if I just watched my favorite team put on a show that could've been titled, "My First Penalty Kicks," but I like to think that even a 100 bottles of single malt wouldn't have me on the horn with the local emergency line (Seriously, the call is funny for the absurdity of it but I don't need to hear about it happening in your town, despite what Chuck D. might proffer).
If you're doubting the validity, here's the Facebook page for the police (who are gifted in both dry humor and social media):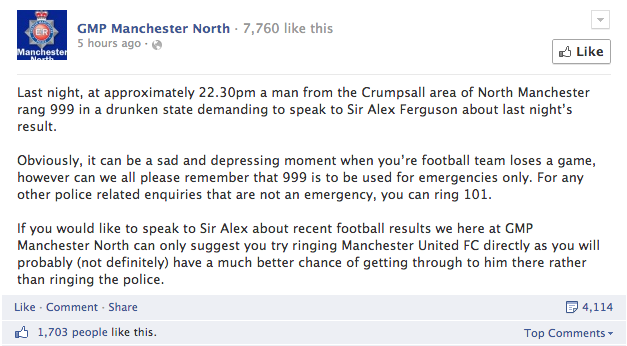 Truly.