Major League Soccer commissioner Don Garber claims his league is losing between $75-$100 million a year, a claim more likely a pre-collective bargaining stance than anything reflecting the league's true financial health. The claim does, however, highlight the state of MLS's maturation. With signings like Clint Dempsey's and Michael Bradley's, and with investments from clubs and the league helping the teams move beyond their first generation venues, it's easy to slant the books to make the league seem more impoverished than it actually is. Put those big, long-term commitments on the books now, and leave the league to look thriving once a new collective bargaining agreement is signed.
They're the same type of machinations that could also help the league's new partner deal with UEFA's Financial Fair Play regulations. Manchester City, who this week also acquired Melbourne Heart in Australia, have become one of Europe's big spenders since Abu Dhabi United took over the team in 2008. They've paid a premium to bring the likes of Yaya Toure, Sergio Aguero and Fernandinho (among others) to greater Manchester. In the process, they've served as one of the poster boys in UEFA president Michel Platini's quest to get big clubs' spending in line with their incomes.
Designated Players and Manchester City's new Marquee contract havens
That's where MLS (and the A-League, two leagues with permeable salary caps) come in. With no FFP-esque oversight in CONCACAF or its Asian counterpart, the AFC, those highly speculated Gareth Barry-esque loans become a way to get inefficient contracts off the books, giving City some extra room beneath UEFA's spending ceilings. If City can send Barry's salary ($10.37 million) and, say, Javi Garcia's ($7.26 million) to NYCFC while claiming their child club will cover the wages, the parent team all of a sudden has a significant amount of breathing room on their books. While Abu Dhabi United adds money directly to NYCFC's coffers, City gets some FFP flexibility they wouldn't get if their owners were merely writing checks to the club.
Under FFP, UEFA has the power to investigate these shady dealings. The problem is, on the books, this won't look shady. City will loan the players to NYCFC and have their wages covered by their partner. NYCFC will simply pay for them and either not have to explain that Abu Dhabi United's simply shifting money from one pile to another or confess that's what's happening while asking 'why shouldn't we be able to do this?'
Of course, that's all speculation. NYCFC is still a year away from taking the field. Who knows what their team will look like? Yet, if Manchester City so choose, they can fill their new teams' three Designated Player spots with City's less useful contracts. They can do the same at Heart with the A-League's Marquee Player rule (one per team). With whispers around MLS saying City has already secured promises for more lenient spending rules (perhaps more Designated Players), it's not difficult to imagine the Australian federation  making similar guarantees to lure a high-profile owner.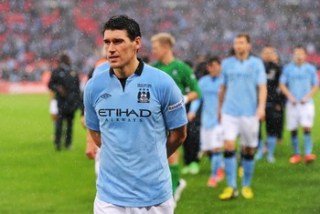 In the grand scheme of things, it could be seen as nitpicking at the margins. On the other hand, if City are able to take four contracts that aren't significantly contributing to their team, move them abroad, and get room within FFP to replace them, those could be the type of margins that make a difference at the highest levels. Given the gap between Arsenal and City at the top of the Premier League, or the gap in quality between Barcelona and City in their UEFA Champions League Round of 16 matchup, every little bit could help.
When UEFA implemented FFP, it's unlikely they anticipated these kinds of maneuvers. As Platini spoke against the continued spending of his confederation's biggest clubs, he never spoke about the possibility of "player havens" popping up across the globe. It's unlikely that's Manchester City's sole intent (the growth possibilities alone in MLS and the A-League justify the expenditures), but the havens are still a nice coincidence. How many of Europe's top teams would pay a one-time $100 million fee to have a permanent FFP work around?
Chelsea: Udinese, on a totally different level
In a completely different way, one City's Premier League competitors appear to be developing a different work around, one that was evident when they sold Kevin de Bruyne to Wolfsburg. Although Chelsea never significantly used their young Belgian attackers (loaning him out for 1.5 of his two years at Stamford Bridge), they were able to turn a nice profit on the former Genk star. Having become the Wolves' record signing earlier this month, the near-$15 million Chelsea netted in transfer fees will go toward their FFP bottom line. Though wages and other expenses take a bite into that profit, the Blues still made big money off their de Bruyne flip.
For purchases like Mohamed Salah, Chelsea's unlikely to experience that kind of profit. And with deals like Fernando Torres's, Gary Cahill's, Willian's and Eden Hazard's, they'll surely lose money, just as most teams do when they pay their key players. But among the 26 players Chelsea have on loan — including Vitesse's Christian Atsu, Middlesbrough's Kenneth Omeruo, and Valencia's Oriol Romeu — the Blues will have a few more de Bruynes. For every Thibaut Courtois or Romelu Lukaku that eventually breaks into Jose Mourinho's first team, there may be two eight-figure flips that pad Chelsea's FFP margins.
It's a model that Serie A club Udinese is built on, even if the Giampaolo Pozzo's team is operating on a much lower level. With 33 players on loan between the Serie A, Granada (Spain) and Watford (England), the Genoa-based club have set up an infrastructure that allows the Bianconeri to scoop up and house prospects across South America and Europe, hoping to find another Alexi Sanchez. Though the Zebras rarely find a player that allows them to collect over $35 million (as the Chilean did from Barcelona in 2011), smaller sales make the model work, with players waiting to be sold making up the squads of Pozzo's expanding number of clubs.
Instead of paying $1 or $2 million on true prospects, Chelsea's able to spend much more on more established talents. And while those players' values mature — while they're out on loan across Europe — most of the wage burden is being picked up by other clubs, leaving only the balance and an amortized transfer fee on the Blues' FFP bottom line. Instead of selling on the Sanchezes of the world, Chelsea keeps the stars they develop, with the rest of their sales addressing their financial end.
That end isn't profitability. It's Financial Fair Play – rules implemented to try to bring clubs' spending in line with income. In the case of Chelsea and Manchester City, however, new approaches are (or will) allow them to play beyond FFP's pure intent. For Chelsea, that means becoming a broker for emerging talent, helping them to either the Premier League or some nice wages while they await their next permanent home. For City, that means setting up franchises across the world, with the rules of each region potentially helping the Citizens transcend UEFA's limits.