Following Chelsea's 0-0 stalemate with West Ham United on Wednesday, eccentric manager Jose Mourinho has had plenty to say about the Hammers negative tactics.
First, the facts.
Chelsea out-shot West Ham 39-1. They had 72 percent of the possession. The final score… 0-0.
Despite a barrage of pressure, countless shots and the lion's share of possession, Chelsea just couldn't break down a stubborn West Ham defense that barely left their own half of the field during the entire 90 minutes. An inspired performance from Hammers 'keeper Adrian kept out John Terry, Frank Lampard and Samuel Eto'o in the second half, as Chelsea head into their next game against Manchester City knowing a defeat will leave them six points off the Citizens and top spot in the PL.
Sam Allardyce's side parked the bus, Mourinho style, at Stamford Bridge on Wednesday as anti-football won against Chelsea's attacking endeavors. In fact the Blues' tally of 39 shots in a game without scoring is the most by any Premier League team since the 2003-04 season.
(MORE: Chelsea 0-0 West Ham United – Blues slip up in the title race)
But Mourinho, sporting a face like thunder throughout, complained massively about West Ham's tactics… even though he himself is the master of grinding out 0-0 wins away from home.
What's that saying again? Something about the 'pot calling the kettle black…'
"I was frustrated since the first minute. I wanted to discuss decisions during the game [with the fourth official] ," Mourinho said. "West Ham were trying to win time with everything. With their substitutions they were taking a long time. It was football from another century. The result is not a good result. They defended with their hearts – I respect that and praise that. I don't think with matches like this we can sell Premier League across the world. My team did everything possible."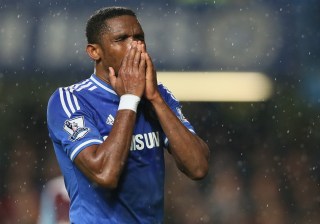 So, here we have it. The 'King of anti-football' is criticizing Allardyce's West Ham side for doing just that.
Surely Mourinho isn't being serious?
Already this season he's set his sides up to frustrate Arsenal and Manchester United away from home and both times his team have gained the 0-0 draw they were looking for. I've watched both live, trust me, those games were boring as hell to watch but Chelsea got the point they wanted.
So Mourinho, of all people, should not be lambasting West Ham for employing the very tactics that have helped to make him so successful and widely regarded as the most tactically astute manager in the global game. He loves to attack too, at times, but his ultra-defensive approach and ability to frustrate the opposition, when he wants to, has almost become his trademark over the years.
Look, we all get annoyed and say things we don't mean.
Mourinho spent two hours of his life watching his expensively assembled, and extremely talented side, hit their heads against a solid brick wall made out of Claret and Blue. West Ham defended as if their lives depended on, throwing their bodies on the line time and time again. Add to that, it was in the pouring rain in West London and in front of his own fans. One more factor probably got right up the nose of the Portuguese boss: West Ham's manager Allardyce stood in the technical with a grin like a Cheshire cat on his face throughout it all.
Speaking after, Allardyce was delighted to beat Mourinho at his own game.
"Good old Jose, moaning again," Allardyce laughed. "He can't take it can he. He can't take it because we've out-tacticed him, out-witted him. He just can't cope. It's brilliant when you get a result against him! I love Chelsea moaning."
We haven't heard the last of this feud, as Mourinho has been 'out-Mourinhoed' by Mr. Allardyce and his Happy Hammers.
Jose will not be smiling.
But can he really moan about negative tactics after his side couldn't quell them? Give me a break.