.
ALL OUT ATTACK – LIVERPOOL'S PLAN FOR UCL BERTH
On Wednesday against Everton, Brendan Rodgers set his Liverpool side out to attack. Scratch that, their aim wasn't just to attack, it was to obliterate.
Job done.
Liverpool went with Luis Suarez and Daniel Sturridge in attack with Philippe Coutinho and Raheem Sterling supporting them. In a swashbuckling 4-3-3 Rodgers' star men delivered an oppressive display that enabled the Reds to strip Everton of possession as high up the pitch as possible. That lead to their biggest derby win in almost three decades against the Toffees, as a 4-0 win could and should have been more.
Last week I went along to Liverpool's Melwood training center and asked Rodgers how important his central midfield would be between now and the end of the season, he admitted his sides 2-2 draw with Aston Villa in their last home game before the Merseyside derby still rankled with home. Especially the way he initially set up his team in the midfield and final third. This is the response he gave me.
"What was interesting about last weekend was that it was one of the only times, since I've been here, that we played 4-4-2," Rodgers said. "A lot of our work has been based around 4-3-3 and having superiority in the middle of the field. The players have grown very comfortable with that over time. I probably played too much of an aggressive team, attacking wise, and we probably suffered from that. Then when we made the changes, and when we put three in the middle we had some control again. That area of the field is very important for us, that's where we look to control and dominate the game. When we do that, we are a very good side."
Liverpool certainly dominated the midfield and showed just how good they were against Everton.
Everyone talks about having a high-pressure approach against sides like Everton, who loved to spray the ball around and play out from the back, but you need remarkable fitness levels from all 10 outfield players to achieve this. Rodgers unleashed his forward four to harass Everton and had captain Steven Gerrard quarterbacking proceedings from a deep-lying midfield role. It worked a treat.
The 4-3-3 formation with S.A.S. leading the line is the way to go for Rodgers.
He realized that after Liverpool's poor first half display vs. Aston Villa. Now the penny has dropped and the old adage "if it ain't broke, don't fix it" has never been so apt.
(MORE: Liverpool dazzle in derby win, will Champions League dream become a reality?)
Clarity of thought always comes when a massive Merseyside derby is on the horizon and Rodgers' used that to mastermind an attacking masterclass from his side. Will the Reds make the top four playing this breathtaking brand of soccer?
You bet your bottom dollar they will. Few teams will outscore them. Expect to hear raspy chants of "attack, attack, attack" reign down from the famous Kop end during the rest of the campaign. When you have the precocious attacking Liverpool have at their disposal it would be silly not to. In his post-game press conference at Anfield following Liverpool's largest derby win since 1982, Rodgers was a little disappointed his team didn't win by more than the 4-0 margin.
Behind Man City's offensive juggernaut, Liverpool are the second highest scorers in the English top-flight with 57 goals from 23 games.
Next up to feel the wrath of Liverpool's fired up attack: West Bromwich Albion on Saturday.
Premier League Schedule – Round 23

UNSTOPPABLE CITY?
After smashing 11 goals past top four hopefuls Tottenham Hotspur during two victories this season, Manchester City are the real deal. With their resounding 5-1 win over Spurs at White Hart Lane their eighth-successive win in the PL, only four other teams have done that in league history (Arsenal, Chelsea, Liverpool and Man United).
The Citizens have now scored 68 goals in 23 games, which means they've already surpassed the 66 goals they scored in the entire 2012-13 campaign. There are still 15 games to go this season…
After smashing Spurs into space with sublime forward movement and interchanging midfielders leaving the White Hart Lane crowd dizzy in despair, Manuel Pellegrini's side are now top of the Premier League table with a massive few weeks coming up.
Let's not dwell on another hammering of a top four contender because, let's face it, it happens all too often for City this year. Thanks to our good friends at Opta, above, you can see that against the top eight sides in the PL they have grabbed 24 points from a possible 27. The only team they lost to was Chelsea in a narrow 2-1 loss back in November.
Who do they host this week at the Eithad? Chelsea.
On Monday, live on NBCSN from 2pm ET, you can watch on to see if City will be able to put Chelsea in their place and hand out another hammering to a top four, and potential title, contender. Chelsea are three points behind City going into this game and know a defeat will see the Citizens extend their lead over the West London club to six points. With Sergio Aguero injuring his hamstring against Spurs, the Argentine may miss the game. But City don't really care if their leading man is out, they have Edin Dzeko, Alvaro Negredo and now Stevan Jovetic all fit and ready to continue banging in goals left, right and center.
(MORE: Latest Premier League Standings)
Be afraid Chelsea, very afraid. Right now a visit to City is the last thing Jose Mourinho needs as his side struggled to a 0-0 draw with West Ham and the Portuguese boss moaned and complained about the Hammer's " football from the 19th century."
Chelsea had the bus parked against them, surely the only way they have any chance of inflicting a first PL home defeat of the season on City is by shutting up shop and defending for their lives at the Etihad?
On this form, City are looking to beat the PL record of 14 consecutive wins. I wouldn't bet against them breaking pretty much every record out there this season. Their dominance is astounding, watch on as they embarrass yet another top PL club below. This time it was Tottenham's time to bow down and imitate the 'we're not worthy gesture.'
EL MATA-DOR AT HOME WITH UNITED?
On his long-awaited debut for Manchester United, record-signing Juan Mata didn't set Old Trafford alight with his opening 83 minutes in a United shirt. Sometimes, the script just doesn't allow a dazzling display on debut. Throughout Mata was always probing, always searching for and demanding the ball at his feet to get United going as he had the most touches on the pitch with 63. The tiny Spanish playmaker helped create Robin van Persie's opening goal with a searching ball out to the left flank in the build-up. It was only a glimmer of what he's capable of, but it was there.
But the big question is, where will Mata play for the Red Devils?
Despite darting in and out of the lines and making intelligent and intricate runs around Cardiff's defense, so often his new United teammates didn't give him the ball where he could hurt the opposition. That's part of the growing process and it'll be extremely interesting to see where Mata lines up against Stoke City on Saturday as David Moyes has a real dilemma to solve. Albeit a luxury , which Moyesy hasn't had a plethora of so far this campaign.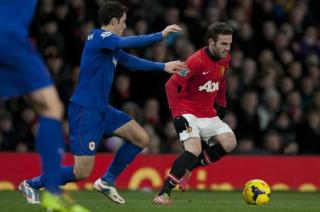 On Saturday Wayne Rooney will return to full fitness and now United have to fit Rooney, van Persie, Mata and teenage sensation Adnan Januzaj into the same starting XI. Antonia Valencia's slot on the right wing looks a little vulnerable, as I'd expect to see a 4-2-3-1 formation with Januzaj deployed on the right, Mata played centrally and Rooney cutting in off the left behind RVP up top on his own.
I'd also expect to see Rooney and Mata interchange with both players taking turns to cover the left flanks defensively, but there won't be much of that. With two holding midfielders United will be able to plug those gaps out wide by slotting a central midfielder out wide if Rooney or Januzaj get caught up the pitch and then the opposite winger will tuck in to balance things out to make a bank of four in front of the back four. It's not rocket science. All four attackers can start in the same team together.
Will Rooney enjoy being shifted out to the left? Let's wait and see. But his relationship on the field with Mata is something I'm looking forward to watch, as two creative geniuses feeding the PL's most clinical striker in recent years (RVP) is a recipe for supreme success. Whatever what you dissect it.
Mata is the key cog to it all, and with his intelligent runs and boasting a superior soccer IQ to most, United need to get the ball to him in the correct positions to see the tricky Spaniard at his devastating best.
A work in progress for the Red Devils to unlock their attacking potential, but finally, it's in progress.
DECLINING DEMPSEY EPITOMIZES FULHAM'S WOE
As Fulham's players trudged off the pitch at a rainy Liberty Stadium following yet another defeat on Tuesday, USMNT captain Cint Dempsey is now well and truly embroiled in a relegation battle with the same club where he shone as Player of the Year and previously lit up the Premier League.
Of course Deuce is only on loan from MLS' Seattle Sounders until the end of February, but instead of inspiring a lackluster Fulham side up the table and away from relegation during his short stint back at Craven Cottage, his arrival has done the exact opposite.
Now questions are being raised about his readiness for the World Cup in Brazil next summer. Will Clint still be the USA's talisman?
This loan spell was also supposed to see Dempsey get back to his best after his career faltered a little at Tottenham following a move from Fulham on transfer deadline day in August 2012. Add in a largely forgettable start to his career back in MLS with his lucrative move to Seattle in July, and you have a player that's languishing a little.
Dempsey has struggled to impact any of the games he's played in for Fulham in the last few weeks, with the U.S. international struggling for confidence and form. Those two key ingredients are extremely hard to find in a side battling relegation. PST's Kyle Bonn took an in-depth look at Dempsey's struggles since returning to the Cottage.
We are all rooting for you, Clint. In fact I would go as far as saying a fired up and rejuvenate Dempsey is the difference between the USA making the knockouts or bowing out in the group stages in Brazil this summer. Let's hope things turn around really soon for Deuce.
In case you missed anything in Round 23, here's all the action in a neatly wrapped video of the midweek madness.
Premier League Playback takes an alternative look at all the weekend's action from the PL, it comes out every week.