Last week Orlando City appointed Paul McDonough as their new Vice President of Soccer Operations ahead of their entry into Major League Soccer in 2015.
The former assistant coach at Wake Forest, UConn and the College of Charleston has had a glittering career in the college game at some of the nations top programs, but now it's time to take the reins at one of MLS' new expansion franchises.
Recently McDonough has been in the agency game in his role as Director of Global Soccer at Wasserman Media Group, that has seen him represent MLS stars such as Darlington Nagbe, Teal Bunbury and Darren Mattocks amongst many others.
McDonough has close links with MLS and is now in charge of recruiting players for Orlando ahead of the 2015 season, as well as helping head coach Adrian Heath and Club President Phil Rawlins make MLS' 21st team into a side that can compete for Championships straight-away.
I got the chance to speak exclusively with McDonough about a plethora of topics earlier this week, and this is what he had to say.
What attracted you to Orlando?
The opportunity and the challenge to get in with a blank canvas and do something special. The environment and the atmosphere the last few years around here has been great. I think it's only going to get better, moving forward.
On the short and long-term goals for Orlando City SC? Have you had a chance to plan all that already?
Not completely. In the short-term it's just getting acclimated to the team and MLS, there are a  lot of different facets. A lot of scouting that needs to take place for us to get ready. My main focus will be getting ready for that part of it, while Adrian Heath [head coach] will focus on the present team. Long-term goals is to be very competitive in MLS.
How about your day-to-day job? What are you key focus' with Orlando City?
Key focus for me is to get a structure of the layout of the club. Scouting, short-term and long-term scouting needs to get put into place. So I can really focus on that. As time goes on I will look at the academy and see how we can improve because Homegrowns are going to be a big part of our club and how we move forward.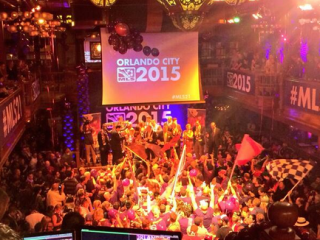 Due to your influential career in the college game and at the youth level, will Orlando be looking to bring in a lot of domestic talent from the U.S. and Canada?
I think we will look for talent anywhere that will make the club successful. The Homegrowns, it's a great atmosphere around here and we need to be successful with Homegrown players, so we want kids to stay at home and play for us.
So there will be a mixture of potential big signings, and building from within?
Yeah, I think when you're building a team now will look from within MLS with the expansion draft and the SuperDraft will be important for us. Homegrowns, whether they are short-term or down the road, and international signings are always going to part of this league.
How have you found working with Adrian Heath [head coach] and Phil Rawlins [President] at Orlando?
I have complete faith and trust in them, and that's why I took the challenge on. They have done so well on the playing field and I think what they've done off the field is amazing. It's only going to get better. I feel very comfortable with that.
What will be the difference from making that jump up from the college game to the pros? Is there something new that you will bring to the table? What big challenges do you envisage?
I have traveled all over the world looking for players and I've spent the last four years in the agency world. I'm familiar with the professional players and their mentalities. I think the challenge is just going to be waiting out and finding the best players that fit the style and system of Orlando.
Do you know what system and style that is going to be? Is this something you've already discussed at length with Adrian?
He wants to play an attacking brand of soccer. 4-2-3-1 is the ideal formation. But we want to play an attacking and entertaining type soccer. We've discussed it in-depth, so now it's all about finding the players who can help him on the field and to where he wants to go.

Following your time in the agency world, can you give us some examples of the success stories you had?
I just did a deal for Juan Agudelo to Stoke, then he went on loan to Utrecht. Did the Brek Shea deal to Stoke, I represented Darlington Nagbe and Teal Bunbury throughout their whole career. I think Darlington is one of the future stars of our leagues. I've had Darren Mattocks for his whole career. I've had Zach Lloyd his whole career from UNC. And also a relatively unknown goalkeeper who plays for the New York Red Bulls, Ryan Meara. I think he is going to continue to do really well.
What is your opinion of the Designated Player rule? Is it something that helps or hinders most MLS squads with the big discrepancy between the DPs and the younger guys?
I think every club has their own philosophy. I'm still learning about the philosophy of what the ownership group here want to approach it. Look, I think the DP rule has done well for the league but there's always a discrepancy in a salary cap league when you have DPs. But overall, it's good for the league.
What changes would you'd like to see with the salary cap, maybe increase the minimum wage to stop younger players hopping over to Europe when they get out of college?
The league pays most guys well. As opposed to going to Scandinavia or something like that, I think that's why players stay. I think the collective bargaining agreement will be interesting this year, but I will leave that to the league and the MLS Players Union to sort out.
After seeing the SuperDraft just take place and the advent of Homegrown players and MLS academies, will the college game still be a big part of the league and Orlando's future?
In the short-term it will be. I don't know where it goes down the road. It's just another mechanism to get good players, so I think right now it will always be something that's around. For us, we have to look at all mechanisms to make our team better.
So getting players from the college game will be key for Orlando now and in the future?
It is just another mechanism to help out team be successful.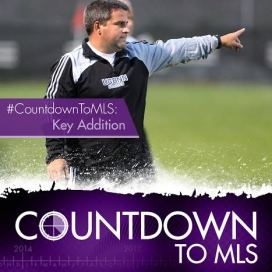 The potential rivalry with Miami and/or Atlanta franchise in MLS, is that something that excites you? Something similar to the Pacific Northwest happening in the Southeast?
It would be great. The Cascadia Cup is great for that region, and I hope that Miami and Atlanta come in and we can have good rivals and people that we can beat all the time.
How important is it that the team not only build for MLS, but has another successful season in USL PRO before making the jump?
It is really important because we've done so well in the last couple of years. Building a culture of winning is very important, to keep building on the foundations. Why not win another championship? It will keep the culture going and get more fans involved and get ready for MLS.
Are there any MLS expansion clubs you want to emulate? Is there a team you look at and say, 'they've done it right'?
You have to take the good and bad from what clubs have done in the past. Some clubs have done very well with very different strategies. Not  expansion clubs, but the likes of Psorting Kansas City and Real Salt Lake have done very in how they've managed their team. The environment in Portland is fantastic and they're doing a good job at what they're doing now. Those clubs have done really well.
Your job is to recruit the players, but how exciting is it to be involved in this project where you can see the fanbase growing in Orlando and build a club off a clean slate?
It's great and very exciting. When the opportunity came up, you really didn't have to think too hard about getting involved with something special. It's exciting.
Finally, can you paint a picture of what you'd like Orlando to be like in five years time?
Selling out every game. Winning championships. And it would be nice to compete on the international scene.