Around 200 Lazio fans gathered at Claudio Lotito's home Friday morning. Word had gotten out. Hernanes, the club's best player since his arrival in Rome three summers ago, was reportedly set to leave the Aquile. Singing the Brazilian's praises over the next three hours, the small throng of devotees hoped to change their club president's mind.
As Friday progressed, a slightly different picture of the deal unfolded. In tears as he left the club the he led to last year's Coppa Italia title, the 28-year-old Brazilian international confessed he'd pushed for the €20 million ($27 million) move. Lotito hadn't forced him out. He'd decided it was time to go, a decision he explained via Facebook:
"I would like to explain my tears because I've seen [Lazio] have been misunderstood. I cried not because the club president was stopping me leaving.

"I cried because the negotiation between the two clubs is happening.

"I had the possibility to leave Rome, the place I love, the supporters I love. But it has to be me who told the president I would like to leave because I think it's best for me on a professional level.
Late Friday Italy-time, Inter finally confirmed the news, announcing Hernanes had signed a deal that commits him to the Nerazzurri through the 2017-18 season.
The World Cup's coming up, but the move is as likely to hurt Hernanes as help. He's in Luiz Felipie Scolari's team, but he's struggling to crack the Seleçao's starting XI. Instead, this move seems to be all about Hernanes's club future. At 28, his value possibly peaked a player who has become one of Italy's best midfielders has decided to move on, electing to join Erik Thorir's rebuild in Milan rather than confirm his legend in Rome.
Check out all of the latest transfer news form ProSoccerTalk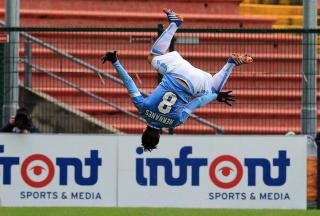 It's a crucial loss for a Lazio team that just found its footing. While the team did lose the defense of their Coppa title with yesterday's quarterfinal loss to Napoli, a four-game unbeaten run in Serie A has lifted the team into the league's top half. Thanks to that mini-revival — organized by the restored Edy Reja — the Aquile are only five points back of a European spot. The team currently holding that spot: Inter Milan.
Lazio would have to pass four teams to snare that spot. Given the irregular form the team has shown for most of the season, they'll need a  longer run of success before being considered serious top-five contenders. In the face of that uncertainty, cashing in on Inter's $27 million offer may have made more sense. At 28 years old, Hernanes is unlikely to garner a much better offer in the future.
For Inter, the coup gives head coach Walter Mazzarri a valuable addition to Esteban Cambiasso in central midfield.  Averaging 10 goals per season over the previous three campaigns, Hernanes adds another scoring threat to a team that's relied on a variety of attackers to complement Rodrigo Palacio (team-leading 10 goals).
"Hernanes is a golden boy," Mazzarri said in a television interview after the signing. "I've always known that."
Capable of controlling a game from the middle the Brazilian could be an ideal fit for Mazzarri's approach, whether he's used as part of a strong two with Cambiasso or given room to surge forward if he plays in a three. Especially with Fredy Guarín's situation unsettled at Inter, Hernanes may be necessary if the team's going to return to Europe.
That's a fit that won't do anything to console Lazio fans. Maybe Hernanes isn't leaving for the reasons they assumed, but he's still leaving. Their team has lost their best player; or, at least, the man who's been their best player over the last three-and-a-half years. Though Hernanes may have wanted it to happen, and the team got top dollar, that won't make this any easier to take on the blue side of Rome.