Tuesday's Major League Soccer rumor mills erupted, spewing enough fire to burn down the rest of the factory that churns out all the rumor mills. From the resulting flotsam, a Seattle Times beat man was able to collect the particulates of a story, though with the team refused to treat it as anything other than rumor.
That didn't stop Sounders fans from indulging their fantasies. Didier Drogba may be coming to Seattle, which means people are getting excited on the Internet.
And who can blame them. Given the certainty behind some of the talk (see the tweets linked in the Times' story), this looks like either a very strong rumor or an incredibly huge whiff. If you're inclined toward one camp or the other, just remember last year. Remember the rumors that had Kaká, Frank Lampard, and Diego Forlán arriving on these shores. Major League Soccer's definitely in the midst of a good run, having landed players like Jermain Defoe, Clint Dempsey, and Michael Bradley, but as one of the most recognizable soccer players in the world, Drogba is more Kaká than Defoe.
There's also the nature of the tweets Joshua Mayers (as good as they come on MLS beats) links in his post. One person is in media with beIN Sports, but he's also speaking like a regular fan. It can often be confusing, but when media isn't posting "breaking," "can confirm," or "this is not a joke" with their tweet, they should be allowed to speculate like normal people. Ultimately, it's only Twitter, and although people do break stories on that platform, most of the time they're just engaging the conversation.
The other tweet is less ambiguous, but it's not exactly Woodward talking to Deep Throat. It is essentially saying 'I know a guy who knows a guy who says Drogba's going to Seattle.' Another guy who knows a guy:
[hulu id=0–fzf6d6n-awshwfblxxa width=512]
But you know what? Sometimes a guy who knows a guy is right. So for the sake of this post (Not Gonna Lie®), I'm going to fully embrace it. I'm going to suspend disbelief, accept this as a legitimate rumor, and consider what a world with a viable Drogba-to-MLS rumor would look like.
Let's go Full Internet on this one (insert: whimpering puppy riding an orca into Isengaard dot gif). And when you go Full Internet, you make a list:
1. We're beyond scoffing at this stuff, especially as it concerns Seattle
We live in a post-Dempsey utopia. What 1980s were to Quaaludes and stock fraud the 2010s will be to MLS spending with The Price Is Right's oversized checks. Any day now, Don Garber will drag himself out of country club on his face before playing giant slalom with his Lamborghini. Keep it together, Commish.
This era of relative largesse means a whole new level of player is within MLS's reach. It's not just glamour sites like New York that can acquire an Henry. In MLS's Quaaludes-driven binge, spenders like Seattle, Toronto, and Portland will be able to lure the Drogba-esque talents of the world. And when New York and Miami come in? David Justice will not pay for his own soda!
This is MLS's new world order. You remember Breaking Madden? Well, this is MLS's latest attempt to Break Football Manager. (And just like MLS, it's a lot more modest.)
2. Can you imagine how people will react if Seattle DOES get him?
Prediction: Not well. Seattle already is still dealing with the backlash of their quick rise to prominence, with every retread national media story about Soccer Mecca met with eye rolls from the rest of MLS's collective fan base. We get it, they scream every time an editor assigns 1500 to the annual 'This Is Why Seattle Rules' piece. After five years, a lot of fans are tired it. (But please, still read my annual Seattle piece.)
Here's the problem, for those growing tired of Seattle: It's not going away. In fact, if you're annoyed by the Sounders getting so much love, it's probably going to get worse. General manager/owner Adrian Hanauer is ambitious. The team is going to go after people. And when they snare somebody like Dempsey or Drogba, the national outlets are going to cover them. It's not just that it's a story. It's a story people seem to want to hear. Again and again and again …
Just imagine how much time they'll get if they ever made an MLS Cup. Or win it? I'm telling you, come to grips with it now. The Seattle Sounder story is not going anywhere soon. So let's all lotus position and ohhhhhhhhhhhmmmmmmmmmmmmmmmmmm.
3. Obafemi Martins would probably be gone
Obafemi Martins was one of the highest paid players in Major League Soccer last year, and he didn't play like it.
That's okay. It took Tim Cahill a little while to come around, too, but Tim Cahill didn't spend his first offseason dropping hints he wanted to move back to Europe. With a résumé detailing a vagabond's past, Martins has yet to quell doubts in Seattle.
If Drogba's coming in, Martins will almost certainly be gone. Dempsey and Osvaldo Alonso occupy the team's other two Designated Player spots, and one of those contacts is unmovable. If Drogba is coming in, expect Seattle would almost have to allow Martins to kind another home.
Then again, Matíás Laba's still a Red.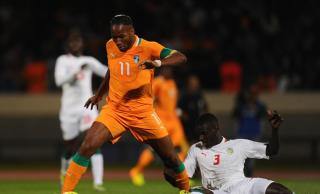 4. Didier Drogba will probably wear down
Drogba wasn't exactly a pillar of health during his last days with Chelsea. Since then, at stops in China and Turkey, his workload has decreased, but during last year's African Cup of Nations, we saw what happened when the Ivorian was faced with a series of important games. His time had to be closely monitored, and he didn't have an effective tournament (scoring once as Les Elephants were eliminated in the quarterfinals).
Drogba turns 36 in March, and while he still has the quality to succeed when playing, he doesn't have the ability to avoid being worn down. Playing on CenturyLink's turf would only compound that, as will the demanding nature of MLS's fall schedule.
Perhaps Sigi Schmid and his staff would manage Drogba as effectively as Roberto Di Matteo did in Chelsea's 2012 run to the Champions League title. Then again, Drogba was two years younger.
5. And if there's one team that should avoid  another mid-season shakeup, it's Seattle
Slotting in a striker mid-year isn't as traumatic as bringing in a new midfield focal point, but if you're Seattle, why would you even entertaining the idea of repeating 2013? Granted, a talent like Drogba's can justify a lot of risk, but less than one year after the Dempsey shakeup was seen as a major factor in Seattle's 2013 fade, they might bring in another big personality? Somebody who provides a defining presence on the field and off?
Special talents require special consideration. But still.
6. Didier Drogba is going to HATE Major League Soccer officials.
Potentially disgraceful, even:
(Warning: NSFW, language at the end.)
[youtube http://www.youtube.com/watch?v=toTx8wet820]