Following the glamorous unveiling of David Beckham's new Major League Soccer franchise in Miami on Wednesday, one huge stumbling block lies in front of the powerful and wealth group bringing top-flight soccer back to South Florida…
Where will the team play?
The questions from members at the press conference announcing MLS' 22nd team weren't exactly the most hard hitting you'll ever come across, but there was some talk about intentions to build a new soccer-specific stadium (SSS) in downtown Miami.
But Beckham, MLS Commissioner Don Garber and Mayor of Miami-Dade county Carlos Jimenez all gave off the impression that a stadium deal is quite a long way off. But Beckham revealed that it will be in downtown Miami.
That's crucial.
"We can't build a stadium in two weeks. This is obviously going to take time," Beckham explained. "The next major thing is getting the right partners and getting the right investors. We want to build a stadium in Miami, the City of Miami and the people of Miami deserve a stadium they are proud of. They deserve a stadium that is in a great place. No, we can't build a stadium in six months. But once we have the site and once we work with the mayor and his commissioner and the people of Miami, we will be very quickly hopefully."
(Official: Beckham announces Miami will be Major League Soccer's 22nd franchise)
With talk of Beckham planning to finalize MLS' newest franchise for months, it seems the issue of where the stadium would be has held things up. Considerably. Following the previous issues in the South Florida sports landscape, as the Miami Marlins had huge issues with the $2.4 billion worth of public funding given to them by Miami-Dade county and controversy dragging on for years, this is not an easy place to work with local officials.
However Mayor Jimenez is extremely committed to the stadium project.
"We don't only want to create an iconic stadium, we want to create a great public space," Jimenez said.  "We want it to become an additional amenity to what is happening downtown. If you come back here in five years, you won't even recognize this place. That stadium needs to be part of the fabric of Miami and we can accomplish together. And it will be something that we will both be proud of now and into the future and something that will be left for our children and our grandchildren."
(MORE: MLS back in Miami – Where does it rate on the league's glamour scale?)
So Becks and his wealthy consortium, including the likes of Miami Heat superstar LeBron James, Beckham's long-time PR agent Simon Fuller and Bolivian Businessman Marcelo Claure, are pumping in the money themselves to build the stadium.
"We don't want public funding. We will fund the stadium ourselves," Beckham announced. "It's something that we've worked very hard to get to this stage."
So, that's a promising step as the funds are in place to build the stadium and no additional cost will be put on the Miami-Dade county. However in terms of timeline, we should see Miami arriving into MLS for the 2017 season (again that wasn't confirmed at the press conference) so they better get a shift on with building this spectacular stadium.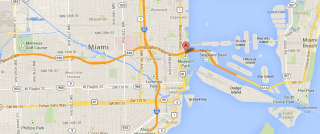 (MORE: What They Said – Important quotes from Beckham's MLS in Miami announcement)
But what about a specific location?
Reports out of Miami — long-time soccer reporter Michelle Kauffman has been detailing this project since the get-go has this expansive piece on the topic — suggest that the search for a stadium site for Beckham's MLS franchise are wide-ranging and complicated.
From building a stadium near Miami Beach, using space next to SunLife Stadium, on college campuses or having it situated in neighboring towns and cities, the options have been numerous for Beckham's people to unravel. But after the former LA Galaxy star stated the Mayor and his commissioners plan for the stadium to be built downtown, here are three likely options:
Watson Island

– Think of PNC Park or AT&T Park, and you will see something very similar here with one of the most spectacular views from any stadium in the USA. This island is on one of the main causeways from downtown Miami to Miami beach, is home to the Miami yacht club and would be a spectacular venue. Space is tight, but if they are dreaming of creating a legacy, this could be it.
Bayfront Park

– This area is extremely close to where the announcement was made on Wednesday and is right by the water in downtown MIA. In the past many other stadiums have been planned in this area but fallen down due to lack of space. But if there's only going to be a 25-30,000 SSS in this area, it could work extremely well. Plus the American Airlines Arena, home of the NBA's Miami Heat, is just across the street.
Miami World Center

– The old site of Miami Arena is due to be regenerated with new shops, bars, restaurants and an entirely new transport hub in the next few years. This area is smack bang in the middle of downtown Miami and a soccer stadium would be the key part of the jigsaw to help this part of town become a focal point once again.
One last word from Beckham on the SSS, as he revealed that it would indeed be downtown and he aims to create a stadium that is easily accessible for fans in the heart of Miami.
"The Commissioner, the board, the Mayor has promised we will be downtown. It is important that we are in this part of the city, [Perez Art Museum in the eastern half of Miami's central area, just across the water from Miami beach]. I have seen what the Miami Heat they have done and the arena they have created. Soccer fans love to commute and love to walk to games, it is a community. I have seen what it is like in Seattle, the passion and the fans, the way it is there. I know we are going to have that here."
But where exactly will it be, David?