Are you worried about Clint Dempsey yet? The American captain did very little upon his heralded return to Major League Soccer last season and has struggled to find any semblance of his form at Fulham.
Think we're exaggerating? Take a look at the stellar man-marking by Dempsey that lead to the free-headed game-winning goal, embarrassing Fulham in extra time of their FA Cup ouster against League One's Sheffield United yesterday.
And photography can play tricks, but look at this photo of Shaun Miller heading home in the 119th minute after slipping Dempsey… who is not even in the frame.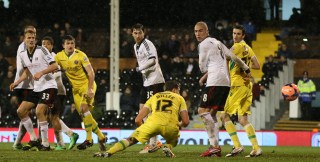 It's poor, and comes on the heels of eight goals conceded, none created and four-straight Premier League losses with Dempsey back at Craven Cottage. Which, of course, follows one goal in 12 appearances for the Sounders.
In fact, since scoring 3 goals and posting an assist in back-to-back matches for the States against Belgium and Germany, Dempsey has appeared 24 times in total for the Yanks, Seattle and Fulham. He scored the lone goal in a 3-1 loss to Costa Rica and recorded a goal and an assist in the last two matches of October for Seattle.
That's it for his point production, and while there's much to be said for how, at most, only the final two players pick up tally marks on the stat sheet, there's plenty of reason for concern here (even for a gamer like Dempsey).
He's been backed by Fulham teammates who say he's out to prove a point, and our own Kyle Bonn further detailed his Fulham struggles last week. Something's gotta give for the 30-year-old.
Cause if he's not flying in Brazil… what's happening to the US in Group G?