Speaking to a much smaller number of reporters on Wednesday, while David Beckham announced Major League Soccer was coming back to Miami, Becks' Bolivian business partner Marcelo Claure gave much more insight on when we can expect the team to enter MLS.
During the press conference involving Beckham, MLS Commissioner Don Garber and the Mayor of Miami-Dade County Carlos Jimenez, scant details were divulged about a possible venue for MLS' 22nd franchise and when the team would start play.
But Claure, a Bolivian entrepreneur who has made his money in wireless telecommunications devices and owns Brightstar, revealed that he, Beckham and their other business partner Simon Fuller expect 2017  to be the season MLS arrives in Miami.
Speaking to Franco Panizo of MLSsoccer.com, Claure had the following to say.
"Three years, three years, 2017," Claure said. "That's the idea if it all works out like we hope. I think three years is the objective because we're creating a soccer team from scratch. We have to pick coaches, we have to involve the community, we have to pick a name, pick a jersey, we have to convince big-name players to come play for us. Three years is the minimum amount of time to be able to start a soccer team."
(MORE: Official – Beckham announces Miami will be MLS' 22nd franchise)
2017 was the expected start date many of us believed would be achievable for Miami to play their first MLS season, however Claure also touched on how difficult it will be to build a stadium and that despite their preference being a waterfront location close to the Miami Heat's American Airlines Arena, the group had looked at over 30 possible locations to build a stadium.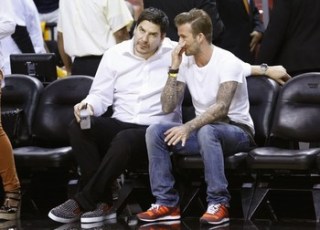 I spoke about the potential stumbling block and possible venues for an MLS stadium in Miami yesterday, as this seems like the major hurdle in place for the owners of MLS' newest franchise. Getting players, a coach and getting the team name, logo, brand and jersey together can be done relatively quickly, but the stadium deal cannot.
Red tape will be strewn across the entire project, but you would hope that now the MLS franchise has been awarded to Miami the Mayor's office will be slightly reluctant to turn any stadium deal down. Of course it has to benefit the citizens of Miami, Beckham's ownership group and MLS, but the push for a downtown stadium site means MLS in Miami may not start up until after 2017.
That's a very real possibility.
It is one all parties want to avoid, but unless a spot is picked out and the plans are hammered out relatively quickly, MLS in Miami could get stuck in the mud for some time. Celebrations about the franchises arrival are over and done with, now the real work begins to get everything ready for a 2017 start date.
Can they do it?