CARSON, Calif. – You get the feeling if Jurgen Klinsmann had his way, there would be no January camp. In the wake to the U.S. men's 2-0 win over South Korea on Saturday, the national team's head coach pretty much said so.
Asked to reflect on his latest camp with mostly Major League Soccer-based talent, Klinsmann conceded the three-and-a-half week exercise was "very important" and "valuable," particularly in a World Cup year. It allowed the team to get to Brazil, test the facilities ahead of this summer's World Cup, and gather information that will inform May's tough decisions.
More pointedly, however, Klinsmann said keeping his players in shape should not be the national team's job.
"We have to cut [the players'] long break short. They can't afford to have another month off," Klinsmann said, falling back onto one of his favorite topics: The short Major League Soccer season.
"The camp was always looked at as a camp to get them back into shape … it shouldn't be our job to cut their [offseason] shorter. That is the job of MLS. I always mention that I would like see the MLS season lengthened. Now we're getting more teams, especially in 2015. So hopefully that happens."
Should the league ever adopt that schedule – a change league commissioner Don Garber has described as impractical, in the near-term – Major League Soccer's veterans will lose what's become a valuable avenue into the U.S. squad. Among those who stood out in Saturday's game, players like Sporting Kansas City's Graham Zusi, Real Salt Lake's Kyle Beckerman, and San Jose's Chris Wondolowski have been able to use the prolonged camps to raise their stock. Two of those players are seen be some as likely selections for this summer's World Cup.
"I give these January camps a lot of the credit for why I'm in with the U.S team right now," Zusi said.
A second round pick out of the University of Maryland in 2009, the Sporting midfielder has had to slowly work his way through MLS success and into the national team. Seen as a probable starter in Brazil, Zusi got his first national team cap at the 2012 January camp.
"This is how I got my start," Zusi explains. "It's great way for some of the guys who are kind of around the edge to break in.
"It's why I did. It's what other guys have done. It's what my teammate, Matt Besler, has done. [The camps are] a great way for you to get some quality games in and impress the coaches."
When asking players about the camp, the ability to impress coaches becomes a reoccurring theme. Unlike a normal international break that gives players a week (at most) with Klinsmann's staff, a January call-in allows the mostly MLS- and Scandinavia-based talents to be in constant contact with the staff. Particularly with a coach like Klinsmann, for whom extended physical preparation and the ability to assess fitness levels is especially important, the prolonged period is invaluable. It allows the staff to establish a firm baseline for the players' performance, something that can be used as a reference point for future call-ups.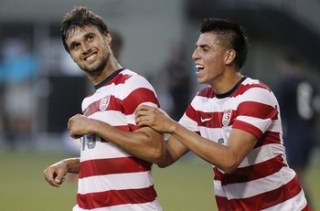 "You get a month-long, day-in, day-out (chance) to show and to learn from a great coaching staff," Wondolowski explained after scoring twice against South Korea. "That only makes you a better player, and to be honest, especially these last two camps, there've been some of the most competitive players in there.
"Everyday, guys aren't taking days off. Guys aren't taking drills off. We're trying to win every little small-sided game; every possession game. It just makes you push even harder – makes you better."
Under Klinsmann, seven players have started the last two winter friendlies. That group features three players with inside tracks to starting jobs in Brazil (Zusi, Besler, Omar Gonzalez). The four other range from likely choices (Beckerman) and regular selections (Brad Evans) to players who've emerged as competitors at competitive positions (Wondolowski, Brad Davis). All veterans who were well into their careers in 2010, the seven veterans have been able to use the so-called "Cup Cupcake" to gain new traction toward 2014.
"In the January camp you get such a long period of time to really show what you got, what kind of person you are, what kind of teammate," explained Beckerman, a player whose work ethic and leadership has been singled out by Klinsmann. A 31-year-old veteran who made his national team debut in 2007, the Real Salt Lake midfielder has gone some periodic consideration to regular selection since Klinsmann took charge.
"It's definitely a camp you want to be in," Beckerman said. "There are a lot of guys who aren't here that would love to be in our shoes. Everybody that was here took full advantage of it."
It's an opportunity that may not always be there for the Kyle Beckermans of the world. Should Major League Soccer's offseason continue to shrink or if Klinsmann decides to take another direction with the winter camps, players like Evans, Davis, and Wondolowski may not get the same a look. The precious time the national team staff has during FIFA windows to evaluate the established call-ins couldn't be spent with hopefuls. The once-per-cycle, down-year Gold Cups would be veteran's only chance to augment their MLS results.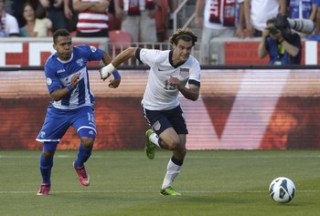 Even for the Beslers, Gonzalezes, and Zusis of the world – players we think of as established contributors to the current team – like without the winter camps would have been more difficult. There would have fewer opportunities to make the lasting impression it takes to win a regular spot. While the talent each player possesses means their break through was always likely, prolonged exposure to Klinsmann's staff accelerated their progress.
But those are effects you see at the back-end of a World Cup cycle. For 2015, the U.S. looks set to take a different approach.
"We have to rethink the whole idea of the January camp, especially for next year, where there is no World Cup," Klinsmann said, asked to assess the future of the January camps. "There will be a Gold Cup, yes, but obviously it doesn't have the same meaning as this World Cup year. Maybe we change some things to [next] camp …"
"Maybe in the future we will more likely look at it as a developmental camp. Maybe we'll cut it down to younger players and see how we can develop those younger players."
Even then, according to Brad Evans, the camp will still need its veterans. Dismissing the word "cupcake" ("that's stupid") while espousing the virtues of cultivating MLS's talent, June's potential starting right back said January will always have a place for players looking to break through.
"Even if it's just a U-20 camp, you'll need veterans there to compete and provide experience and guidance," Evans explained. "[Even then], there'll always be spots."