When watching soccer on TV, have you ever sat there and wondered what the man behind the microphone really thinks?
Maybe this will go someway to helping with that.
In the latest edition of "View from the Booth" we chat with NBC Sports' lead soccer announcer Arlo White about Chelsea's massive win over Manchester City last Monday, the transfer window madness, Manchester United's must-win game over Fulham and the big South Wales he'll be at on Saturday.
You can hear Arlo calling live games this weekend across the NBC platforms, and watch every single game available live online via NBC Sports Live Extra,
So, let's get to it.
What impressed you most about Chelsea's 1-0 win over Manchester City at the Etihad?
The tactical discipline and game-plan put in place by Jose Mourinho was absolutely perfect. The organization of his side without the ball was spot on and the lethal pace of the counter attacks was devastating. If you could label any criticism towards Chelsea, and this has nothing to do with Mourinho's game-plan, it would be the finishing. They hit the woodwork three times. Chelsea had so many opportunities with players breaking at pace, that to come away with only a 1-0 win will be a source of frustration for Mourinho. They could've killed that game off long before the end.
Nemanja Matic grew into the game and played really well after a tough start, and he's only had a little bit of Premier League experience so the game early on seemed to be passing him by in a whirl. But Matic managed to get some crucial challenges in on Yaya Toure and lessened the impact of Man City's driving force from midfield. Hazard was magnificent in possession and Willian was a gem as he worked so hard on both sides of the ball. Then when City mounted the inevitable attacks, I thought Gary Cahill and John Terry were immense in the center of defense and Petr Cech made some big stops when he had to. All in all, just about a perfect performance.
Mourinho was clearly not going to park the bus in this game and I'm sure when he saw the team sheet that was missing Fernandinho and had Demichelis in central midfield he was further encouraged to have a go.
So, what did Man City do wrong?
When I saw the team sheets I figured that Fernandinho's absence was going to be key. I looked back at the results in the PL when he hasn't started, and in four games they've failed to score in three of them and the other was a 4-2 win over Cardiff City. Football isn't a one man game and this wasn't the only reason for the results but Fernandinho is clearly a very important player for City. It wasn't just his absence, but who replaced him. Demichelis has been a terrific player down the years, you don't play for Argentina, Bayern Munich and Malaga if you haven't got something about you, but his main position is center back, he is 33 and he is slowing down. To put him in the holding role for this game was perhaps a mistake by Pellegrini.
(MORE: Three things we learned in Chelsea's massive win over Man City)
Recently Vincent Kompany said his side are 'learning to defend with just three players,' as on most attacks seven players pour forward in attack. Pellegrini says they work on defending in most training sessions and how to defend when they are attacking as much as they are. I am wondering whether Pellegrini adapted his game-plan to the personnel he had available to him. If I was a City fan that would concern me when they come up against top opposition like Chelsea.
Pellegrini now has a dilemma going into big games such as the Champions league tie with Barca, even if Fernandinho is fit. Does he stick with the 4-4-2 that has provided so many goals but proved insufficient against Bayern and Chelsea, or does he adapt and take a more prudent approach to get another body into the middle of the park?
Let's take a look back at the transfer window, who did the best business?
I thought Fulham had a very good transfer deadline day with the signings of Kostas Mitroglou, Johnny Heitinga and Lewis Holtby. They did very well. Having said that, over the next eight Premier League games they have Manchester United, Liverpool, Chelsea, Manchester City and Everton. They are bottom now, they're shipping goals and these players are going to have to make a massive impact to get Fulham out of trouble.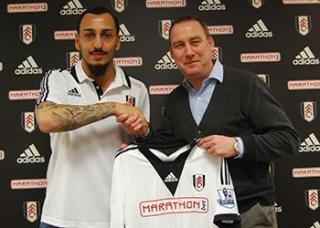 The other transfer day winners, for me, were Crystal Palace. They didn't go for any flashy signings, they went for solid Champions/Scottish Premiership players Joe Ledley, Thomas Ince, Scott Dann, Jason Puncheon on a permanent deal and Wayne Hennessey as well. It just further strengthened a team that's heading in the right direction under Tony Pulis.
WATCH EVERY PL GAME LIVE ONLINE VIA LIVE EXTRA
Overall in the transfer window, let's wait and see how Juan Mata's deal to Manchester United materializes but I am sure it will work out pretty well for them. Further down the league, Sunderland signed Liam Bridcutt and Marcus Alonso which has bolstered their efforts for survival. Cardiff City brought in Wilfried Zaha and Kenwyne Jones, plus a couple of Norwegian youngsters, and they had an immediate impact in the win over Norwich. I think Cardiff City have given themselves a better chance of staying up after their deals in the transfer window.
Ahead of Manchester United's home game vs. Fulham on Sunday, how badly do the Red Devils need a morale boosting win after suffering their eighth defeat of the season against Stoke last time out?
The desperately need a win. Liverpool provided something of a reprieve for United with that 1-1 draw against West Brom. The gap to fourth for Man United is now seven points and not nine. It is still a big gap. Against Stoke last week it was an extremely tough environment. The wind was howling, the crowd was hostile, Stoke were up for it. But this is Manchester United we are talking about and it wasn't liked they didn't have chances either.
Having Wayne Rooney and Robin van Persie on the field is a boost to them and I think they were a little unfortunate to come away from Stoke without at least a draw. Between now and the end of the season it is simple for Manchester United… it's all about fourth place. Every game of theirs is going to be like a cavalry charge.
(MORE: Moyes tries to put positive spin on Man United loss; eight defeats and counting this season)
They have to open it up and score goals and they have to get three points in virtually every game that they play. For United's fans it will be nail-biting but for the neutrals it will be spectacular.
In theory that's the way it will be, but David Moyes still has to get them charged up to play like that. If he can do that, it's going to be exhilarating.
Swansea have been sucked into a relegation battle and have now lost manager Michael Laudrup, while South Wales neighbors Cardiff are also scrapping to stay up. How will this impact the derby at the Liberty Stadium on Saturday?
It will impact the game massively. Swansea are only three points ahead of Cardiff which is a surprise for me at this stage of the season. The Swans have only won once in their last ten games in the league, they possess the ball to death but they aren't doing a great deal with it at the moment. Swansea have played 10 games more than everybody else, with their Europa League run, which is something I've commented on before. I think the Europa League for teams like Swansea is debilitating.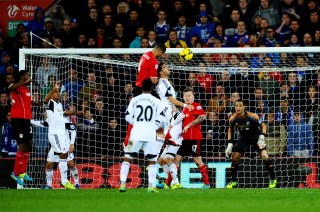 Cardiff won against Norwich last week, but they withstood an absolute pummeling late on. It was a plucky effort, rather than a convincing effort. They do have new players on loan, Ole Gunnar Solksjaer is finding his feet in the PL but this is a massive game. From a personal point of view, seeing the Merseyside derby, the Tyne-Wear derby and the South Wales derby in the space of 10 days is absolutely fantastic. This should be a belter.
Finally, what else are you looking forward to this weekend?
If you look at the fixture list Liverpool vs. Arsenal which kicks things off, live on USA at 7:45am ET in the States on Saturday morning, is a massive game for both sides. Arsenal have retained top spot so what an opportunity to go to Anfield, a ground where they have endured mixed fortunes in the past few years, to stretch their lead to five points before everybody else kicks off. What an opportunity to make a statement.
Likewise for Liverpool. They were disappointing against West Brom after a huge derby win over Everton but they are back on home turf and they play very well at home. That is going to be a blockbuster of a game. Then the game we are at on Sunday, Tottenham vs. Everton live on USA at 8:30amm ET, has massive implications for fourth place. I've enjoyed watching Spurs recently and Everton got back on track after that derby day demolition. That will be another cracker at White Hart Lane.
Again, another huge weekend in the Barclays Premier League.