Today proved telling in the Premier League.
Manchester United looked to have broken through against a stubborn Fulham side, only to see it all slip away again at the end.
Meanwhile, one frustrating moment undid Everton at White Hart Lane, but both sides impressed as they search for an outside shot at the top four.
So what did we learn from today's action? Plenty.
Manchester United gave their critics even more fodder, Tim Sherwood continues to prove his doubters wrong, and Fulham grabbed Premier League safety by the shoestring, but they still have plenty to do as they attempt the Mt. Everest-like climb out of the basement.
1) Manchester United is simply not good enough for the Champions League.
To put it simply, there are too many great teams in the Premier League this season, and Manchester United isn't one of them. Aging players like Nemanja Vidic and Darren Fletcher wouldn't start for Arsenal, Chelsea, or Manchester City, let alone captain them.
Fletcher was to blame on Fulham's first goal, with his horrible tracking of Steve Sidwell, despite looking back at the midfielder three times before his run.  Look at the previous Fulham results to the other top sides: Arsenal won collectively 5-1 over their two fixtures with Fulham.  Liverpool beat them 4-0. Manchester City put up four on this defense. Hell, even Hull City packed it on with six.
This Manchester United side is good, but not great, and the Champions League is for great teams. For the first time in Premier League history, Manchester United will not make the top 4. They're currently nine points back, and it appears their challenge for Europe's top competition may be too far out of reach.
2) Fulham are still in deep doo-doo, but they're not done yet
Fulham showed a ton of heart today at Old Trafford, remaining composed even four minutes deep into extra time.  It's the first time anyone's really been able to say that all season. Things still look incredibly bleak for Rene Meulensteen's bunch who sit four points from safety, but it's not over just yet.
Being harsh on them today, they probably needed three points to ward off many of the worrywarts, and even Meulensteen may rue the two points dropped today come May. But the performance showed that this team still has heart, and still has fight – something that's been impossible to say this year before today.
The visitors made EIGHTY-FOUR clearances today at Old Trafford and the Premier League's most porous defense showed their new look may be a vast improvement.  Add Kostas Mitroglou on the other end in an attack that already boasts the classy addition of Lewis Holtby, and they could possibly make a run.
But first, they have to deal with Liverpool and Chelsea in the next three weeks. Yikes.
3) Tim Sherwood is the real deal
What Tim Sherwood has done at Tottenham Hotspur cannot be understated.  A relative unknown to anyone outside White Hart Lane at the time of his appointment, he has taken a mentally broken side and revitalized them.
There's a big difference between the temporary boost a team often sees at the time of a managerial switch and what Sherwood is accomplishing at Spurs.  Andre Villas Boas benefited greatly from Daniel Levy's brilliant summer transfer window, but the Portugese manager never could quite make things fit with the vast quantity of new players.
Sherwood, in under two months, has managed to do what Villas Boas could not.  He's revitalized Emmanuel Adebayor, slotted Roberto Soldado into a more fitting role (which, with his form this year, has sometimes been on the bench), and has found the key to unlocking Christian Eriksen's Premier League success.
While Adebayor's revival will undoubtedly get the headlines, and deservedly so, flying under the radar is Sherwood's ability to find the proper use of Eriksen.  A lost child in a supermarket under Villas Boas, he's been freed of his touchline shackles and allowed to roam the pitch more freely under Sherwood and the results have been bright.
Expect more victories under Sherwood, and while it would seem the top four may elude them once again if Liverpool continue on this torrid run, but the future is bright.
4) Everton are a quality side, but…

Today Everton produced enough to challenge a Tottenham Hotspur side, and Roberto Martinez's tactics relied on pressure and hard work to earn the ball and create chances.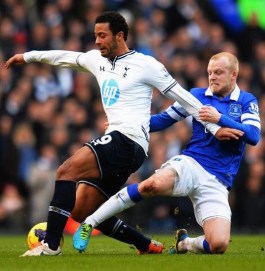 Unfortunately, they were undone by one key miss: Romelu Lukaku.  Without a true striker, especially their loanee who's been stellar up front this year, Everton were forced to start Steven Naismith at the top of their attack, and they paid the price.  Naismith was wasteful, and often undid much of his own hard work with a lack of finishing.
The forward finished without a shot technically, but he botched a few chances, and in the end finished with 10 of his 16 completed passes headed backwards.
Martinez has proved a fantastic hire in replace of David Moyes, and the addition of Lacina Traore will surely help Everton make it through however long Lukaku is out with little damage, but a loss today to a team so close in the table hurts dearly.
Long story short: Everton will be fine, and are easily a top-7 side, but any more wasteful performances and it doesn't matter who their manager is or how great his plans are fit to beating the opponent.
5) This miserable season at Manchester United still is mostly not David Moyes' fault

Looking at everything going wrong at Manchester United, little of it has anything to do with David Moyes.  He ultimately may be the sacrificial lamb in a year that is wholly unacceptable by United's standards, but peering around the squad, Sir Alex Ferguson and the rest of the United front office handed Moyes a group of players doomed to fail.
Nemanja Vidic is aging. So is Patrice Evra. Robin van Persie's age hasn't affected his output, but it has affected his ability to stay match fit.  Ashley Young has never fit in at Manchester United despite their refusal to replace him. Shinji Kagawa may not actually be the right style for the Premier League.  And Wayne Rooney can only carry so much on his back.
While his insistence to play Adnan Januzaj on the wing can certainly be criticized (and rightly so), his tactics against Fulham today or mostly throughout the season cannot.  Manchester United pumped a total of 82 crosses into Fulham's box, and while it took a while to click, it eventually worked, and noting Fulham's lack of outside defending in recent months, the plan makes perfect sense.  What did United in was a pair of terrible mistakes at the back, something that cannot be fixed by the manager.
Moyes did incredibly well to bring in Juan Mata, and the Spaniard has arguably been the best player at Old Trafford since his arrival, including setting up United's breakthrough today.  Bringing in Marouane Fellaini was ultimately a failure, but hindsight is 20/20, and at the time they desperately need a physical midfielder (they still do).
If I was a Manchester United fan, I'd be pointing equal fingers at whoever handed Moyes this aging, fragile defensive unit that has let them down time and again this season.
Honorable mention: Dan Burn is the real deal
Whether or not Fulham stay up this season (chances are they still won't) the 6-foot-5 21-year-old has opened plenty of eyes. He was a force in preventing Manchester United from landing 64 of their 82 crosses.  He made 22 clearances against the Red Devils – a staggering number – including 15 with his head.
What seemed like a desperate move in recalling Burn from his season-long loan spell at Birmingham has turned into a master-class decision by Meulensteen.  The move likely cost Fulham a bit of cash to cancel his loan, and upset a great deal of Birmingham City brass.
However, with Brede Hangeland aging and slow to react, Burn has emerged as not just Fulham's best defender, but possibly a solid option for a top team in the future.  He's reminding many Fulham fans of the Hangeland of old, something that many at Craven Cottage could get very used to.