Two Derby della Capitali and Lazio couldn't muster a single shot on goal, but look carefully at the differences between Saturday's 0-0 draw at the Stadio Olimpico and Roma's 2-0 win in September and you'll see a microcosm of Giallorossi's regression – small changes that have seen the team lose track of Juventus at the top of the table.
In early fall, Roma established a pattern of dominating first halves before breaking through in the second. Against Lazio, those goals from Federico Balzaretti and Adem Ljajic, Lazio conceding the second from the spot just before full-time. Hogging 64 percent of the ball, Roma held their chief rivals to eight shots, none of which tested Morgan De Sanctis. Claiming the fourth of what would become 10 straight wins to start the season, Rudi Garcia's team provided the first major warning that they could be Champions League contenders.
On Saturday, there was no second half breakthrough. There were no fullbacks stepping up to get unexpected goals. There were no red cards, late penalties, or any of the other breaks that helped Roma to their one hundred percent start. Instead, the constant pressure that used to wilt opponents never found a way to beat Lazio goalkeeper Etrit Berisha. Despite only three shots and 34 percent of the ball (both worse than the season's first Derby), Lazio held on for a 0-0 draw.
It's not that Roma's any worse. For the most part they're not. It's that they're no longer getting the kind of breaks every team needs to claim 30 of 30 points. They're no longer the surprise team, the unknown commodity. Unwilling to bet Roma will revert to last year's Giallorossi, opponents are paying them the honor of conceding as few openings as possible.
As Gervinho had a goal waved off, Miralem Pjanic pushed for an opener, and newly arrived Michel Bastos tried to steal the match late, Lazio lived off the counter. Having lost their leader (Hernanes) to Inter just over a week ago, Edy Reja's side did well to keep their rivals of the board.
Ultimately, they never got a shot on De Sanctis. They didn't have a real chance at three points, but by accepting the underdogs' mantle, Lazio played a game they exemplified why Roma's come back to earth. With luck evening out and opponents discarding their naiveté, Roma sit nine back of Juventus, unable to take advantage of a rare Bianconeri misstep.
[MORE: Juventus drop points at the death in draw with Verona]
The race for third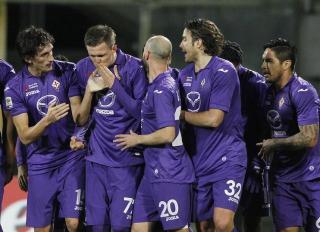 The title race may be over, but with Fiorentina on third place Napoli's heals, Serie A has a race that appears destined to last through May. On Saturday, both teams responded to Round 22 losses with multi-goal wins, giving the faint impression  Roma can still be pulled into a battle for the league's last two Champions League spots.
Fiorentina's meeting with visiting Atalanta was one of two matches to kick off the weekend, allowing Josip Ilicic to become the round's first goalscorer when his curling free kick from 26 yards out put La Viola up in the 20th minute. Still without Mario Gomez, still without Giuseppe Rossi, Vincenzo Montella's side were given a man advantage in the 81st minute when Luca Cigarini saw a second yellow card. With his team up a man, substitute Rafal Wolski secured the 2-0 win that temporarily pulled Fiorentina even with the Neopolitans.
Coming off last weekend's 3-0 loss to Atalanta, the Partenopei were looking to rebound against visiting Milan, an outcome that was cast in doubt when Adel Taarabt scored eight minutes into his Rossoneri loan. Napoli's response was quick, however, getting an 11th minute goal from Gohkan Inler's deflected shot. A second half brace from Gonzalo Higuaín capped what ultimately became a one-sided game, with Christian Abbiati forced to into 11 saves to limit Milan to a 3-1 loss.
[MORE: Taarabt scores eight minutes into his Serie A debut]
If there were any doubts about Napoli after last week's disappointment, a convincing performance against Milan assuaged them. The Rossoneri still aren't clicking under Clarence Seedorf, but they still possess enough talent to challenge. That Napoli was able to absorb Taarabt's early blow and still claim a comfortable win speaks to their staying power.
But whether they can hold off Fiorentina may depend as much on health as form. Gomez has resumed training. Rossi will come back this spring. If a limited Fiorentina can stay without three while their scorers recover, a full strength team may be able to bridge the gap over the seasons' final months.
Elsewhere
Udinese 3, Chievo 0 – The Flying Donkeys took il Derby Del Nordest to halftime scoreless before Toto Di Natale, Bruno Fernandes, and Emmanuel Badu helped claim Udinese's second straight win.
Torino 1, Bologna 2 – Three huge points pull the Rossoblu four clear of relegation, with Jonathan Cristaldo's first half double overcoming Ciro Immobile's 12th goal of the season.
Sampdoria 1,  Cagliari 0 – Daniele Gastaldello's 11th minute goal proved all the home side would need, with Cagliari falling to their fourth loss in five.
Parma 0, Catania 0 – After seeing last week's game in Roma rained out, Parma has their four-match winning streak snapped with Sunday's scoreless draw. Roberto Donadoni's team still hasn't lost in league since Nov. 2.
Livorno 0, Genoa 1 – Luca Antonelli's 10th minute goal held up despite Livorno outshooting their guests 19-6. Genoa jumps into the table's top half.
Verona 2, Juventus 2 – Carlos Tévez's double wasn't enough as second half goals from Luca Toni and Juan Gomez Taleb allowed Hellas steal a point in stoppage time.
Inter 1, Sassuolo 0 – Bouncing back from last weekend's Derby loss to Juve, Inter got an early second half goal from veteran Walter Samuel to push Sassuolo into 19th.
Others
Lazio 0, Roma 0
Fiorentina 2, Atalanta 0
Napoli 3, Milan 1
Standings
| | | | | | | | | | | |
| --- | --- | --- | --- | --- | --- | --- | --- | --- | --- | --- |
| Team | GP | W | D | L | GF | GA | GD | Home | Away | PTS |
| Juventus | 23 | 19 | 3 | 1 | 56 | 18 | 38 | 11-0-0 | 8-3-1 | 60 |
| Roma | 22 | 15 | 6 | 1 | 45 | 11 | 34 | 9-2-0 | 6-4-1 | 51 |
| Napoli | 23 | 14 | 5 | 4 | 47 | 27 | 20 | 8-3-1 | 6-2-3 | 47 |
| Fiorentina | 23 | 13 | 5 | 5 | 42 | 24 | 18 | 7-3-1 | 6-2-4 | 44 |
| Inter Milan | 23 | 9 | 9 | 5 | 40 | 27 | 13 | 6-5-1 | 3-4-4 | 36 |
| Verona | 23 | 11 | 3 | 9 | 39 | 37 | 2 | 8-1-3 | 3-2-6 | 36 |
| Torino | 23 | 8 | 9 | 6 | 36 | 30 | 6 | 5-5-2 | 3-4-4 | 33 |
| Parma | 22 | 8 | 9 | 5 | 32 | 27 | 5 | 5-5-2 | 3-4-3 | 33 |
| Lazio | 23 | 8 | 8 | 7 | 29 | 29 | 0 | 6-3-2 | 2-5-5 | 32 |
| Genoa | 23 | 8 | 6 | 9 | 24 | 28 | -4 | 5-3-3 | 3-3-6 | 30 |
| AC Milan | 23 | 7 | 8 | 8 | 36 | 35 | 1 | 5-4-2 | 2-4-6 | 29 |
| Sampdoria | 23 | 7 | 7 | 9 | 27 | 32 | -5 | 4-4-4 | 3-3-5 | 28 |
| Atalanta | 23 | 8 | 3 | 12 | 24 | 32 | -8 | 7-2-2 | 1-1-10 | 27 |
| Udinese | 23 | 8 | 2 | 13 | 25 | 32 | -7 | 5-1-5 | 3-1-8 | 26 |
| Cagliari | 23 | 5 | 9 | 9 | 21 | 32 | -11 | 5-4-3 | 0-5-6 | 24 |
| Bologna | 23 | 4 | 9 | 10 | 22 | 39 | -17 | 2-6-4 | 2-3-6 | 21 |
| Chievo | 23 | 4 | 6 | 13 | 16 | 32 | -16 | 2-2-7 | 2-4-6 | 18 |
| Livorno | 23 | 4 | 5 | 14 | 22 | 41 | -19 | 3-3-6 | 1-2-8 | 17 |
| Sassuolo | 23 | 4 | 5 | 14 | 23 | 49 | -26 | 3-1-7 | 1-4-7 | 17 |
| Catania | 23 | 3 | 7 | 13 | 16 | 40 | -24 | 3-5-3 | 0-2-10 | 16 |