1. Liverpool bombard Arsenal, cast doubt on Gunners' title hopes
Describing a performance as imperious has become a Premier League cliché – something people use to buy credibility in the conversation, whether the description is justified or not. On Saturday, however, to the extent that word can ever be applied to a soccer game, Liverpool truly were imperious. From the first moments of their visit from Arsenal, the Reds assumed an arrogant, domineering authority, seemingly without predictability or reason. While the reasons became evidence as the match went on, the match's first 20 minutes carried a type of shock and awe that would make Donald Rumsfeld blush. Scoring four times in just over 19 minutes, Liverpool went on to win, 5-1.
After the match, Brendan Rodgers was asked about Liverpool's title chances. With his team having just routed the league leaders, it seemed a reasonable question, even if Rodgers confessed the title's not on his team's mind. In reality, despite carrying title contender's form, the Reds have no realistic chance of claiming this year's crown. Their odds of passing third place Manchester City and second place Arsenal and first place Chelsea and maintaining their current form are probably on the order of 100-to-1.
[RECAP: Liverpool 5-1 Arsenal: Rampant Reds tear leaders apart (video)]
The telling part of Saturday's game was on the other side of the ball. Arsenal's problems defending set pieces gave Liverpool two in the first 10 minutes, but given the nature of each goal, the Gunners can console themselves some bumper stick logic ("S— Happens"). Martin Skrtel looked offside on the first and executed a low-percentage header on the second, and while good defenses could still adjust and stop both, they're goals you're not going to give up that often.
The third and fourth goals, however, highlighted the problem with Arsenal. With Mikel Arteta and Jack Wilshere as the two in their 4-2-3-1 formation, the Gunners have no true destroyers. They don't even have a defensively inclined player, perhaps highlighting the importance of the suspended Mathieu Flamini. When Liverpool was able to quickly transition through the middle of the park, the midfield provided no protection for a good-not-great defense that was picked apart. Arsenal just doesn't have the kind of talent along the backline that's going to consistently make up for mistakes like Saturday's.
[ANALYSIS: Three things we learned in Liverpool's battering of Arsenal]
The game was an aberration for Arsenal, so we should be careful not to be too firm in our conclusions. Still, the Gunners looked like a team that's one transfer window away from matching Chelsea and Manchester City. Unable to weather the loss of Flamini, and without the talent at the back to make up for Mesut Ozil's giveaways, Arsenal were outgunned at Anfield.
2. Eden Hazard vaults Chelsea top
When Chelsea visited Newcastle on Nov. 2, the Magpies appeared to have figured them out. Alan Pardew's team was content to sit back and absorb Chelsea's pressure, evidently wagering the Blues would be unable to break them down. Second half goals from Yoan Gouffran and Loïc Rémy allowed that bet to pay off, with Newcastle ending the Blues' nine-game unbeaten run.
To the extent Newcastle tried the same approach Saturday, Chelsea were able to show how far they've come. Though it took them half an hour to break through, the Blues controlled the match from the opening kickoff, the positioning of Eden Hazard, Oscar and Willian behind Samuel Eto'o eventually able to exploit angles that would win them the game. On their opener, those angles presented themselves on the right ahead of Hazard's one-timer from just inside the box. On their second, a give-and-go with a clever Eto'o backheel set up another clinical finish from Hazard.
[RECAP: Chelsea 3-0 Newcastle: Hazard's hat trick sends Blues top (video)]
The Beligan completed his hat-trick in the second half after Mapou Yanga-Mbiwa conceded a penalty, with the subsequent conversion pushing Hazard to 12 goals on the year. Though that only ranks fourth in the Premier League, the 23-year-old has been one of the league's two best players over the last two months (at least), with his uptick in form coinciding with Chelsea's continued improvement. As Hazard has responded to José Mourinho's call to greatness, the Blues have steered clear of the problems that plagued them at St. James' Park.
As a result, Chelsea finds itself alone atop the Premier League after 25 rounds, with their Monday win over Manchester City leaving little doubt as to who's the best team in the Premier League. Should they maintain this level, Chelsea is going to reclaim the title. The doubts won't come unless Chelsea falls off.
[REACTION: Jose Mourinho plays down Chelsea going top, how long will he keep doing this?]
3. DRAW WITH COTTAGERS HEIGHTENS RED DEVILS CONCERNS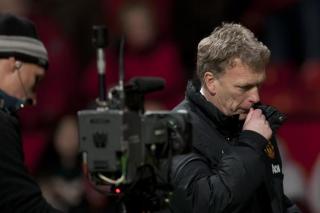 There are few sports where such an asymmetrical approach can be rewarded, but in soccer, sometimes you can sit in your own penalty box, wait for opponents' mistakes, and get a result. On Sunday, Fulham stubbornly offered of the most extreme examples of this approach, spending much of the game playing with a line of six 12 yards from goal. Aesthetics be damned, Fulham earned a 2-2 draw at Old Trafford.
Across the penalty area, the Cottagers at times had four defenders and their 4-4-2's wide midfielders lined up within the width of the six-yard box. As a result, Manchester United were able to exploit the flanks to pump in 81 crosses – the highest total recorded across Europe's top-five leagues since companies started tracking such things. Unfortunately, almost none of those crosses generated even half-chances, with the Red Devils spending most of the game indulging Fulham's predilections.
[RECAP: Manchester United 2-2 Fulham: Darren Bent denies Old Trafford comeback as United continue to falter]
Until 12 minutes from time, Fulham were being outplayed, riding their luck with a couple of great saves from Maarten Stekelenburg. But Steve Sidwell's 19th minute goal (a result of some of the most absent-minded defending you'll see) was still holding up. It was not only the difference between the sides, it was Fulham's only shot on goal.
Then a ball fell for Juan Mata outside the six, who fired it far post for Robin Van Persie. In the 78th minute, United had finally broken through. When a deflection on a shot from the edge of the area got Michael Carrick on the scoresheet, the Red Devils were in front with 10 minutes to go.
But just like everything else in 2013-14, things didn't work out for United. Four minutes into stoppage time, Carrick had a ball taken off of him at the edge of his defensive third. A save from David de Gea on Kieran Richardson couldn't stop the ball from dropping for Darren Bent at the right post, with the Fulham sub's header stealing a point at Old Trafford.
[REVIEW: Premier League Roundup: Chelsea go top, Liverpool hammer Arsenal, big wins at the bottom]
It was another microcosm of the Moyes era. Instead of making adjustments and asking his team to take advantage of the space in front of a receding defense, the United boss saw his team pump cross after aimless cross into the penalty box's chaos. Eventually his team went in front, the probabilities associated with having the ball in the Fulham end for two-thirds of the match seeming to bear out. Still, the shortcomings of his approach left United within striking distance of an inferior opponent, allowing another team to steal points from the Theatre of Increasingly Unpleasant Dreams.
It was the seventh time in 13 games United dropped points at home, leaving the club in seventh place – nine back of fourth. Given that gap and the 13 games left in the season, the Red Devils' hopes of reclaiming a Champions League spot have effectively evaporated. Moyes has pulled a Rafa on United, just without all the glory that came before Liverpool's fall.
4. Manchester City fail to show up at Carrow Road
Ahead of kickoff on Saturday, Manchester City knew a win would leave them first in the Premier League. With Arsenal routed by Liverpool, the Citizens could reclaim the spot they lost after Monday's defeat to Chelsea, and although they would have to do so without Sergio Agüero and Fernandinho (both injured), a Norwich City team that came in two points above the drop should have been nothing more than a speed bump.
Unfortunately, City never found first gear, leaving their 68-goal form in Manchester while they put only two shots on goal. The only saving grace was their opponent doing the same, though a ball in the back of Joe Hart's net gave the Sky Blues a scare before the goal was waved off. Going the last 47 minutes without drawing a save from John Ruddy, City were left with a 0-0 draw and a ticket to third place.
[RECAP: Norwich City 0-0 Manchester City: Norwich hold fast to keep City to a draw (video)]
The team was without Agüero. Fernandinho missed his second straight match, and Samir Nasri's also out. Three of the team's first choice front six were unavailable, but with a squad that features Jesus Navas, Edin Dzeko, Stevan Jovetic and James Milner in reserve, Manuel Pellegrini should have still found a way to three points. As the previous 24 matches showed, Norwich just aren't that good.
On Saturday, however, they were good enough to take a point from City. As a result, Pellegrini needs to regroup, with one point in two games casting Manchester City's title hopes in a new, less favorable light.
5. Monk claims South Wales Derby in Swansea debut
This is the Swansea City team we expected to see all season, one that should have built on last year's League Cup triumph. Instead, the Swans entered Saturday's derby one point above the drop, with interim manager Gary Monk tasked with picking up the pieces after Michael Laudrup's mid-week dismissal. What resulted was one of Swansea's best performances of the season, perfectly timed to compound the worries of their relegation-embattled rivals.
In every phase of the game, Swansea was better than Cardiff, who only mustered one shot on the returning Michel Vorm. In contrast, Swans' early energy generated an opportunity for Wayne Routledge through the right of defense – a chance that was hit right at David Marshall. Scoreless in 13 months, the Swansea winger was made to wait for his breakthrough.
Less than two minutes into the second half, it happened, with Routledge burying a near-identical chance to open the scoring. Goals by Nathan Dyer and Wilfriend Bony added to the Bluebirds' misery, with a re-inspired Swansea team earning a 3-0 win for their new boss.
[RECAP: Swansea City 3-0 Cardiff City: Swans compound Cardiff misery (video)]
In the process, Swans sent their rivals to their worst loss under Ole Gunnar Solskjær, a defeat that leaves Cardiff three points adrift. Were it not for Fulham, the Baby-faced Assassin would be shooting from the bottom of the table.
6. Tottenham hands Everton Champions League blow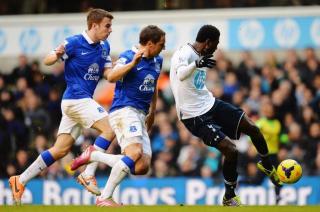 For Liverpool, the title's a long shot because of the teams, not the points. It's one thing to close a six-point gap. It's another, much more difficult thing to do so as part of a four-team race – particularly when you sit last in that race.
After Sunday's loss at White Hart Lane, Everton find themselves in a similar position, albeit in a different race. Thanks to Emmanuel Adebayor's seventh goal of the season, Spurs were able to claim a 1-0 victory over the Toffees, reclaiming fifth in the process. Three points behind the Reds, Spurs now have a two-point edge on Everton in the race for England's last Champions League spot.
[RECAP: Tottenham 1-0 Everton: Adebayor goal from nothing puts Spurs past Everton]
Perhaps predictably, Everton controlled large portions of the game, limiting Spurs to two shots on goal. Also predictably, the Toffees were bound to be undone by a counter or a set piece, with a quick second half leading to Sunday's only goal. After Kyle Walker's restart found Adebayor isolated against Seamus Coleman, the Togoan was able to beat Tim Howard for the match's only goal.
If Everton only had to overcome a five-point gap to claim a Champions League spot, Blues' fans could rest their hopes on a Liverpool slip, as unlikely as that is. Now, having allowed Spurs to pass them, that slip would have to be accompanied by a downturn for Tottenham (as well as a Toffees' surge). While that's not impossible, 13 games leaves very little time for everything to fall into place.