This is what everybody's been waiting for. During those improbable opening months when they played beyond their talent. During a winter that's seen Atleti claim La Liga's top spot, obliging onlookers to mention them along side Barcelona and Real Madrid. During all those moments when people were forced to reconsider their instincts about Atlético Madrid. After 22 rounds, Diego Simeone's team had almost dispelled the notion they were the third of two title contenders.
Then came the last five days. Mid-week at Real Madrid, the Colchoneros were undone by two own goals – unfortunate deflections that left Simeone's side down three ahead of the second leg of their Copa del Rey semifinal. Though it was only their second loss in all-competitions this season, the result was enough to leave Atlético with little realistic chance of defending their Copa title.
On Saturday, it got even worse. During a trip to Almería that should have been near-automatic three points, Atlético were held to one shot on goal. Their defense nearly overcame that shortcoming, but with 80th minute goal from Verza, the home side finally had their unlikely lead. When the Almería midfielder doubled his team's lead from the spot six minutes later, an Atlético side that'd just seen their goalkeeper sent off was destined for their second straight loss.
If the defeat at the Bernabéu was disappointing, Saturday's loss was unnerving. Against El Real, the team could point to a tough opponent, some own goal misfortune, debatable refereeing and an early red card as a series of unfortunate events. On Saturday, the only unfortunate thing was Atlético's play. In the heat of a three-team title race, Atleti may have lost three points they can't afford to give up.
Of course, we won't know until the end of the season, but should Atlético end up just short of their first title in 18 years, it will be hard to avoid looking at the Almería result without saying "they knew they had to win that game."
Barcelona, Real Madrid, and the 100-point hypothesis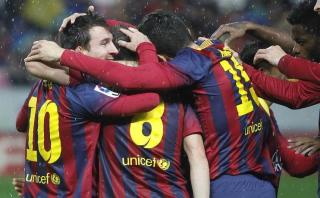 For Atlético to pay for the Almería slip, La Liga will have to maintain the type of title race that demands perfection. Toward that end, one hundred points has been the implicit target all season, yet after recent slips by Barcelona and Atleti, no team remains on track for that plateau. With 57 points through 23 rounds, all three title contenders are on course to finish with 94 points.
This weekend, however, both Barcelona and Real Madrid finally looked capable of resuming a 100-point pace. Barcelona, with a potentially tricky trip to the Sanchez Pizjuan, extended Sevilla's newfound slump. Responding to an early goal from Alberto Moreno, Barça scored three times before the hour, with Lionel Messi's double leading the Blaugrana to a 4-1 win. Thanks to their league-leading goal difference, Barcelona's reclaimed first place.
Real Madrid put in their own four-star performance on Saturday, albeit with slightly more drama against visiting Villarreal. Goals by Gareth Bale (7′), Karim Benzema (25′), and Jesé (64′, starting for the suspended Cristiano Ronaldo) had the Merengues up 3-1 late. Giovani Dos Santos, however, brought the Yellow Submarine back into the match, burying a 27-yard free kick just inside Diego López's right post, giving the Bernabéu reason to pause. Seven minutes later, however, when Benzema found his second of the match, Real Madrid had their final margin, securing the 4-2 win that moved them into second on goal difference.
Amid recent, flawed form, Barcelona and Real Madrid each put in one of their most impressive performances of the new calendar year. Whereas Barcelona looked vulnerable mid-week against Real Sociedad and were unable to execute in the final third, Sunday saw them rout a struggling but ultimately decent Sevilla. This was old Barcelona; or, at least, the Barcelona of fall.
And Real Madrid, who have struggled to score against non-Real Betis teams with their new 4-3-3, final broke through against a quality opponent. There was no own goals. there were no early red cards. They put up four against a Villarreal side still harboring hopes of a Champions League return.
La Liga's leaders have slowed down, but after convincing weekend results, Barcelona and El Real may be ready to resume an unforgiving pace. After their worst week of the season, Atlético need to prove they can keep up.
Elsewhere
Espanyol 1, Granada 0 – Javier Aguirre's team overcame the 30th minute dismissal of Víctor Álvarez thanks to Héctor Moreno's late winner, sending Granada to their third straight loss.
Valencia 5, Real Betis 0 – What slim hope Real Betis had after changing coaches last month undoubtedly dissipated at the Mestalla, where two goals from Paco Alcácer help keep the verdiblancos 10 points from safety.
Rayo Vallecano 4, Málaga 1 – Unable to covert last week's win at Sevilla into momentum, Málaga were throttled in Madrid, their 10-man side trailing by four goals after 62 minutes . The Andalusians now sit 17th, three points from the drop.
Osasuna 2, Getafe 0 – Oriel Riera's sixth minute opener helped Osasuna end a two-game slide, with Roberto Torres's late insurance leaving Getafe winless since Dec. 17.
Valladolid 2, Elche 2 – Two late goals by Osorio salvaged a draw for the hosts after Coro and Manu del Moral had the visitors up two after 65 minutes.
Real Sociedad 0, Levante 0 – La Real miss their chance to make up ground on sixth place Villarreal, with seven saves from Keylor Navas giving Levante their second straight 0-0 result.
Monday
Celta Vigo vs. Athletic Club
Others
Almería 2, Atlético Madrid 0
Sevilla 1, Barcelona 4
Real Madrid 4, Villarreal 2
Standings
| | | | | | | | | | | |
| --- | --- | --- | --- | --- | --- | --- | --- | --- | --- | --- |
| Team | GP | W | D | L | GF | GA | GD | Home | Away | PTS |
| Barcelona | 23 | 18 | 3 | 2 | 63 | 17 | 46 | 10-0-1 | 8-3-1 | 57 |
| Real Madrid | 23 | 18 | 3 | 2 | 65 | 24 | 41 | 10-0-1 | 8-3-1 | 57 |
| Atlético Madrid | 23 | 18 | 3 | 2 | 56 | 16 | 40 | 10-2-0 | 8-1-2 | 57 |
| Athletic | 22 | 13 | 4 | 5 | 42 | 28 | 14 | 9-3-0 | 4-1-5 | 43 |
| Villarreal | 23 | 12 | 4 | 7 | 44 | 27 | 17 | 7-3-2 | 5-1-5 | 40 |
| Real Sociedad | 23 | 10 | 7 | 6 | 42 | 34 | 8 | 7-3-1 | 3-4-5 | 37 |
| Sevilla | 23 | 8 | 7 | 8 | 42 | 41 | 1 | 5-2-4 | 3-5-4 | 31 |
| Valencia | 23 | 9 | 4 | 10 | 36 | 35 | 1 | 6-2-4 | 3-2-6 | 31 |
| Espanyol | 23 | 8 | 5 | 10 | 26 | 29 | -3 | 6-2-4 | 2-3-6 | 29 |
| Levante | 23 | 7 | 8 | 8 | 22 | 30 | -8 | 3-5-3 | 4-3-5 | 29 |
| Celta Vigo | 22 | 7 | 4 | 11 | 29 | 35 | -6 | 3-4-4 | 4-0-7 | 25 |
| Elche | 23 | 6 | 7 | 10 | 22 | 34 | -12 | 4-3-5 | 2-4-5 | 25 |
| Getafe | 23 | 7 | 4 | 12 | 22 | 36 | -14 | 4-4-4 | 3-0-8 | 25 |
| Osasuna | 23 | 7 | 4 | 12 | 21 | 37 | -16 | 4-2-5 | 3-2-7 | 25 |
| Almería | 23 | 7 | 4 | 12 | 24 | 41 | -17 | 4-3-4 | 3-1-8 | 25 |
| Málaga | 23 | 6 | 6 | 11 | 23 | 33 | -10 | 5-1-5 | 1-5-6 | 24 |
| Granada | 23 | 7 | 3 | 13 | 20 | 30 | -10 | 3-1-8 | 4-2-5 | 24 |
| Valladolid | 23 | 4 | 9 | 10 | 26 | 39 | -13 | 3-5-3 | 1-4-7 | 21 |
| Rayo Vallecano | 23 | 6 | 2 | 15 | 25 | 52 | -27 | 3-0-8 | 3-2-7 | 20 |
| Betis | 23 | 3 | 5 | 15 | 20 | 52 | -32 | 3-3-6 | 0-2-9 | 14 |