.
UNITED'S PREDICTABILITY PROVES THEY AREN'T LEARNING
"Today is probably as bad as it gets. We completely dominated the game, being 1-0 down was bad enough and it could've been 2-0 at one point. I mean the amount of chances, the play and attempts we had… how we didn't win the game comfortably I have no idea."
Sadly for fans of Manchester United, those sentiments uttered by David Moyes following Sunday's damaging 2-2 draw with Fulham have come all too often this season.
As the Red Devils season hit a new low, they're now nine points off the top four with 13 games to go, Moyes' side examined many of the key factors why they are languishing in seventh spot and are 16 points away from league leaders Chelsea.
Defensive frailties, offensive predictability and a lack of belief.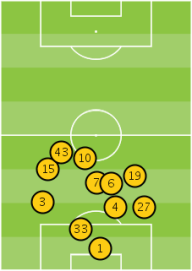 As you can see from the diagram on the left, the average position of both teams shows that not one of Fulham's players were in United's half. But somehow the Red Devils conceded twice, and despite their record haul of crosses, 75 percent possession and 22 attempts at goal, they only bagged two goals to leave over 75,000 at Old Trafford scratching their heads.
On Sunday cross after cross came in as United's predictability, often a trait of Moyes' management of Everton, came to the fore. The Red Devils sent in 81 crosses, more than any PL team in a single game since Opta started keeping records of that component in 2006. But the crosses often hit the first man, or found one of Fulham's white shirts who piled into the box as United's attackers wandered around with no real gumption to get on the end of the deliveries. Look at the image below on the right, the ball often got to the byline but was just hung up aimlessly. They played into the Cottagers hands time and time again, as only one of United's 10 outfield players didn't attempt a cross, Nemanja Vidic.
That leads us nicely into the problems in defense, which were highlighted by both of Fulham's goals. Granted, they came against the run of play to snatch a point, but the ease in which Fulham exposed United's defense, skippered by the outgoing Vidic who announced he will leave United at the end of this season, was shocking.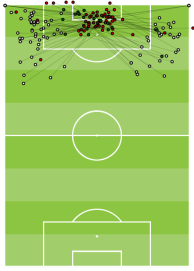 For Fulham's opening goal Steve Sidwell's run wasn't even a complex or well-crafted one, it was straight as a dye and cut through United's defense like a knife through butter. Juan Mata and Darren Fletcher were both caught napping, Patrice Evra didn't tuck in  from left back to close the gap Sidwell ran into, and Fulham were 1-0 up. As easy as that.
Then came the assault on the Cottagers goal, as they held out until the 78th minute 1-0 up, but Robin van Persie re-directed Mata's shot to make it 1-1, then United went ahead just over a minute later. Michael Carrick's 79th minute goal hit the back of the net via a deflection to hand United a lead they'd relentlessly pushed for. As the ball went in, Moyes turned to the directors box and punched the air with fury, delighted and relief.
Sir Alex Ferguson was in there somewhere, and that act of jubilation from Moyes seemed to also vent his frustration as the Red Devils continue to underwhelm across the board. Ferguson was watching on from the comfort of his warm, padded seat, with the husky voice of Simply Red's lead man Mick Hucknall sat next to him but Fergie must feel a little uneasy at the squad he left Moyes to inherit. At this rate, Hucknall better take his boots with him the next time he turns up at Old Trafford…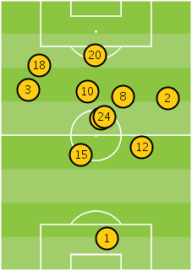 Because all of Moyes' jubilation was for 'nowt,' as they say in Northern England. Another huge defensive lapse cost United all three points in the 94th minute as, just like the first goal, basic errors at the back saw them come unstuck. Vidic had to head the ball clear but instead knocked it down to Carrick who was stripped of the ball, and suddenly Fulham had a four on four break in the final minute while United were 2-1 up at home.
As you can see on the left, both United's full backs were bombing on throughout the game, leaving the duo of Vidic and Chris Smalling incredibly exposed.
That should not happen, and the Cottagers took full advantage of it as Darren Bent nodded home from close range following Kieran Richardson's shot being parried away by David De Gea. Silence at Old Trafford.
Not for the first time this season, and probably not the last either. United have now hit rock bottom and the only way is up. But just how far is that?
If they keep putting in performances like that, chances of reaching the top four and Champions League soccer is a million miles away. If it hasn't vanished already.
Premier League Schedule – Week 25

HAZARD: BALLON D'OR PRETENDER?
On Saturday Chelsea brushed aside Newcastle 3-0 at Stamford Bridge, going top of the PL stansings in the process, as the Belgian boy-wonder Eden Hazard bagged his first-ever Blues hat trick. Afterwards Chelsea's manager Jose Mourinho reserved special praise for the 23-year-old trickster, the player he often refers to as 'The Kid.'
"I think a team is made of 11 guys, but obviously he is special. I think in this moment he's the best young player in the world."
After two quick one-twos in the first half with Branislav Ivanovic and Samuel Eto'o, Hazard put Chelsea 2-0 up with fine finishes as he scampered past Newcastle's defenders as if they weren't there.
His eyes were locked on the prize and as his scything runs cut out the entire heart of the Magpies defense, Hazard continue on his path to greatness. The Kid is turning into a man before our eyes.
Earlier in the week Hazard spoke of his admiration for FIFA World Players of the Year Lionel Messi and Cristiano Ronaldo and how he needed to score more goals to be in that bracket. Scoring your first-ever hat trick for Chelsea immediately after stating that shows the mark of the young man. He know has 15 goals on the season and has lit up Chelsea's rise to the PL summit. The Blues paid French side Lille $48 million for Hazard's services in 2012. Pretty soon, that fee could look like a snip. Warning Messi and Ronaldo… there's a Hazard coming your way.
HOW LIVERPOOL HAMMERED ARSENAL
With Steven Gerrard delivering pinpoint crosses for Liverpool's juggernauts to attack, it's no surprise the Reds got off to a flying start with two goals inside the first 10 minutes from big center half Martin Skrtel on Saturday. Add in the lighting quick trio of Luis Suarez, Raheem Sterling and Daniel Sturridge and it was an absolute nightmare start for Arsenal that didn't get any better.
.
Liverpool had a dream first 20 minutes at Anfield, they surged into a 5-0 lead just after half time and embarrassed title hopefuls Arsenal on Merseyside. Gerrard sprayed the ball around masterfully from the holding role as he was at the center of it all, but the quartet of Sterling, Suarez, Sturridge and Philippe Coutinho tore Arsenal apart, as the cumbersome duo of Laurent Koscielny and Per Mertesacker were once again exposed due to their lack of pace on the turn. Here are three things we learned from Liverpool's demolition of the Gunners, as the away side ran around like loose cannons on Saturday.
High-pressure play has evoked high hopes for the rest of the season at Anfield. With Liverpool just six points off top spot and both Manchester City and Chelsea still to play at home, can Brendan Rodgers' team come from nowhere to win this PL title?
PALACE, FULHAM: TRANSFER WINDOW WONDERS
Holtby's delicate chip into Sidwell for Fulham's first goal in the 2-2 draw at Old Trafford showed what the young German is capable of. His driving runs and artful weaving on the ball see him stand out above the crowd. But often at Spurs he didn't have moments of substance, yet he already looks like the main man in a Fulham shirt and is driving the Cottagers on. The German international linking up with new $18 million poacher Kostas Mitroglou, expected to make his Fulham debut on Wednesday against Liverpool, should have fans of the Lillywhites licking their lips. Maybe, just maybe, Fulham can salvage their season as another deadline day buy Johnny Heitinga looked solid at the back against United.
RECAP: Transfer window grades for all 20 PL teams
Elsewhere, within 30 minutes of their debuts Thomas Ince and Joe Ledley had both scored to put Crystal Palace 2-0 up vs. West Brom. Talk about making an instant impact. Tony Pulis has often been lauded for his ability to rummage around in the transfer bargain bin hurriedly on deadline day, and being able to pull out a gem or two.
He's done it again. And now the Eagles are surging towards safety as the cavalry have well and truly arrived, as the 3-1 victory vs. WBA was a fifth home win in seven attempts for the Eagles, since the former Stoke boss arrived in November.
To watch that big win for Palace, and all the other goals and action from Round 25, here's the PL video highlights below. Enjoy.
Premier League Playback takes an alternative look at all the weekend's action from the PL, it comes out every week. Due to midweek action, it will be back on Thursday. Double helpings…