So Clint Dempsey didn't dress for Fulham today. Again. That's two matches in a row "Deuce" hasn't made the team, with potential descriptions of his last appearance ranging from ineffective to embarrassing. Search last December's version of the internet, find the most pessimistic scenario you can for Dempsey's loan, and you won't see one curmudgeon willing to predict it would be this bad. Right now, Dempsey's only silver lining is his health.
For the diehard U.S. Men's national team fan, it's tempting to blame the last place Cottagers, but excluding Dempsey was the right move. After losing at home in the FA Cup to a third-tier club, Fulham boss René Meulensteen was desperate for solutions, ones that will extend beyond Dempsey's time in West London. Beyond the U.S. captain's fledgling performance, a now impending departure meant Demspey-centric solutions would be counter productive. Even if he started playing well, Meulensteen would have to go back to the drawing board in March having lost time to find a solution that would last through May. Ultimately, Dempsey just ran out of time.
Within the scope of this summer's World Cup, Fulham's are secondary concerns. The bottom line is performance, and there's no question about it: Dempsey hasn't performed well in his Premier League return. Worryingly, he also didn't perform well last season with Seattle, and while he was fine in 2012-13 with Tottenham, he didn't carry over the production that won him a move from Fulham.
In hindsight, it was always unlikely Dempsey was going to put up those numbers in North London, and a change of role under André Villas-Boas didn't help. Still, it's hard to see Dempsey's play since leaving Craven Cottage as anything but three steps backwards. His production dropped at Spurs, then again with Seattle, and now he's not even playing with Fulham.
That's the bad news. The relative good news: Dempsey's performance in West London will probably have no bearing on his chances of turning it around in Seattle. And when we're talking about being prepared for the World Cup, these next two-plus months with the Sounders are going to be much more important than his training and fitness exercise with Fulham.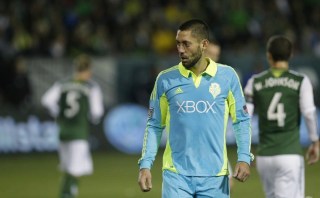 Even if Dempsey had scored five goals during his time with the Cottagers, the challenges he's be facing in Seattle would be the same. Sigi Schmid still needs to figure out how to use him, preferably in a role that doesn't require Dempsey to be the first guy receiving the ball out of the defensive third. Dempsey still needs to adjust to whatever role Schmid defines, and perhaps most importantly, Dempsey needs to go from being a complementary part at Spurs (and during this spell at Fulham) to somebody who can be the focal point of a team – something you can argue he's never been at club level. Even his best days at Fulham saw him as a highly productive opportunist, not somebody inherently expected to put a team on his shoulders.
And by put a team on his shoulders, I mean be the man who is expected to do something positive to tilt a game in his team's favor. Let's take the clichés out of it and define what it means on the field. In those moments when Seattle needs to be productive going forward — when everything you drew up on the white board goes out the window — the Sounders need to be able to depend on Dempsey the same way Real Salt Lake depends on Javier Morales, the LA Galaxy depends on Landon Donovan, or the Portland Timbers depend on Diego Valeri (to go through Seattle's Western Conference rivals). In 2014, Dempsey needs to be that type of player.
No matter how Dempsey performed with Fulham, he was still going to have to adjust to his role with the Sounders. Success may have given him momentum to carry into the Major League Soccer season; more likely, Dempsey's going to touch down in Seattle, be in an entirely new environment, and see a whole new set of challenges. Beyond being physically fit, nothing about his time in Fulham was going to help him adjust to life with the Sounders.
His return to West London has been a failure, but in the context of what's come over the next five months, it's a very limited one. The real test comes when he returns to the Sounders. That's where the U.S. captain will really be preparing for this summer's World Cup. If those preparations go well, Dempsey's struggles with Fulham will be less than an afterthought.