LONDON — Following Arsenal's 0-0 draw against Manchester United on Wednesday, both sides failed to really push the boat out and go for broke to grab the win.
Perhaps that wasn't that surprising given United's poor run of form and Arsenal coming off the back of a 5-1 thumping away at Liverpool on Saturday.
Arsenal's usual panache was missing in and around the box, while United shut up shop and failed to force the issue.
But what did we learn from the stalemate at the Emirates?
United's negative tactics will get them nowhere
Even though they grabbed a point on the road away at Arsenal, Manchester United's defensive tactics will get them nowhere in the long run. The Red Devils knew they were going to come up against an Arsenal side hell-bent on putting the heavy 5-1 defeat against Liverpool firmly in the rear view mirror. So David Moyes set his team up to counteract an onslaught and sacrificed his own teams attacking flair in the process. Record $58 million signing and chief creator Juan Mata was played out of position wide on the left, as United set up in a rigid 4-4-1-1 formation to try and keep Arsenal at bay. It worked, just about, but will this formation and these negative tactics help United turn their season around and make the top four? Not a chance. With Liverpool winning on Wednesday night and stretching their lead over United to 11 points, reaching the final Champions League spot seems to be near on impossible.
So how did David Moyes rate his sides ultra-defensive display?
I see it as a hard place to come, Arsenal are a great team and have had a great season up until now. If you'd said to me at the start of the season, would you be happy to take four points off Arsenal? I would've been quite happy. Overall I'd have liked to have won tonight, a lot of good things to take from it and I thought we defended very well.
Nervous tension shines through, which doesn't bode well down the stretch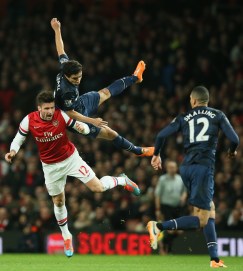 Time and time again Arsenal's fans threw their arms into the air as their side needlessly gave the ball away. There was a nervous tension in the air around the Emirates Stadium, as the former league leaders missed the chance to go back to the PL summit by throwing away two points at home against United. Coming off the back of demoralizing 5-1 away defeat at Liverpool, this game was always going to be about getting a reaction for Arsene Wenger, and his side didn't really seem to believe they could punish the Red Devils. I've been present at all the big games at the Emirates this season, and much like the 0-0 draw with Chelsea in December, Arsenal seemed to lack the belief in the final third that they were going to score and going win the game.
Often this season they've whittled teams down, with their last five home games all yielding clean sheets but not a single goal coming in the first half of games. Against Crystal Palace, Fulham and Cardiff all of Arsenal's winning strikes came late on after relentless probing caused the away side to finally crack. But diminutive demons Jack Wilshere, Mesut Ozil and Santi Cazorla just never looked like getting in behind United's defense, as they looked uncharacteristically uneasy in and around the box.
Arsenal boss Arsene Wenger observed that uneasy attitude from his usually placid players, who so often ooze panache.
I felt we were nervous. Where we are usually very dangerous breaking through the middle with quick passing, Man United defended very well there. We got plenty of crosses in but their experienced players like Vidic and Ferdinand dealt very well with that.
The Gunners enter pivotal patch with goals still an issue

Arsenal's French forward Olivier Giroud ran himself into the ground on Wednesday, but the Frenchman, try as he might, just couldn't convert any of the chances handed to him. Giroud headed off target twice in the first half after losing his marker at a set-piece, then missed a glorious chance in the 77th minute as Bacary Sagna's right wing cross somehow evaded his right boot and the majority of the 60,000 crowd at the Emirates collectively looked to the sky and hoisted their hands longingly into the air. With no new striker arriving in January and Giroud looking off his touch in front of goal, (no for a lack of effort on his part, ny the way) the Gunners are suddenly looking short of goals with Theo Walcott and Aaron Ramsey both out injured. With Liverpool coming up on Sunday in the fifth round of the FA Cup, Bayern Munich at home next Wednesday in the last 16 of the UEFA Champions League and then Sunderland in the PL on Feb. 22, a pivotal run of games will define the Gunners quest for silverware this season.
You have to go back to their 3-1 Boxing Day win away at West Ham for the last time Arsenal scored more than two goals in a PL game, which certainly isn't Championship form. Yes, defensively they are superb after keeping their 12th clean sheet of the season. But goals win you games, and Arsenal just don't look like scoring that many of late.
Wenger agreed his side are struggling to bulge the back of the old onion bag…
We are a bit short of goals at the moment. We lost goalscorers with Walcott and Ramsey, at the moment in the games like that [draw with United], you see that. We must come back to our normal level in the next game offensively.