.
LIVERPOOL, SPURS PEAKING THANKS TO RESURGENT HEROES
With so many people concerned about whether or not Manchester United are going to make the top four this season, the imperious form of Liverpool and Tottenham Hotspur has fallen by the wayside. Let's address that.
Liverpool's sublime attacking units is capable, as we saw against Arsenal, of ripping apart any team in the PL. While Tottenham are a well-oiled machine under Tim Sherwood, as they keep it simple and overpower their opponents with sheer athleticism and a massive will to win.
Both teams are going full throttle at making it into UEFA Champions League this season, with one team likely to miss out, agonizingly so.
Hang on a minute, why can't both Liverpool and Spurs finish in the top four? Following their impressive midweek displays, watch Liverpool's enthralling comeback win over Fulham above, both Liverpool and Spurs have two resurgent heroes at the center of their upsurge.
Steven Gerrard and Emmanuel Adebayor are spearheading their teams top four challenge.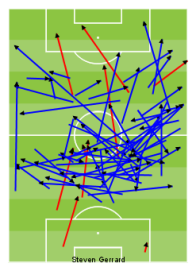 First let's start with English national team captain, Gerrard, who has been a sensation playing in a deeper role for much of this season skippering Liverpool. The amount of times I've been asked the question, 'Gerrard is no spring chicken, can he still do it?' has been quite absurd. If anything, Gerrard's lack of being able to maraud up and down the pitch like he did in the past has helped not only his own play, but Liverpool's chances of success, considerably. In the 2008-09 campaign Liverpool finished second in the PL standings and at this stage of the season they had 55 points. This year they have 53 points, their second best PL record after 26 games. The Reds are four points off the top of the table, with top four dreams replaced by aspirations to lift their first ever PL crown.
Since January 1, Liverpool have the best record in the Premier League. They have won five and drawn two of their seven games and have a goal differential of +13.
Much has been made of the sensational strike rates of forwards Daniel Sturridge and Luis Suarez, and rightly so, but Gerrard is the heartbeat of Liverpool at the age of 33. As we mentioned Gerrard has been deployed in a deep-lying role this season, and as you can see on the left from his pass map in the win over Fulham, Gerrard rarely passes backwards and his various raking long balls keep Liverpool moving forward at all time.
His engine may not be capable of performing at the highest speeds anymore, but like a luxurious Italian sportscar, you can't get rid of Gerrard's class.
His ball through to Sturridge for Liverpool's first goal on Wednesday was sublime. A thing of beauty. Wondrous. Only Gerrard could have delicately threaded that ball through with the outside of this boot and taken four Fulham defenders out of the game in one fell swoop. As you can see from the stats below, Gerrard's pass percentage rate is well over 70 percent in each of his six appearances since January 1.
The pass percentages are rather low compared with his performances in games earlier this season, but now Gerrard has license to try those long risky balls to try and open up opposition defenses. He is now the catalyst to help Liverpool get in behind the opposition, where before he was making plenty of backwards and sideways passes. Not anymore.
Gerrard's passing stats in 2014, in games he's started

| Date | Opponent | Minutes Played | Passes | Successful Passes | Passing Accuracy % |
| --- | --- | --- | --- | --- | --- |
| 12/1/14 | Stoke City | 90 | 58 | 44 | 75.90% |
| 18/01/14 | Villa | 90 | 42 | 31 | 73.80% |
| 28/01/14 | Everton | 90 | 34 | 26 | 76.50% |
| 2/2/14 | WBA | 90 | 59 | 48 | 81.40% |
| 8/2/14 | Arsenal | 76 | 43 | 34 | 79.10% |
| 12/2/14 | Fulham | 90 | 74 | 64 | 86.50% |
.
On Wednesday, 'Captain Fantastic' had a penalty kick in the final minute away at Fulham to seal the 3-2 win for Liverpool. Cool as a cucumber he dispatched the penalty into the top corner and wheeled away in absolute jubilation towards the thousands of traveling Liverpool supporters. As Gerrard tore his shirt off and whirled it around his head like a helicopter's rotor blades, you saw how much it meant to him.
A hometown boy who has never won the title in 16 years with the Anfield club, he is desperate to lift the crown before he retires. The celebrations from Liverpool's young stars, who idolize Gerrard, also epitomized the magnificent team spirit that fuels Brendan Rodgers' Liverpool side.
Here's what the Reds Northern Irish manager said after the crucial comeback win over Fulham that sees his side in the hunt for the PL crown.
The first four, five months I was in here, we would've lost that game. But we've now built a way of working and a way of playing, but not only that, we've built a spirit and camaraderie that sees us fight until the very end.
.
As for Spurs, they have the third best record in the PL since the turn of the year, with 16 points from seven games and the only defeat coming against Man City.
One man has been instrumental in their upturn, as Emmanuel Adebayor has now scored eight goals in Tim Sherwood's first 10 games in charge of Spurs. The revitalized striker has breathed new life into Tottenham's campaign. Frozen out under previous boss Andre Villas-Boas, the Togolese forward has flourished under the new direct tactics Sherwood has implemented and his goal celebration of proudly saluting Tottenham's fans will be something we'll see a lot more of between now and the end of the season.
After playing for Arsenal, Manchester City, Real Madrid and Monaco, Adebayor's class is there for all to see. Sherwood has said that time and time again, as AVB has been made to look like a fool for keeping the 29-year-old striker out of his squad altogether. With club record signing Roberto Soldado on the bench as Adebayor keeps banging the goals in, Spurs hammered Newcastle 4-0 on Wednesday and are now just three points behind Liverpool, who occupy fourth. Adebayor is always sniffing around the box and always seems to be on hand to finish off the vast array of crosses Spurs put into the box, something Soldado hasn't done this season.
For his first goal vs. Newcastle on Wednesday, Adebayor won the ball on the halfway line, held it up and laid it off to Nabil Bentaleb who surged down the left. While he did that, Adeabyor put his head down and sprinted to get into the box and eventually the ball found him, and he finished confidently. He was in the box to finish it off. That's something Spurs have been lacking from their strikers all season.
Can the North London club really bounce back from the distress of life under AVB and seal their aim of Champions League soccer, after cruelly missing out on the final day of last season?
Speaking about Spurs' top four chances, Rookie boss Sherwood believes Liverpool are ahead of his side. But not by much.
Liverpool are up there at the moment. You would say they are favorites, but we think we can put a charge together. We've got to believe in that. But it is not only Liverpool. I think there are other teams in this race.
Premier League Schedule – Week 26

STALEMATE CENTRAL: WHY THE TITLE RACE IS WIDE OPEN
After Arsenal's stalemate with Manchester United on Wednesday night at the Emirates, Gunners boss Arsene Wenger spoke on the
"Our team was highly focused not to concede tonight, maybe that restricted our game going forward a little bit. We were certainly hit by the five goals we conceded on Saturday [in the defeat by Liverpool] and you could feel that a little bit tonight."
Feb 12: Arsenal 0-0 Manchester United. Dec. 23: Arsenal 0-0 Chelsea. Aug. 26: Manchester United 0-0 Chelsea.
In some of the biggest Premier League games this season we've seen dour stalemates as the PL's giants don't want to be on the end of knockout blows. It's been like watching two great prizefighter's dance around in the ring, threaten to smash each other in the face, but instead delicately tap one another on the chin.
In all of the aforementioned 0-0 draws, the away side has turned up with a game plan to shut up shop, and every single time it has worked perfectly. Does that mean most PL teams can grind out a draw when they need to? The vast majority can, especially the teams at the top.
Three things we learned from Arsenal and Manchester United's deadlock
What we haven't seen enough of from Arsenal this season in these tight games, is a way to combat ultra-defensive displays. There has often not been a Plan B. Unless you call throwing on Nicklas Bendtner late on a plan. (It's not.) The Gunners attacking talents have failed to turn it out late in games when it's really mattered. Arsenal have had 12 clean sheets and are proud of not conceding in their last five home games. But as they stay in the hunt for the PL title, just one point off league leaders Chelsea, the Gunners need to kick the habit of becoming frustrated by familiar foes parking the bus.
Latest Premier League Standings
Chelsea are the chief protagonists at getting shutouts, while Man City would be the people's favorites to win the Premier League crown after their shed load of goals sees them battling it out at the summit. But even the Citizens vast array of attacking talents have failed to score in their past two games.
Going away from the top teams, look at the rest of the Premier League… There were two 0-0 draws, a 1-0 win and two 1-1 draws in the eight midweek PL matches. That's not a lot of goals, and as the stakes go up, so does the tension and that means more teams trying to keep what they have and nick a win, rather than performing swashbuckling soccer to get three points.
Here's a recap video from the action on Wednesday to see some of the stalemate soccer play out.
.
HEAVY SCHEDULES TAKING THEIR TOLL? SOME ARE OFF TO THE SUN…
With torrential rain and wind battering Premier League players for months, FA Cup, European and PL games coming thick and fast and everyone expecting you to keep performing at the highest level, this time of year is when the real champions arise as the hard slog gets tougher.
With Arsenal, Manchester City and Chelsea still battling for three trophies (four in City's case) you can forgive their players for looking a little jaded. But for those PL squads who were knocked out of the FA Cup in the early stages, they have now been rewarded with a nice little break. And they are making the most of it.
Last week I spoke with U.S. international Geoff Cameron: "We are off to Dubai on Thursday for a warm weather break," was his response when I asked what was coming up. Lucky devil. Looks like U.S. international Cameron and his Stoke teammates are enjoying their much needed working trip to Dubai…
Similarly West Bromwich Albion are off to the famed La Manga resort in Southern Spain, while Manchester United and West Ham United are also off to Dubai to get away from it all. Newcastle have already been overseas to the Middle-East to work on their tans and recharge their batteries. That worked out well for Alan Pardew's men (four straight defeats.…) Anyway, what would players rather be doing in the middle of a harsh English winter?
Lying by a pool in warmer climates or battling for multiple titles on the domestic and European stage? Do I even have to answer that…
Much maligned Manchester United midfielder Tom Cleverley believes the warm-weather break will help the Red Devils kick on in the second half of the season. Let's see if these teams soaking up the sun in Spain or the Middle-East this week all perform how Cleverley believes United will in the closing stages.
We'll go away and have a good five days of warm-weather training which will bring us together and hopefully do us good for the run-in. Warm-weather training is good for fitness as well as team bonding and the team spirit you get from having all the lads together. We did it last year and it really helped us – hopefully it'll have the same effect this time.
EVERTON, THE PEOPLE'S CLUB, WITH A HEART WARMING GESTURE
Finally, let's end with something that will truly make you smile and revel in the kindness of humanity. As you're probably aware, Manchester City's match vs. Sunderland and Everton's games against Crystal Palace were called off on Wednesday as 100mph winds battered England. The latter game was cancelled just an hour before kick off amid safety fears.
But before the game had been postponed, Everton fan Richard Wee tweeted the following before he found out about the game being called off, as the life-long Evertonian had flown in from Thailand to see his first-ever Everton game.
Oh dear.
Fear not, Everton's media staff managed to track down Mr. Wee and tried their best to salvage his trip halfway across the globe, by taking him to meet manager Roberto Martinez and star defender Leighton Baines in the dressing room.
To complete the treatment, Everton rolled out the 'blue carpet' for Wee on Thursday before he flew home, as he was also given a guided tour of Goodison Park by club legend Graeme Sharp.
Needless to say, Wee was delighted and Everton tweeted the following. On the eve of Valentines Day, who said romance is dead in soccer? Classy from the "People's Club." Share the love people.
Premier League Playback takes an alternative look at all the weekend's action from the PL, it comes out every week.