Following Jose Mourinho's incredible outburst towards Arsenal manager Arsene Wenger on Friday, we have certainly been used to hearing some gems from the self-anointed 'Special One' over the years.
In Mourinho's latest masterful rebuttal, replying to jibes from Wenger that he has a 'fear of failure' by writing off Chelsea's title hopes, Mourinho said the following.
"He is a specialist on failure. I'm not."
Ladies and Gentleman, that's Mourinho at his best.
And if you needed a recap on some of his best quotes of all time, and believe me there's plenty, here is a list of my favorite quotes from Chelsea's extravagant boss from Portugal.
Enjoy.
On his arrival at Chelsea in 2004, the first words he muttered:
"Please don't call me arrogant, but I'm European champion and I think I'm a special one."
On Chelsea's injury crisis back in 2007, following a win vs. Blackburn:
"It is like having a blanket that is too small for the bed. You pull the blanket up to keep your chest warm and your feet stick out. I cannot buy a bigger blanket because the supermarket is closed. But I am content because the blanket is cashmere. It is no ordinary blanket."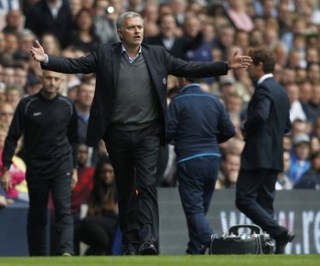 On not praising his individual players:
"I don't want special relations with one of them (his players). I hate to speak about individuals. Players don't win you trophies, teams win trophies, squads win trophies."
On Arsene Wenger's comments criticizing Chelsea in 2005:
"I think he is one of these people who is a voyeur. He likes to watch other people. There are some guys who, when they are at home, have a big telescope to see what happens in other families. He speaks, speaks, speaks about Chelsea."
On what God thinks of Jose Mourinho…:
"He must really think I'm a great guy. He must think that, because otherwise he would not have given me so much. I have a great family. I work in a place where I've always dreamed of working. He has helped me out so much that he must have a very high opinion of me."
On his rivalry with former Barcelona manager Frank Rijkaard:
"My history as a manager cannot be compared with Frank Rijkaard's history. He has zero trophies and I have a lot of them."
On taking the Chelsea job in 2004, after winning the Champions League with Porto:
"If I wanted to have an easy job I would have stayed at Porto. Beautiful blue chair, the UEFA Champions League trophy, God, and after God, me."
On beating Sir Alex Ferguson and Manchester United in the UCL back in 2003:
"I understand why he is a bit emotional. He has some of the top players in the world and they should be doing a lot better than that. You would be sad if your team gets as clearly dominated by opponents who have been built on 10% of the budget."
On Chelsea's players being similar to melons:
"Young players are a little bit like melons. Only when you open and taste the melon are you 100 per cent sure that the melon is good. Sometimes you have beautiful melons but they don't taste very good and some other melons are a bit ugly and when you open them, the taste is fantastic… One thing is youth football, one thing is professional football. The bridge is a difficult one to cross and they have to play with us and train with us for us to taste the melon. For example, Scott Sinclair, the way he played against Arsenal and Man United, we know the melon we have."