When watching soccer on TV, have you ever sat there and wondered what the man behind the microphone really thinks?
Maybe this will go someway to helping with that.
In the latest edition of "View from the Booth" we chat with NBC Sports' lead soccer announcer Arlo White why games at the top have been so tight, Steven Gerrard's resurgence, the trophy chase for the big three and much, much more. Remember, Arlo and his broadcast team are on a short break this week, as FA Cup action takes center stage.
You can hear Arlo calling live games every weekend on NBC Sports Network and NBC, and watch every single game available live online via NBC Sports Live Extra,
So, let's get to it.
With so many of the games between the top teams this season proving tight, tense and yielding plenty of 0-0's, why is it happening so much?
It's a really good question. I've been at Manchester United v Chelsea, Arsenal v Chelsea and Arsenal v Manchester United this season, and the whole experience has followed a familiar pattern of great anticipation, early missed chances but ultimate inertia and stalemate. I think each game had it's own significance and reasons for the result. In August, Jose Mourinho played without a recognized striker at Old Trafford before it had become apparent that United were not the force of old, and were there for the taking. In December at the Emirates, Mourinho reverted to a more cautious style having conceded far too many goals in Chelsea's previous games. On Wednesday, Robin Van Persie and Jack Wilshere had terrific chances in the opening 3 minutes, but failed to take them, and aside from a couple of superb saves by Szczesny and De Gea later on, the rest of the game lacked any real inspiration as each side prioritized 'not losing' above going out and winning.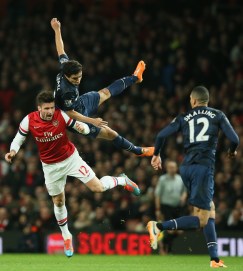 Should we be surprised? It was Arsenal's 11th clean sheet in their last 12 home games in all competitions, but with the incentive of re-taking top spot, I was surprised with the lack of energy and urgency in the Gunners approach. With that in mind, Arsene Wenger only made one substitution in the entire game. Could Lucas Podolski have made a difference late on? Could Wenger and Arsenal have tested a potentially rusty Rio Ferdinand more? Could Arsenal have stepped up and made more of a statement of intent in this title race? I think they could and it's a worry for Arsenal fans that they didn't.
But dull 0-0's haven't dominated this season in the Premier League. We've seen plenty of exciting goal fests involving Manchester City and Liverpool, so there has been a balance.
One team not scared to attack is Liverpool. Can the Reds sustain their title challenge in the final few months of the season?
Who doesn't love a cute little Chihuahua? What a brilliant and Mourinho-esque piece of imagery from Brendan Rodgers, that his little Chihuahua can "run between the legs of the horses." And why not? Liverpool have been in devastating attacking form lately. Are they overly reliant on Luiz Suarez? He's only scored 4 of Liverpool's last 24 goals in the Premier League. Daniel Sturridge is on fire.  Coutinho is influencing games. Jordan Henderson is a machine in central midfield. Raheem Sterling is enjoying a break through season, and Steven Gerrard is settling into his new, deeper role brilliantly.
Liverpool can sustain a title challenge. Tottenham, Chelsea and Manchester City all have to visit Anfield. On paper, their 'toughest' away game is at Old Trafford and that has hardly been a fortress this season. Most significantly, and unlike their title rivals, they are unencumbered by midweek European Football, and Rodgers has more training sessions to implement his tactics.
My concern would be the Liverpool defense. Could Daniel Agger come in for Kolo Toure, who has struggled of late? Can a team that has Aly Cissokho as it's left back win a Premier League title? Will Liverpool score so many goals that it won't matter? We shall see. The Reds are mounting a compelling and thrilling challenge this season.
At the moment, Steven Gerrard seems to be the focal point of Liverpool's charge. How has his resurgence helped the Reds?
Brendan Rodgers has pulled another master stroke here. He knows that Steven Gerrard is a major player at Liverpool but is also aware that Gerrard's ability to scamper up and down a Football pitch is waning. The answer isn't to ship Gerrard out of the club, but to embrace the new reality and find a role in which he can thrive. As Rodgers told me earlier this season, he is open to adapting his tactical approach to the talent that he has available, and this is a great example of that.
I was at Anfield for the Aston Villa game when Gerrard, and Liverpool, struggled with the new role in a 2-2 draw, but since then he seems to have taken to it beautifully. His pass for Daniel Sturridge's equalizer at Fulham was just sublime, and he then kept his nerve to slot home an injury time penalty for the winner.
Gerrard has been a wonderful servant for Liverpool for many years. You could see in his celebration at Craven Cottage that he feels this is his best chance of winning a Premier League title with his beloved Reds. And like Rodgers says, beyond this season, Gerrard could play the "single pivot" role for England at the World Cup.

With the latter stages of the FA Cup and Champions League upon us, which title contender do you expect to cope with the rigors better, Manchester City, Arsenal or Chelsea?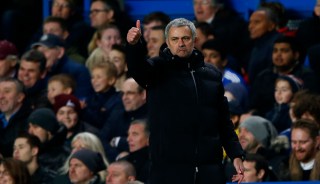 At the moment, I don't think Arsenal are coping with the rigors of the Premier League, let alone the Champions League and FA Cup. But getting Flamini and Ramsey back into their midfield from suspension and injury could be huge for the Gunners. I worry about the energy levels of Ozil and Giroud, and their work load is about to increase significantly.
For all of Manchester City's amazing attacking talent, they have sorely missed Fernandinho in central midfield. His absence isn't the only reason that City have failed to score in consecutive Premier League games, but when you look at the numbers, it is startling. He has missed 5 League starts, and Manchester City have failed to score in 4 of them. Therefore, 64 of City's 68 Premier League goals have come in his 20 starts.
Of course, the absences of Aguero and Nasri are also key, but Fernandinho's energy in the center of the park enables City to attack with more confidence. If their attack breaks down, Fernandinho will help them retrieve the ball and start again. They need him back. So, I think Chelsea are best equipped to cope. They have been rock solid defensively and have multiple and interchangeable options ahead of the back four to get results in big games. Matic has settled into the base of midfield nicely. Luiz can do a great job there. Hazard has been incredible of late, and Willian has been a revelation in terms of quality and work rate.
Chelsea might be title favorites now, but they also have the best chance of the three of prolonging their participation in the Champions League. They should dispose of Galatasaray, whilst Arsenal and City must overcome Bayern and Barcelona. Chelsea might have the heavier schedule in the closing weeks of the season.

Finally, with the standings so tight at the bottom, which teams do you think will survive and why?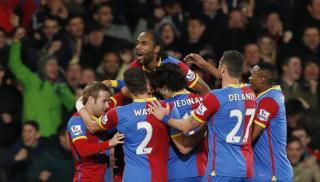 Very tough question. This season is so unpredictable. Only Southampton and Newcastle are truly mid-table. Swansea are in 10th place, but only 8 points clear of the bottom side Fulham.
I said that Fulham had a terrific transfer deadline day, and I stick by that. They got rid of the 'luxury' players Berbatov and Taaraabt (addition by subtraction), and brought in some solid workers like Holtby, for a tough relegation scrap. Mitroglou is their wild card.  If he can score some big goals, then Fulham can turn their new found energy into points. But it's a very tall order. They played Manchester United and Liverpool recently and despite their defensive approach, they were only outscored 5-4. But they only got 1 point for their efforts. Over the next 4 games, they face crucial games against West Brom, Cardiff and Newcastle. The results of those games could decide their fate.
Crystal Palace have been an absolute revelation under Tony Pulis. I think their story has been somewhat overlooked amidst the close title race above them. Right now, I would say Fulham, Cardiff and Norwich for the drop. But ask me after the next round of games, and it could be three different teams.
That's the beauty of this terrific Premier League season.