On Valentines Day, there are many ways to show your love.
Getting a tattoo of Brendan Rodgers on your upper arm… has that ever been done before?
One Liverpool fan, who wishes to remain anonymous for obvious reasons, did exactly that and as you can see from the photo below on the left, well, he went all out, didn't he?
A picture of Brendan Rodgers' face has been etched onto the fans arm, with one of the Liverpool manager's famous quotes written underneath it.
"I've always said that you can live without water for many days, but you can't live for a second without hope."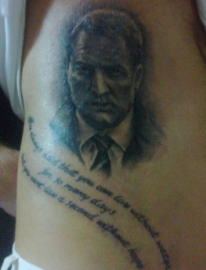 Rodgers, who is apparently on the verge of signing a new lucrative long-term contract, is adored by the vast majority of Liverpool fans. With the Reds now just four points off top spot in the PL and a return to the UEFA Champions League a real possibility this season.
Has this one fan taken his admiration for Liverpool and Rodgers a little too far? Perhaps.
But he certainly isn't the only soccer fan to have crazy tattoo's inked in celebration of his club, and neither will he be the last.
And by the way, it's not the worst I've ever seen, judge for yourself with the picture of Rodgers on the right, the artist has done a pretty good job to depict him. I think so, anyway.
Please share some of your soccer tattoo stories, as we know there are plenty out there.