On a frigid day in New York City, soccer journalists made the pilgrimage out to Harrison, New Jersey to engage in a roundtable discussion with some of Major League Soccer's biggest stars.
First up was 'The General', Toronto FC midfielder Michael Bradley.
How has the league changed since you last played here?
It's a different league. In 2004-2005 we'd show up at the old Giants Stadium, change, hop in a 15 passenger van to either Rutherford High School or New Jersey Institute of Technology, train, and then return to Giants stadium where people don't even know who you are because Eminem is in town.
Now, the training ground in Toronto is the nicest I've ever seen. If you haven't gotten up there to see the facilities and everything that's going on, you should.
How important is a 'culture' at a club like Toronto?
Whether it's Bayern Munich, Barcelona, Real Madrid or Manchester United – they all have values and a culture ingrained there that sets the bar for anyone who walks in the door. Whether it's a player, coach, chef, it doesn't matter, the bar is set high any everyone who comes through the door must meet it.
In Toronto, the potential [for success] is scary. The city is amazing, the fans are dying to have a team they can identify with and be proud of, and they want to win. Every person who's in Toronto is excited about the team and if we're able to succeed the award will be greater than what anyone could imagine.
How do you deal with the pressure to succeed in Toronto? 
We're gonna enjoy it. This is why we all play, to play in big games. To play where there's pressure, where the stadiums are sold out. This is what we all enjoy. It's been interesting to see faces of the people around the league where all of a sudden Toronto is the first team everyone is talking about.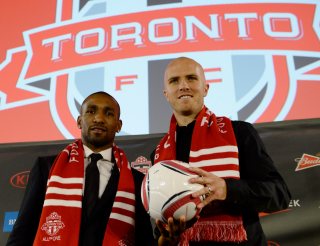 Will it be different to hit your 'peak' in MLS opposed to the Euro schedule you're used to? 
I want to hit a peak every time I step on the field. Regardless of where you're playing, I'm still the same player. I love to train and I love to play. I look forward to matches on the weekend. I look forward to playing and it's always important to take it one moment at a time.
MLS clubs are now paying more money for players, is this a good thing?
Absolutely. In every league in every sport there's teams that spend a lot of money so MLS should be no different. Hopefully it raises the product and quality on the field. There are always smaller teams that will struggle to compete but at then end of the day it's all even when you step on the field and the whistle blows.
What will you take from your time in Europe? 
I learned as a player and a person. I went there at 18 years old and now I return with a wife and a little boy. I feel like I've grown and improved tremendously as a person and I'm committed to grow and improve in many ways.
Why aren't Americans getting the opportunity to play in the Champions League? 
We as Americans have to fight for respect. We have to continue to show we have teams and players to fight at the highest level. You would've hoped that over the last 10-15 years some players would've done more for us. There's still a feeling, if a club can have an American or an Argentine, they want the Argentine. So for every guy who steps on the field for MLS, it's up to us to show and prove we have players who can play at the highest level.