At the end of his post-match press conference following Arsenal's 2-0 defeat to Bayern Munich, Arsenal manager Arsene Wenger was asked about why his side keeps faltering in the final stages of the UEFA Champions League, year after year.
Wenger paused and then gave a measured response that concealed the very reason why Arsenal have failed to win a trophy since 2005, and now their participation in this seasons Champions League is hanging by a thread.
"It isn't over because we will fight until then end," Wenger said. "Make of it what you will, but in the last five years we've played Barcelona twice and Bayern twice in the last 16. They are not average."
But against the top teams this season, and in the past, too many times Arsenal has been average.
That may seem like a knee-jerk response on a team just beaten 2-0 by the reigning European Champions, after going down to 10-men and defending superbly for most of the match, but it isn't. The reason they've faced Barca and Bayern four-straight times in the knockout stages, is that they haven't been good enough in the group stages to avoid the big boys.
(MORE: Three things we learned in Arsenal's battling defeat to Bayern Munich)
Since 2006 the Gunners haven't fared well in the first leg of knockout stage games in the Champions League, winning just two of their 12 opening matches of a home and away series. Add in their results against the current top four in the Premier League this season, and it doesn't make happy reading for Arsenal fans. Liverpool at home, won 2-0. Manchester City away, lost 6-3. Chelsea at home, drew 0-0. Liverpool away, lost 5-1. Just one victory in four matches, and they still have Chelsea to play away and Man City at home.
All that shows that Arsenal, once again, struggle to take down the top teams when it really matters.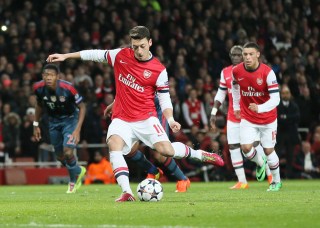 This isn't me slagging off the Gunners, I respect the way they play and the ideals Wenger has drilled into his charges. For years he's had his spending limited due to the construction of the Emirates Stadium, and the fact that the one player he's now splashed all his cash on (Mesut Ozil) looks like a bad buy is neither here nor there.
But you just get the feeling Wenger has taken this team as far as he can.
With no new contract signed, officially, the 64-year-old manager is keeping everyone waiting when it comes to his future in charge of the Gunners.
Many expect him to sign a long-term deal before this summer, but for the sake of Arsenal and the evolution of the club, maybe Wenger should step aside.
(MORE: Wenger – Robben 'made a lot of' Szczesny contact; penalty 'killed the game')
If the Gunners win a trophy this season, either the PL crown or the FA Cup look more likely now, then that might be a good point for Wenger to step down. However if another trophyless season plays out in the red half of North London, should Wenger stick around?
Regardless of whether or not Wenger stays on, Arsenal must turn the screw and get the job done against the big boys. It's no good passing the PL's also-rans into submission and dazzling against the weaker teams in Europe. It's time the Gunners started firing on the biggest stages of all. How they do it is a complex equation that, quite simply, can be overcome by spending huge amounts of money on new players. Unless that happens, Arsenal will continue to be the nearly men in the PL and in Europe. But ultimately the foundations for success are there, it's just getting over the final hurdle that's been Arsenal's main problem in the last eight years. That extra bit of quality needed in the biggest games of the season has alluded them, and has been replaced by silly mistakes. The defeat to Munich on Wednesday was a prime example of that. Will a new manager and a fresh approach bring that added nous that had evaded the Gunners?
They now have a one off game against Bayern awaiting them in mid-March where Arsenal can finally show what they're made of. They won 2-0 at the Allianz Arena last season in the last 16 of the UCL, so why can't they do it now? Their squad is stronger and more resolute than 12 months ago when they last visited Munich. But they seem to be no closer to taking down the big teams when it really matters.
Arsenal's season is entering a pivotal stretch and their campaign could, as it often has in recent years, come crumbling down around them.