Picture this.
You're an 18-year-old professional soccer player playing in the Premier League, you have already got over a season of top-flight experience under your belt and you've been earmarked as England's next great left-back.
It's pretty good to be in the shoes of Southampton youngster Luke Shaw right now.
But the Englishman seems to have quite a conundrum facing him in the next six months or so, and according to new reports, global giants Manchester United are confident they can sign Shaw ahead of Chelsea. Reports have been rampant over the past year, as every big team in England have been linked with Shaw as the defender seems to have a tricky choice ahead of him. United will be saying goodbye to long-term left back Patrice Evra this summer, and Chelsea could well be doing the same to Ashely Cole. Shaw is deemed to be the perfect successor to both, as the PL giants collide to get their man.
Does he stay with Saints, the club he has been with since his the age of seven? Or will he cast the PL's surprise package aside in search of silverware and a career full of big games in big stadiums against Europe's top teams?
Some would argue that that's not guaranteed if he signed for United… But they should pick up after their disappointing 2013/14 campaign, eventually. With Chelsea, that's a whole different issue as Shaw was brought up in Kingston-upon-Thames and is a lifelong Chelsea fan. His father is known to be an avid fan of the Blues and even a season ticket holder. So surely if Shaw decides to leave Saints, it will be for the West London club.
(MORE: Report – United go transfer bonkers, bids $37 million for Luke Shaw)
But Saints are adamant they don't want to sell Shaw, and the teenage sensation has reiterated his desire to stay at St. Mary's on several occasions. He is the crown jewel in a cluster of finely polished academy products who are dazzling down at Southampton, as Shaw is playing alongside fellow graduates Calum Chambers, James Ward-Prowse, Sam Gallagher and Harrison Reed. They are all teenagers who've been blooded into the team by Saints boss Mauricio Pochettino to great effect.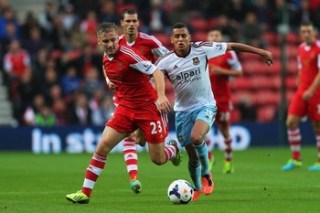 Southampton are eighth in the PL, Shaw is a guaranteed starter every week (not something that would be guaranteed at United or Chelsea) and looks to be enjoying life in the big time. He has played superbly for England's U-21 side over the winter and England's national team boss Roy Hodgson has already spoke glowing of Shaw and his fellow English youngsters who have all burst onto the scene at the same time at Southampton. A World Cup spot could beckon this summer for Shaw if he carries on like this.
On his 18th birthday last summer, Shaw signed a long-term deal with Saints. But we all know that if a big club comes calling, no matter what Southampton say, it will be hard to turn down a huge offer for Shaw. Having watched Saints closely over the years, the likes of Gareth Bale, Theo Walcott and Alex Oxlade-Chamberlain have all rolled off the academy production line. But none have shown this much talent, and maturity, as Shaw has done at the tender age of 18. That's frightening. England's future left back has so much talent and he's only just started.
But will he stay or will he go? What would you do if you were in Shaw's shoes?