Wednesday's Champions League flop against Bayern Munich is the latest ingredient to the not-so-delicious cake Arsene Wenger currently has in front of him.
With a title race to concentrate on, the FA Cup still in play, and a prayer in Europe to cling to, the Gunners have plenty of important fixtures remaining this season.
Unfortunately, there are some side-stories brewing that have made the team sheets Wenger compiles much more complicated than just being about who plays where on the field.
The Emirates saw on Wednesday a mentally derailed Mesut Ozil. The knockout blow to his psyche came on a grotesque penalty which was easily saved by his boyhood buddy Manuel Neuer.
With Ozil in la-la land following his ninth-minute snafu, calls for him to be plopped on the bench have become deafening.
With four goals and nine assists on the Premier League season, playing at a high level with Ozil on the bench is a tall task for Arsenal.  However, his on-the-field sulking has temporarily opened the door for players like Tomas Rosicky and Santi Cazorla to take over the playmaking role with less depression.
It's quite possible that some time to think and reflect on the bench, and/or an electric performance or two off the bench would do Ozil a world of good.
(MORE – PREMIER LEAGUE PREVIEW: ARSENAL VS SUNDERLAND)
But that's not all Wenger is wrestling with on his lineup card.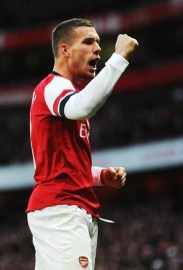 With Olivier Giroud sat for the Champions League match following his relationship fiasco (which Wenger insists had nothing to do with his decision), youngster Yaya Sanogo has impressed – even in the Bayern match where the Gunners failed to score.
Giroud is also essential to the squad, with a team-leading 14 goals on the year in total, and leaving him to rot for too long could have adverse effects.  However, Sanogo also played very well, and certainly planted a seed in Wenger's mind.
With three goals in his last 12 league games, Giroud's form has come crashing down since his furious start to the season, but Wenger said "his head is in the right place. He will be focused."
Muddying the attacking waters for Arsenal is the presence of Lukaz Podolski.  According to a report in the Telegraph, one of England's less sensational papers, players have privately expressed their feelings that Podolski should be the recipient of more playing time.
The winger has taken a back seat for much of the year, missing over four months due to injury, but also failing to secure regular time on the pitch since his December 23rd return.  But his teammates have seen otherwise, as the German has bagged six goals in 10 appearances across domestic competitions (league and FA Cup play).
The report in the Telegraph speculates that the players are worried Podolski could leave in the summer if he's not given ample playing time.  If Ozil is dropped, it would allow Cazorla to slot into the playmaker position leaving Podolski an opening on the left wing, his favorite spot. But that's only a temporary fix for the German.
The Gunners manager is quite aware of his upcoming dilemmas, saying, "It's part of the job to decide who plays, it's debatable every time. I have to live with that and I have to make my decisions with my conscience and I just make my decision based on who can help us win the next game."
Unfortunately, his decisions at the moment have just as much effect on life off the pitch as they do the results on it.  And he has to sleep in whichever way he chooses to make the bed.