When watching soccer on TV, have you ever sat there and wondered what the man behind the microphone really thinks?
Maybe this will go someway to helping with that.
In the latest edition of "View from the Booth" we chat with NBC Sports' lead soccer announcer Arlo White about Crystal Palace's battle with Manchester United, Swansea's trip to face Liverpool, Champions League hangovers and much more.
You can hear Arlo calling live games this weekend on NBC Sports Network and NBC, and watch every single game available live online via NBC Sports Live Extra,
So, let's get to it.
On Saturday you are at Selhurst Park to see Palace take on Manchester United. Given the Eagles superb home form and United's struggles, are Palace the favorites? And how difficult will this be for United?
Palace can't be favorites for a game against Manchester United, but I'm sure Tony Pulis has them brimming with belief that they are capable of pulling out a first league victory since 1991.
Since the former Stoke boss was appointed in late November, their revival has been nothing short of remarkable. In fact, I'd argue that it is one of the great success stories of this Premier League season, albeit over shadowed by a thrilling title race, the big personalities at the top of the table and the regular managerial casualties around the league.
If the Premier League season started when Pulis was appointed, the Eagles would be in 8th place, only two points behind Manchester United.  It's an incredible renaissance considering they only earned 7 points from their opening 12 games. Hands up who predicted Palace to stay up?  If you have your hand up, I don't believe you, or you are a Palace season ticket holder!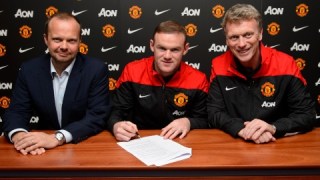 Palace don't score many goals, but they have become much harder to beat, and are far more resilient against their fellow relegation strugglers. They've won three out of their last four in the Premier League, but more tellingly, they've turned Selhurst Park into a very difficult place for traveling teams to visit. Pulis has only tasted defeat once in seven at home. Palace had a terrific transfer deadline day.  I'm looking forward to watching Tom Ince against Manchester United. Scott Dann brings experience to the heart of their defense and Joe Ledley has seen plenty of Champions League action at Celtic.
We've talked endlessly about United's troubles in this column this season, so let's just say that they are capable of winning handsomely at Selhurst Park, but are also vulnerable to a demoralizing defeat similar to the one they suffered at Stoke recently. Wayne Rooney's new contract announcement is a boost to the club, let's see if David Moyes' side can carry that bounce onto the field.
Either way, Rooney can afford to buy a round of sandwiches for the trip back north.
With Liverpool playing after the other title contenders this weekend, the Reds have a chance to go within one point of top spot. What can they expect from Swansea?
Yes, but they could also find themselves chasing by Sunday afternoon. For their Champions League aspirations, they could use a big Chelsea win over Everton on Saturday. For their title hopes, which are slowly growing, they could use the exact opposite.
Brendan Rodgers' side have been incredible at home this season. Since their only defeat against Southampton, they've taken 28 out of the 30 points on offer. Rodgers declared himself tactically culpable for the two points they dropped against Aston Villa, which was another smart piece of man management.
Incredibly, Liverpool have continued their high scoring unbeaten run whilst Luis Suarez has cooled off in pure goalscoring terms. The Uruguayan scored 22 in his first 16 Premier League games this season, but has only found the net once in the last five. He's still playing well, and it's a testament to Liverpool's attacking prowess that Sturridge, Coutinho, Sterling and Steven Gerrard have filled the scoring void.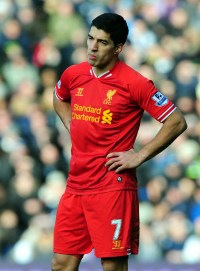 Sturridge has scored a goal in the last seven Premier League games. Only Ruud Van Nistelrooy has managed to score in eight straight in Premier League history. Will this be only the 4th game in 19 that he'll fail to find the net in the Premier League this season?  It's doubtful.
Liverpool haven't had too many chances to break their lengthy title drought. After their defeat at Arsenal last week in the FA Cup, they are now free to concentrate solely on the Premier League. This opportunity doesn't occur too often, can they grasp it and mount a serious title challenge? We'll know more after Spurs, Chelsea and Manchester City have visited Anfield.
Do you expect the Swans to survive? Garry Monk seems to have settled them down since taking charge. Is he the right man, long-term?
I think Swansea will survive but if I were a Swans fan, I'd be a little bit concerned about this game, and it's timing. Liverpool have scored 43 first half goals this season, more than 16 Premier League teams have managed in total. Swansea have managed just seven.  Can the visitors withstand an early hurricane from the Reds, because they know it's coming?
The game is nestled awkwardly between the two legs of their Europa League tie against Napoli. They earned a valiant 0-0 draw at home on Thursday night against a side lying 3rd in Serie A, but will their minds wander to the 2nd leg in the Stadio San Paulo next Thursday?
Swansea need to give a good account of themselves at Anfield and in Naples, and then gather points against their fellow strugglers like Palace, West Brom and Norwich in the month of March. As for Monk, he's enjoyed a terrific start, not least a 3-0 win in the South Wales derby. This is his audition. If Swansea continue to improve then he could be their man long term, but it's very early days.
With disappointment for both English teams in the Champions League, do you think Arsenal and Man City will be suffering a hangover this weekend?
It's possible. Both managers will have to tinker a little as both sides played big chunks of time with 10 men, against arguably the best two club sides in the world during the week. That will surely lead to some tired legs in either squad.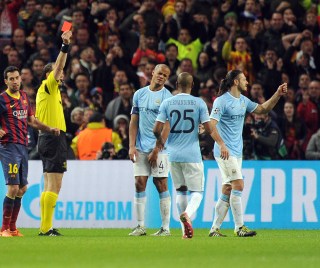 Both will be delighted to be at home against sides from the bottom half of the table. The challenge for Arsene Wenger is whether to give Mesut Ozil a break. Will Manuel Pelligrini give Demichelis a break and integrate Lescott or Nastasic ahead of the 2nd leg in the Nou Camp?  We'll see.
It's simple, if Arsenal and Manchester City are hurting, which they should be, they need to get over it and ensure three points each on Saturday afternoon.
Finally, what else are you looking forward to?
West Brom vs. Fulham will be fascinating. Pepe Mel has failed to win any of his five games in charge of the Baggies, but they have managed draws at the Hawthorns against Chelsea, Liverpool and Everton, so there is something to build on.
But what about Fulham? It's a Premier League bow for the 60-year-old German Felix Magath, the Cottagers third manager this season.  He's a task master, but he gets results. Whether Fulham's players will stand for a boot camp atmosphere at this stage of the season is unknown, but they showed against Manchester United and Liverpool (where they were only outscored 5-4 but managed a solitary point) that they do have a resilient streak. They'll need it with Magath in charge, and the challenge they face to avoid the drop.