Roberto Soldado made a habit of scoring last year for Valencia, bagging 24 league goals over 35 matches.
This year, after Daniel Levy shelled out $50 million for the Spaniard, Soldado has made a habit of doing just the opposite – missing, and missing badly.
Today, Soldado had a chance to equalize against pesky Norwich, the chance on a platter in front of him, begging to be put away with the first touch of his substitute appearance.
Instead of gobbling it up, with the goal gaping he lashed at the ball, sending it curling well wide right, and with it Spurs' best chance to score *poof* gone forever.
Thanks to the miss, one of 29 this season, Soldado's shot accuracy sits at just 33% on the Premier League season.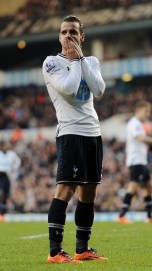 That ranks 47th of the 51 forwards in the Premier League who have played at least 15 matches. The only players with worse are Ricky van Wolfswinkel, Andre Schurrle, Marko Arnautovic, and Johan Elmander. And Soldado has attempted at least 11 more shots than anyone of them.
And remember, that 33% includes the four penalties he's taken. Remove those, and his open-play shot accuracy is just 10-of-35, or 29%.
Speaking of four penalties, Soldado has just five measly goals this season. Factoring in the four penalties he's bagged, that means the 28-year-old has just one lone goal from open play. One. Uno.
His misses aren't going unnoticed around the Tottenham clubhouse.
New manager Tim Sherwood has often selected a resurgent Emmanuel Adebayor over Soldado, relegating the Spaniard to the bench five times since Sherwood's appointment, all coming in the last six matches.
Following what could be considered the year's worst miss, midweek against Dnipro in the Europa League, Spurs defender Jan Vertonghen was forced to come to Soldado's aid after the match.
After former Tottenham owner Lord Alan Sugar referred to Soldado as a "donkey," Vertonghen fired back.
"I think Roberto deserves better, it's very difficult to settle in England," said the defender. "He's getting less chances than he did in Spain but he will start doing well. Sometimes those ones are easier to score than miss, but it's more difficult than you think. It's sad for him because he scores from every angle in training and I hope he will start scoring (on matchday)."
There's a painful twinge of fleeting hope at the end of that quote.  Almost as if Vertonghen followed it up with "he will start scoring, right? Please?"
But where Spurs in the past could get by making up for Soldado's misses by earning penalties or hitting on others, today they stung the visitors at Carrow Road in a way they may not recover from this season.
So what will the future hold for Soldado at White Hart Lane? If this continues, eventually there's only one possible ending, one that may see Soldado marked as one of the worst signings in Spurs history.
It's much too early to slap those kind of labels on a player just yet, but whereas the Spaniard's misses before could be considered an aberration, they're now clearly under the "trend" column, and trends in this direction rarely see themselves picked up like nothing happened.
Stats in this article courtesy of Squawka's Comparison Matrix.