This will be the final season of Chivas USA's existence as Major League Soccer purchased the club from Chivas Guadalajara owners Jorge Vergara and Angelica Fuentes. The team will stay in L.A. but be re-branded for next season and move into their own soccer specific stadium in the near future. With former Colorado Rapids assistant coach Wilmer Cabrera in charge, MLS will appoint a club president and give the team a budget but apart from that we don't know an awful lot. We do know that Stan Kroenke won't be buying the team as MLS Commissioner Don Garber confirmed.
Since they entered the league in 2005, early promise has succumbed to seeing Chivas not make the playoffs since 2009 and they've finished bottom of the West in three of the last four seasons. The only way is up. Once again the Goats' nearest rivals are LA Galaxy who they share the StubHub Center with as their home stadium. Expect some fiery SuperClasico's this season as this rivalry is about to take on a whole different spin.
LATEST MLS 2014 SEASON PREVIEWS, HERE
Players In: Mauro Rosales (Trade with Seattle for Tristan Bowen and allocation spot), Andrew Jean-Baptiste (Trade with Portland for Jorge Villafana and Re-Entry draft pick), Adolfo Bautista (Free agent), Luke Moore (Undisclosed, Elazığspor), Agustín Pelletieri (Undisclosed, Racing Club), Tony Lochhead (Undisclosed, Wellington Phoenix), Andrew Riberio (Free, Charlotte Eagles), Donny Toia (Free, Phoenix FC) Fejiro Okiomah (Free, Charlotte Eagles)
Players Out: Tristan Bowen (Trade with Seattle for Mauro Rosales and allocation spot), Jorge Villafana (Trade with Seattle for Andrew Jean-Baptiste and Re-Entry draft pick), Gabriel Farfan (Loan, Chiapas)

Key Player: Mauro Rosales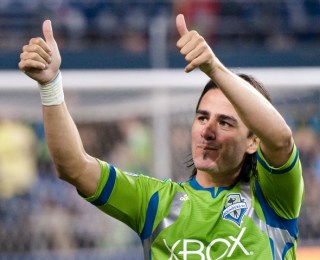 The Argentine playmaker has been in sensational form in preseason, banging in some stunning free kicks and looks to have rolled back the years. After some good seasons at Seattle, fitness issues got the best of Mauro up in the Emerald City in the end, so a change of scenery should do him good. Coupled with goalkeeper Dan Kennedy and central defender Carlos Bocanegra, those three make up a spine full of MLS experience. If Rosales can stay fit, Chivas need to get him on the ball as much as possible in the central area and watch him slot things together. His partnership with fellow Argentine Agustín Pelletieri in the center of the pitch will be crucial if Chivas can have a good season.
Manager: Cabrera is well respected within MLS and helped Oscar Pareja build a squad full of young players at Colorado as an assistant coach since 2012. He's also had vast experience with the U.S. soccer youth system after coaching both the U-17 and U-18 sides, and this is a big chance for him to prove he can be a successful head coach in MLS. Not much is expected from Cabrera, and he will likely set his team up in an attacking formation. This could be fun.
Outlook: Chivas have made some good player acquisitions but with so much up in the air it's difficult to predict how this season will plan out. It will certainly be a strange situation, but the league owned team still have plenty to play for. Chivas' squad will be playing for pride and having a bit of fun in 2014. They'll also be hoping to impress potential buyers to keep them around in 2015. Things are looking a lot brighter for L.A.'s second franchise, but don't expect a playoff spot this season. But some fluid attacking soccer should liven things up.