Jose Mourinho has sensationally hit back at a journalist who was recording a conversation without Chelsea's manager knowing.
Transcripts of what Mourinho said, when he thought the camera was off, have been leaked out by a journalist from Canal Plus at a recent sponsors event as the Portuguese boss joked to a Swiss businessman about striker Samuel Eto'o and Chelsea's other forwards and made clear his intentions to sign Monaco forward Radamel Falcao.
On Tuesday Mourinho defended his damaging comments as he had a face like thunder after being under grilled in his prematch press conference in Istanbul, before the Blues' UEFA Champions League clash against Galatasaray on Wednesday.
Asked if he was embarrassed by his own comments, Mourinho lashed out.
"I don't think you should be happy that a colleague is able to record private conversation and to make it public, I think you should all be a bit embarrassed as it is against etiquette you have to had in your work," Mourinho said. "From my point of view, is a not happy comment, absolutely. From an ethical point of view it is a disgrace."
Mourinho then went on somewhat of a rampage and tried to justify his comments which saw him criticize Eto'o and Chelsea other forwards.
"I am not defending what I have said. I am attacking something that is fundamental in your professional area," Mourinho said. "That person shows exactly what he is and what he doesn't know about the job. From my perspective the comment is not a good one."
(MORE: Mourinho – Chelsea can't win the league because they lack a scorer)
Despite Mourinho's comment about Eto'o, where the Chelsea manager said the following on his Cameroon striker when asked if the Blues could win the Premier League. "No, we don't have any scorer. Samuel Eto'o? He is 32-years-old, maybe 35, I don't know."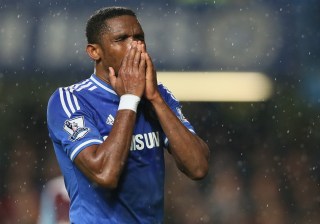 Those comments, along with Mourinho stating his admiration for Falcao, could have a damaging impact on his relationship with his own team. But the Portuguese stated he would never criticize his players in public and usually jumps to their defense.
"It is not something I would do in a serious way, it is nothing something I would say in a serious interview," Mourinho continued. "First of all because I don't make fun. Second, if there are managers in the world that all defend their players, I am obviously one of them. Third, Samuel Eto'o is a four-time Champions League winner. It was with him that I had my best ever season of my career at Inter. He is one of the few players who is working with me at a second different club and a manger never does that when he doesn't like the player or the person."
But the comments against Eto'o, who is Chelsea's top scorer in the PL with just six to his name this season, are sure to cause a rift between the two. But Mourinho insists there should be no issue and then dramatically dragged up a previous comment by Eto'o where he spoke out against his current boss several years ago.
"He has no reason to be upset, because also he said a few yeas ago 'Mourinho is the only player in the world I would never play for,' and after on year he was playing with me at Inter and now he is playing with me here," Mourinho said. "There is no story. I repeat, it was a funny conversation between somebody that doesn't belong in the football world. It is a disgrace that someone is recording a private conversation when obviously I didn't know."
We haven't heard the last of this.