Now it's Real Madrid's turn. We've seen Bayern Munich take a two-goal lead on Arsenal, Barcelona earn the same result at Manchester City, and Paris Saint-Germain put their UEFA Champions League Round of 16 matchup away early against Bayer Leverkusen. After Borussia Dortmund romped in St. Petersburg, all the top contenders, be they favorites or dark horses, impressed in their away legs. Now it's Real Madrid's turn to keep up.
If recent form is any indication, that shouldn't be a problem. Real Madrid cruised to a 3-0 win this weekend against Elche, a result that extended an unbeaten run that started after October's trip to Barcelona to 26 games. With six wins in a row, including two against Atlético Madrid, Carlo Ancelotti's team has claimed a place alone at the top of La Liga. In the process, los Blancos may have also established themselves as the biggest threat to Bayern's goal of becoming the first team since 1990 to claim back-to-back European titles.
"After Bayern, Real Madrid are maybe the second-best team in the world at the moment," Schalke head coach Jens Keller said on Tuesday. "They have extraordinary players in every position … To be successful, everybody will have to be at 100%. Only then might it be possible to pull off a little miracle."
Even that may not be enough to keep up with a Real Madrid team that's firing on all cylinders.
"I do not have to tell my players much – they want to win every competition," Ancelotti said in Tuesday's press conference. "At the moment the team are in a good shape, but we have to prepare for every match very methodically so that our run continues."
(MORE: UEFA Champions League Preview: Mourinho controversy unlikely to diminish Chelsea's chances against Galatasaray)
Real Madrid's surge as coincided with a small tactical shift from Ancelotti, moving away from the two-man midfield that was typically left in this fall's 4-2-3-1 formation. Shifting to a 4-3-3 that features Ángel Di María and Luka Modric above Xabi Alonso, Ancelotti has finally found away to compensate for the loss of Sami Khedira (early season knee injury). The formation also creates a regular spot of Di María – the invaluable, natural wide player whose spot on the flanks disappeared with the addition of Gareth Bale.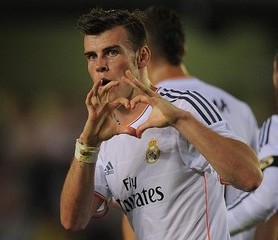 The change has also given Bale (right) and Cristiano Ronaldo more space to maraud without worrying about their spacing with a third attacking midfielder. The setup is also a better fit for prospect Jesé Rodríguez, who was so impressive for Spain's U-20s this summer. Filling in amid Ronaldo's Liga suspension and Bale's knocks, Jesé has scored five goals in El Real's last seven games, passing promising Málaga import Isco in Carlo Ancelotti's pecking order.
The result is a potential nightmare for a Schalke side who carries seven-game unbeaten run into Wednesday's game. With former Real Madrid striker Klaas-Jan Huntelaar back healthy and a talented line of three (Kevin-Prince Boateng, Julian Draxler, and Jefferson Farfán) behind him, Jens Keller's team has enough talent to be dangerous. But whereas that attack will have to break through a defense featuring Sergio Ramos, Pepe, and Daniel Carvajal in front of Iker Casillas, Ronaldo, Bale, and Karim Benzema will take aim at central defenders Joel Matip, Felipe Santana and goalkeeper Ralf Fährmann.
"They are very well-organised, especially at the back and have a good balance between young talented players like Max Meyer and Julian Draxler, and players with a lot of experience like Klaas-Jan Huntelaar," Ancelotti said of Schalke. " They do not play spectacular football but they are solid and consistent."
It's not clever, or nuanced, or even particularly insightful to note the match ups leave huge advantages for Real Madrid. Whereas Schalke's players are the envy of more clubs in Europe, the Merengues talents are world-class. As in almost every game they play, los Merengues will have a huge edge on their opponents, with little beyond the vagaries of an inherently low-scoring game to embolden Schalke's chances over 180 minutes.
"Real Madrid have an incredible team but we're not bad either," Keller quipped. "We're in very good shape, as you can see from our recent results. But it is not just the results, but the manner in which we have achieved them."
Even in that category, Schalke don't measure up. The typically flakey Miners may be experiencing one of their good runs, but it's nothing compared to the momentum Real Madrid will carry into Wednesday's match. While Keller's team may be able to threaten El Real's six-game winning streak, handing them their first loss since October is unlikely.