Reuters is reporting that Adidas has decided to stop selling "raunchy" World Cup tee shirts after the Brazilian government claimed they associated the country with sexual tourism.
Two shirts have been pulled, one showing a bikini-clad woman with open arms on a Rio de Janeiro beach with the words "Looking to Score" and the other with an "I love Brazil" heart resembling an upside-down buttocks of a woman wearing a thong.
The shirt designs upset Brazil, where people are sensitive to foreign stereotypes of Brazilian sensuality and the government has been campaigning strong to shed the reputation as a destination for sex tourism.
"Embratur strongly repudiates the sale of products that link Brazil's image to sexual appeal," the Brazilian tourism board said its request to Adidas.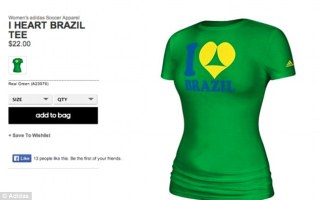 In response the German manufacturer removed the shirts from sale, explaining they were from a limited edition that was only on sale in the United States.
Brazil's first female president, Dilma Rousseff, has turned a strong focus to cracking down on sex tourism and the exploitation of children and adolescents during this summer's World Cup. "Brazil is happy to receive tourists for the World Cup, but it is also ready to combat sex tourism," she said over Twitter where she also set up in a hot line to report cases of sexual exploitation.
Noting that the tee shirts offended woman and exposed them to the "barbarism" of sexual predators, the ministry of womens affairs added: "This is all the more shocking in a country that just elected a women as its highest authority, which brought greater respect for women and zero tolerance for any form of violence against them."