After six months of playing puppeteer with the English media, José Mourinho's found himself in the unaccustomed position of having to legitimately explain himself. Earlier this week, French broadcast outlet Canal Plus posted a video Mourinho intended to be off the record, one in which he derides the quality of Chelsea's strikers while flippantly hinting Samuel Eto'o may be three years older than his listed age. In response, Mourinho implicitly called on the rest of the media to summon outrage at their French peers. Too enthralled as Mourinho stood at the corners of irony and Schadenfreude, the European media's fanned a story that's overshadowed Chelsea's UEFA Champions League match at Galatasaray.
"I think you should be embarrassed as a media professional," Mourinho said, "because, from an ethical point of view, I don't think you should be happy – not you, but a colleague – is able to record a private conversation and make it public. You should all be a bit embarrassed because it's against the ethics you have in your work. From an ethical point of view, it's a real disgrace."
In a world where Canal Plus decides releasing an unauthorized video of off-the-record comments in inappropriate, Mourinho's reunion with former talisman Didier Drogba dominates the headlines ahead of Wednesday's Round of 16 match. The tacit conflict between a Champions League winner at Inter Milan and the man who was fired his European failures with the Nerazzurri for (Gala boss Roberto Mancini) would prompt a vintage Mourinho clash of egos. And with Chelsea sitting atop the Premier League, we'd be debating whether the Blues deserved to be mentioned alongside Bayern Munich, Real Madrid, and Barcelona among the tournament favorites.
This is where Mourinho's controversy and Chelsea's Champions League reality intersect. Mourinho may not have wanted to go on record chastising his strikers, but it's something we see every weekend. Samuel Eto'o is willing but aging. Fernando Torres remains inexplicable and streaky. Demba Be remains a footnote. The team's deficient striker position continues to evolve into a reason to study tapes of Rudi Garcia's Lille to see how Eden Hazard was used through the middle. The Belgian is already the undisputed focal point of Chelsea's attack.
(MORE: UEFA Champions League Preview: Surging Real Madrid takes 26-match run to Schalke)
It's why Chelsea's striker conundrum may end up a red herring. Their position is their biggest weakness, but every team has issues. Even Bayern's trying to get by with Jerome Boateng in central defense. Chelsea's trying to make do with Eto'o as their lead striker, but with Hazard playing at his current level, the Blues are more than able to make up for that deficiency. Between him, Willian, and Oscar in the band of three behind Chelsea's forward, Mourinho has enough potential to make up for his lack of power. Perhaps it's not a team that's going to put up a gaudy number of goals, but it is a side that can exploit any opening you give them.
"They have really good, fantastic players who can influence the outcome of a match," Mancini said on Tuesday. "I believe Chelsea have an 80 percent chance of going through in this competition."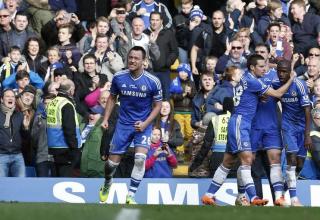 With defensive midfielder Felipe Melo trying to protect a defense that lacks elite talents, Chelsea's sure to create holes, if they want to. On the road in the first leg of a Champions League tie, Mourinho may also employ a conservative approach, knowing his team's more than capable of both keeping a clean sheet at Turk Telekom and preventing an away goal in London. With John Terry (right), Gary Cahill, Branislav Ivanovic and Cesar Azpilicueta having moved on from their fall stumbles, Chelsea can afford to play for a 0-0 in Istanbul.
"We are going to play to win," was Mourinho's customary denial of a conservative approach, "but we know they are strong and have special attacking players – even on the bench they have dangerous players like [Umut] Bulut. They have lots of goalscorers and we know they will attack us."
In theory, Drogba is one of those threats, as is Wesley Sneijder, who teamed with Eto'o to win Mourinho the Champions League while the three were in Milan. Burak Yilmaz, one of the more prolific scorers in last year's tournament, also represents a danger, but if the Turkish champions are going to threaten for their second consecutive quarterfinal spot, we're just as likely to see a random scorer come through on a set piece as we are to get a high-paid stars win one-on-one battles against Chelsea's talents.
That's the big risk of Chelsea's approach. If they play it too close to the vest, they risk a Sneijder free kick beating Petr Cech. They risk one piece of set piece execution putting them on their heels. They risk Drogba doing to them what he did to Bayern Munich in May 2012. There is a reason why Gala, not Juventus, made it out of their group. They're capable.
But there's also a reason why Chelsea's alive and not Juventus. The Blues are a better team, making Turkish champions decided underdogs. And while Mourinho's fears about his lack of strikers may be distracting, the problem's not enough to make Mancini wrong about Chelsea's chances.