Two goals each from Karim Benzema, Gareth Bale and Cristiano Ronaldo highlighted a ferocious night at Schalke for Real Madrid. Posting a 6-1 win  in Gelsenkirchen, Spain's leaders took commanding lead at halftime of the teams' two-legged, Round of 16 UEFA Champions League matchup, with only a sublimely volleyed goal late from Klaas-Jan Huntelaar providing a blemish to an otherwise perfect night for Carlo Ancelotti's emerging juggernaut.
The performance came amid a round of decisive results for the competition's group-winners, yet on the last day of knockout round's the first fortnight of games, Real Madrid performance proved its most lopsided. Paris Saint-Germain previously held that distinction with a 4-0 victory last week at Bayer Leverkusen. On Wednesday, however, Bayer's Bundesliga compatriot did Samy Hyypia's team one worse, conceding five times over the game's first 69 minutes to embolden El Real's status as one of the competition's favorites.
(MORE: What we learned from Real Madrid's five-goal, Champions League rout of Schalke)
Benzema's finish into the left of Ralf Fährmann's goal in the 13th minute gave the visitors a lead with their first chance of the match, a margin that doubled when Bale danced through the Schalke defense in the 21st minute before finishing inside the right post.
A spectacular goal from Ronaldo seven minutes into the second half quelled any doubt Spain's leaders would walk away with the match, with Benzema's second of the night five minutes later helping to extend Real Madrid's lead.
Bale and Ronaldo completed their braces in the 69th and 89th minutes, with only late consolation from Huntelaar forging the game's final margin – a five-goal win that essentially books their place in Champions League's quarterfinals.
Schalke must still endure a second 90 minutes three weeks from now in  Madrid, but if history is any indication, the game is a mere formality. No team has ever overcome a five-goal deficit to advance in Champions League.
(MORE: Chelsea fails to kill off Galatasaray as home side earns a 1-1 draw)
A strong start from Schalke that saw Jefferson Farfán try his luck with crosses from the right was blunted as Real Madrid began monopolizing possession. That control, benign for the first 10 minutes, paid off in the 13th minute when Ronaldo put Benzema behind the defense for an easy finish.
Dribbling in from the right, Bale held off a pursuing Kevin-Prince Boateng to find Ronaldo facing away from goal at the top of the arc. A one-timed back heal intended to meet Bale's run through the defense instead deflected off Schalke central defender Felipe Santana before settling near the spot. There Benzema beat an oncoming Fährmann into the left of goal, giving the visitors a 1-0 lead.
Seven minutes later, Real Madrid had their insurance. Benzema, harassing Santana along the right flank, created a turnover that he immediately played back to Bale. Moving toward goal, Bale dribbled around a recovering Santana and left back Sead Kolasinac to create an open shot 14 yards out. Finishing off the right post, Bale put Real Madrid up two in the 21st minute.
Ronaldo nearly added to the visitors' lead in the 32nd minute only to see Fährmann push his low, 18-yard shot off the left post. Minutes later a cross for an open Benzema at the right post found the Frenchman's outstretched leg incapable of keeping his shot under the crossbar. Two more saves on Ronaldo in the half's final moments left Real Madrid's star sniper off the scoresheet at intermission, with Madrid going into halftime up, 2-0.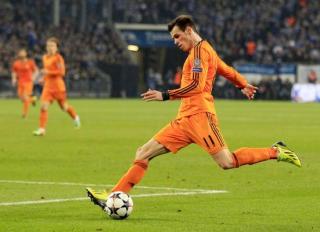 Seven minutes into the second half, Ronaldo had his revenge, much of which came at Joel Matip's expense. Isolated on the Schalke center half at the top of the area in the 52nd minute, Ronaldo provided a flashback to basketball star Allen Iverson's famous match up with Michael Jordan, with three step-overs sending the Cameroonian international to his left as Ronaldo dribbled in the other direction. With a left-footed blast just inside the far post, Ronaldo added another spectacular goal to his highlight reel, giving his team a 3-0 lead.
Five minutes later, Benzema's finish from the right of the penalty area increased the visitors' lead to four, with a finish from Bale near the same spot in the 69th minute giving Real Madrid their second brace of the night. When Ronaldo added his second in the 89th minute, all three of los Blancos starting forwards had scored multiple goals, with only a perfectly executed volley by Huntelaar from 18 yards out in stoppage time giving Schalke a modicum of consolation.
Outshot 23-10, with their guests posting a 11-4 edge in shots on target, the Miners home leg proved a premature end to their hopes of advancing to the competition's final eight. Undefeated in seven entering the match, Jens Keller's team had harbored aspirations of preventing Real Madrid from running their unbeaten streak to 27, but after falling behind six goals by the end of regulation time, Schalke's performance served as the latest example of the growing divide between Champions League's contenders and filler.
Along the way, Real Madrid made its strongest argument yet that it deserves to be mentioned among the favorites in this competition. While that's a stature most grant to Bayern Munich (and Bayern, alone), Carlo Ancelotti's team has emerged as the most likely team to unseat last year's champions. Undefeated since October, the Merengues continue to improve, making thoughts of a much-coveted decima (10th European title) more realistic as the competition goes on.
While the Round of 16's reverse legs may yet change that picture, for now, Real Madrid has earned its place behind the holders as favorites in Champions League, their 6-1 victory the most impressive of the fortnight's results.