This weekend record signing Mesut Ozil will be back in an Arsenal shirt, after missing last weekend's 4-1 win over Sunderland with an apparent 'dead leg' the Gunners attacker is now deemed to be refreshed and ready to contribute.
Ozil, 25, missed an early penalty kick against Bayern Munich in the first leg of Arsenal's UEFA Champions leg last 16 match a week ago and afterwards many suggested he should be dropped from the team after several lackluster displays.
Speaking in his prematch press conference before Arsenal's trip to Stoke City this Saturday, manager Arsene Wenger believes a rest will do his $65 million man the world of good.
"Ozil had a difficult game against Bayern Munich. It's good to refresh when you are under pressure."
Will the pressure now be piled on Ozil's shoulders?
Switching Real Madrid for Arsenal last summer in a humongous deal was always going to see Ozil's performances come under the microscope, especially since the Gunners have hardly spent any cash on big-name players in previous seasons. The German international was brimming with confidence in the early stages of the season, as Arsenal raced clear at the PL's summit. I was present on his Gunners debut at the Stadium of Light against Sunderland, and he was full of tricks and flicks and looked easy on the ball and confident in every department.
(MORE: No Ozil on the team sheet for Arsenal vs. Sunderland)
But as the harsh English winter has set in, Ozil has looked lost amongst the crunching tackles, boggy pitches and relentless schedule, domestically and in Europe. Many scoff at suggestions that the multimillionaire star is 'tired' or 'jaded' after a few months in the PL. But has anyone actually thought it through?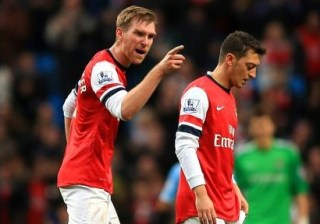 Since he has become a professional player Ozil has always been used to having a winter break. With Schalke, Werder Bremen and Real Madrid the young German prodigy always had two to three weeks off through December and January to recharge his batteries and kick on in the second half of the season. That sharpness and ability to have a break has been taken away from him since moving to the Premier League, as no such break exists.
Although that alone doesn't explain why Ozil's form has gone go downhill in the second half of the PL campaign. Confidence has played a big part too, as the German hasn't scored since December 8 against Everton and only has two assists in his last 14 games in all competitions. To get over that rough patch, players usually get their head down and put in extra effort but several times, especially in the loss to Bayern and the heavy defeat away at Anfield, Ozil has been lambasted by his own players, fans and other pundits for not tracking back and working hard defensively. Ozil isn't that type of player, Arsenal didn't buy him to grind away in defense but to unlock opposition defenses, with speedy movements and tricks. As Austin Powers would put it, Ozil has lost his 'mojo' and his sharpness seems to have dissipated.
Contrary to the complaints about Ozil being 'lazy' he actually covered 11.69km against Bayern, as only Jack Wilshere and Mathieu Flamini ran further. That shows Ozil is not lacking in overall fitness and begs the question, did he really need a rest? Mentally Ozil did, after the UCL defeat to Bayern, Wenger told journalists including myself that Ozil was visibly shaken by his penalty kick miss and that it did affect him for days afterwards too.
Unless this break included a trip to a sports psychologist to help get Ozil focused again, the only thing it would have done is to increase the pressure on his shoulders. Can Ozil handle that away at Stoke this weekend, and in the final weeks of the season?