The half time whistle has blown in the first knockout round of this season's UEFA Champions League.
Some teams take resounding leads into their second leg matchups, a few games are balanced delicately and plenty of sides have a mountain to climb to reach the last eight of Europe's elite club competition.
LATEST CHAMPIONS LEAGUE NEWS, HERE
After two weeks and four matchdays, we now have a much clearer picture of which teams will make a deep run towards the UCL final in Lisbon on May 24.
Let's see how these first legs played out and which teams have the upper-hand to advance to the quarterfinals.
Paris Saint-Germain vs. Bayer Leverkusen
This tie is all but over, as PSG's star-studded forwards tore Leverkusen apart. Zlatan Ibrahimovic banged in two goals, including an absolute scorcher, as Laurent Blanc's side look set for a deep run in the UCL. Can they go one better than the quarterfinal stage they reached last season? You bet. Plucky Leverkusen have done well to get this far as Sami Hyppia's side have had their defensive weaknesses badly exposed throughout the entire tournament. If they grab an early goal in Paris they may have a chance, but PSG look a real force to be reckoned with.
First Leg: Bayer Leverkusen 0-4 Paris Saint-Germain
Second Leg: March 12, Parc des Princes, Paris
FC Barcelona vs. Manchester City
Poor old Man City. Just when they were looking good after a solid first half at home against Barcelona, wham! Martin Demchelis threw a spanner of epic proportions in the works. A combination of his slack tracking and a great run from Lionel Messi saw Demichelis take him out, handed a red card but a penalty was harshly awarded as the foul looked to be outside the box. Dani Alves' late goal sealed Barca's 2-0 win, as City battled hard with 10-men but one lapse cost them. Manager Manuel Pellegrini reacted angrily to the defeat and the refereeing decisions but his side were outplayed in the end. City now have to win 3-0 at the Nou Camp in the second leg, a daunting task, but with Sergio Aguero back fit and Barca dropping more points in La Liga, it isn't out of the question that City can push this thing into extratime. A tall order but City are certainly capable of banging in the goals.
First Leg: Manchester City 0-2 Barcelona
Second Leg: March 12, Camp Nou, Barcelona
Atletico Madrid vs. AC Milan
The first leg was tight and tense affair at the San Siro, as red-hot Diego Costa was the difference between the two sides after the Atletico striker scored late on to hand Madrid a vital 1-0 win. Neither teams forced the issue in a slightly timid affair, but with Diego Simeone's Atletico fighting for the Spanish title and brimming with confidence, it's hard to bet against them at home. Clarence Seedorf is slowly rebuilding his AC Milan side and they have nothing to lose in the second leg so they might as well go for it. Plus, they have Mario Balotteli so they have a chance. Will we see the famous "why always me?" shirt make a celebratory appearance at Vicente Calderon when Milan come to town? The Italian international is capable of the spectacular and that's exactly what AC need to advance. Expect another tight game, with Milan not ready to buckle just yet. First goal is crucial in the second leg.
First Leg: AC Milan 0-1 Atletico Madrid
Second Leg: March 11, Vicente Calderon, Madrid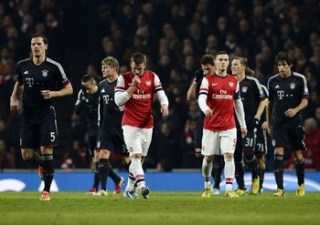 Bayern Munich vs. Arsenal
I was at the Emirates Stadium for this clash, and I've never heard this stadium so loud after Arsenal's swashbuckling start against reigning European champions Bayern. A crescendo of noise flooded down from the terraces and the Gunners stormed forward again and again in the opening minutes. That attacking panache resulted in a penalty being awarded, which Mesut Ozil won after being fouled. But the Germain international missed the resulting PK and the Emirates was suddenly as flat as a pancake. Soon after things got even worse, as Arsenal 'keeper Szczesny came flying out of his goal and brought down Arjen Robben. Red card. Penalty kick. Damn. Although David Alaba missed the spot kick, Bayern bagged a tremendous goal from Toni Kroos after 60 minutes and then a stoppage time clincher from Thomas Mueller made it 2-0. Arsenal deserved better but the breaks went against them. The Gunners went to Bayern and won 2-0 in the second leg of their last 16 match last season… they will have to do that again just to keep it alive. I fear for Arsene Wenger's men at the Allianz Arena, Pep Guardiola's Munich side look like a monumental machine ready to stroll to a repeat.
First Leg: Arsenal 0-2 Bayern Munich
Second Leg: March 11, Allianz Arena, Munich
Borussia Dortmund vs. Zenit Saint Petersburg
A topsy-turvy game in Russia saw the away side dispatch Zenit clinically. Borussia Dortmund, last season's runners-up, were 2-0 up inside five minutes after being gifted two goals. Then Zenit fought back and made it 2-1 before Robert Lewandowski scored to make it 3-1, but then Zenit came back again to make it 3-2 before another lapse cost them dear as Lewnadowski made it 4-2 and advantage Dortmund. Zenit only gained six points in the UCL group stages but somehow made it through to the knockout stages, on this performance you could see why. If BVB are up to their best in front of their passionate fans at a hostile Westfalenstadion in March, this has the potential to get embarrassing for Zenit. Can Jurgen Klopp lead his injury-ravaged side to another Champions League final? I don't think many teams would want to draw them in the quarters, assuming they get through….
First Leg: Zenit Saint Petersburg 2-4 Borussia Dortmund
Second Leg: March 19, BVB Stadion, Dortmund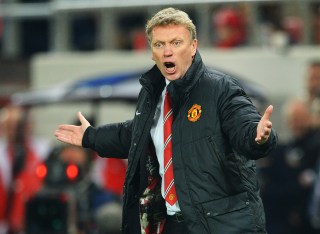 Manchester United vs. Olympiakos
Okay, wasn't this readjustment period supposed to be over by now? Manchester United lost to a Greek side in the UCL for the first-ever time as Olympiakos completed their first-ever win over the Red Devils. United looked afraid, lacking in confidence and unable to make possession count for any meaningful efforts on goal in a shocking display. David Moyes called it "their worst performance in Europe" and he hit the nail on the head. Puzzling team selections like bringing in Tom Cleverley and leaving out Adnan Januzaj have been scrutinized, but something you don't need to debate is that Olympiakos deserved the victory. United can still turn this around at Old Trafford in what promises to be another enthralling night of European soccer at the "Theater of Dreams." Olympiakos have lost all 11 games they've played away to English opposition, which bodes well. But if Moyes' United don't overturn this 2-0 deficit in two week's time, Old Trafford will turn into the "Theater of Screams" and it could be adios, Mr. Moyes.
First Leg: Olympiakos 2-0 Manchester United
Second Leg: March 19, Old Trafford, Manchester
Chelsea vs. Galatasaray
Chelsea started the game well in the hostile atmosphere in Istanbul as Fernando Torres scored in the opening 10 minutes, and the Blues looked to be on their way to a superb away win. However in the second half Galatasaray rallied and an equalizer from Aurelien Chedjou saw the home side take the game to Chelsea and almost bag a winner. Chelsea will see this result as a good one away in Turkey, as the tie is evenly poised ahead of the return leg at Stamford Bridge. Jose Mourinho will be happy with the draw but also wary that Galatasaray's stars and Mourinho's former players, Wesley Sneijder and Didier Drogba, could come back to haunt him. This tie is not over by a long way but with Chelsea grabbing a vital away goal, they have a slight advantage.
First Leg: Galatasaray 1-1 Chelsea
Second Leg: March 18, Stamford Bridge, London
Real Madrid vs. FC Schalke
Here we saw the team many are tipping to lift the Champions League crown in May, as Real obliterated Schalke 6-1 after Karim Benzema, Gareth Bale and Cristiano Ronaldo all scored two each. When you have three attackers of that quality in your team, there's no way you aren't going to punish teams for slack defending. That's exactly what Real did and in the second leg at home this could get ugly for Bundesliga outfit Schalke. They did get a late consolation goal, and an absolute stunner at that, via former Real striker Klaas-Jan Huntelaar but you fear for them at the Santiago Bernabeu. The dream final on everyone's lips is Real Madrd vs. Bayern Munich. The former are one step closer to that, as they're already through to the last eight… baring a miraculous comeback from Schalke.
First Leg: Schalke 1-6 Real Madrid
Second Leg: March 18, Santiago Bernabeu, Madrid