In an extremely rare interview Cardiff City's Malaysian owner Vincet Tan has come out all guns blazing, as the billionaire businessman finally has his say following months of intense criticism.
After changing Cardiff's colors from blue to red, then bankrolling the team to Premier League promotion last season, Tan hasn't stayed out of the headlines since. But for all the wrong reasons.
He fired hugely popular manager Malky Mackay in inauspicious fashion in January and in this lengthy interview with the BBC, Tan calls out fans, ridicules former manager Mackay and threatens Cardiff's supporters with walking away and much more.
Speaking to the BBC, Tan was back in his homeland of Malaysia where he is treated as a hero and was having a huge party thrown in his honor to celebrate his business and charity work along with his birthday.
Here's the transcript below, as Tan talks Bond villains, taking over transfers and scolds Cardiff's fans. There will be some serious repercussions from this explosive interview.
On the fans of Cardiff City protesting against him:
"I would say that even now 90 percent of the fans are supportive. The problem is you have 10 percent of fans who are not supportive. They should apologize for what they have done to me. I think whatever we have done, we have done it right. Fans are not involved in the management, fans don't know the details. My message to the fans is I came to your town, I saved your club and I put a lot of money into the club and got the team promoted for the first time in 51 years."
"Supporters, this is your club. Why do you do stupid things and be influenced by people who have done things that aren't right for the club? Without me this club would've gone down."
On former manager Malky Mackay:
"Before he came to us Malky was at Watford and they finished 16th and 17th for two years, he didn't do very well with Watford. I think Malky got lucky that he came to Cardiff. Where we went wrong is that as far as I was considered, one transfer was not authorized. We agreed to spend $52 million, which is what I put in and is a lot of money, and compared to the other teams that came up, Hull and Crystal Palace, we spent double or triple what they did and you see they are doing much better than us."
"If I have my say then it is a public feud, so I just let him say all the things he wanted to say. He played the press well. One day we are the hero, maybe another day we are zero. Maybe today I am zero in the eyes of some people. In the eyes of football fans he's the hero, tomorrow this will reverse when the truth comes out. I assure you."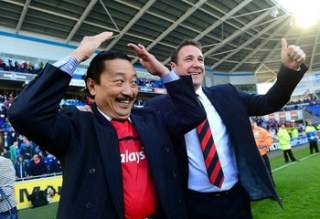 On changing the clubs color from blue to red and changing the team badge:
"I stand by that decision to change the logo from the bluebird to the dragon. That is your national symbol of Wales. I am putting your country flag of Wales back into the jersey. In Asia red is a color of success, festivity, joy. After we changed the color, we won promotion in the first season. I think that was a good omen. No way, under my ownership, will I change it back to blue. Perhaps if you find an owner who likes blue, sure pay me out and do whatever you want. I'll go somewhere else and build another red club!"
On the British press:
"The British press are unfair, maybe because we didn't tell our side of the story that well. Somebody told their story better. When the time is right I will tell my story. Sometimes the British press are maybe a little bit racist and quite unfair."
On being cast as a villain in many pictures:
"I wear sunglasses because of the glare of the spotlight in the stadiums. And I wear gloves because it's very cold in the UK."
On the future:
"Right now, at this point of time, I will stay. Unless the fans [expletive] me off, then I may leave. We believe we will stay up in the Premier League, we are blessed with good luck, we should be able to stay in the league. Next summer I'm sure we will do better with the transfers because I will be personally involved. We will look at the team and make it stronger. We will not let the manager run wild, that was a mistake I made."