The 2014 MLS MVP is back, their coach is not.
While Mike Magee and his strike partner return for a full season to pump in the goals, there is much change behind them.
Missing out on the playoffs by a tiebreaker last season hurt for sure, but the Fire had plenty of chances to grab that postseason spot, and they just couldn't come up with the final answers.
One thing that hurt the Fire last season was their horrendous start, with just seven points through their first 10 games.  Over that span, they were shut out six times and conceded 16 goals. But of course, they didn't have Mike Magee.
With a reshaped defense and a few key pieces gone, new coach Frank Yallop has plenty of work to do right off the bat to get the club off to a better start.
Players in: Patrick Ianni (trade from Seattle), Jhon Kennedy Hurtado (trade from Seattle), Lovel Palmer (trade from Seattle), Kyle Reynish (transfer, NY Cosmos), Harrison Shipp (homegrown, Notre Dame), Chris Ritter (homegrown, Northwestern), Giuseppe Gentile (waiver draft, UNC Charlotte), Benji Joya (weighted lottery – loan, Santos Laguna).
Players out: Jalil Anibaba (traded to Seattle), Austin Berry (traded to Philadelphia), Daniel Paladini (traded to Columbus), Paolo Tornaghi (waived), Brendan King (waived), Kellen Gulley (waived), Shaun Francis (released), Wells Thompson (released), Arevalo Rios (option declined), Michael Videira (option declined), Maicon (option declined), Corben Bone (option declined).
LATEST 2014 MLS SEASON PREVIEWS, RIGHT HERE
Key Player: Mike Magee
Shocker! The reigning MVP is your key player! While it's clear that Magee is by far the most valuable and important single player on the team, the success of this club depends on much more than just their main man up front.
Magee will be again supported by Patrick Nyarko at the front, with relief coming from Juan Anangono and Chris Rolfe. The Fire also picked up Guiseppe Gentile and Benji Joya in the offseason, and the two will add to the strike options for Chicago.  While it's not the most star-studded attack outside of Magee, it's a deep one, and that should help offset any possible issues at the back.
Speaking of at the back, there's a saga developing at the back in the recent weeks. With the departure of Jalil Anibaba in the trade to Seattle, the defense has been completely shaken up, and Magee will have to offset the learning curve that comes with a crowded new back line.  The team also sent Austin Berry away to Philadelphia for allocation money, seeing a total of 6,109 minutes from last season out the door.
With Anibaba and Berry gone, coming in the other direction is Jhon Kennedy Hurtado and Patrick Ianni, a pair of center-backs who will battle for playing time alongside Bacary Soumare.
For what it's worth, the Fire conceded just a single goal in their five preseason games, and the partnership of Soumare and Hurtado picked up the starts in their two most recent matches and played 106 minutes together.
Another important name we can't leave off the list is Jeff Larentowicz, who will man the space just in front of the new center-back pairing, whatever it happens to be.  Often last season the 30-year-old Pasadena product played alongside a DM partner, but with Daniel Paladini gone and the midfield thin, he could be roaming the defensive middle by himself behind Benji Joya and Dilly Duka.
Manager: Frank Yallop is Chicago's man. Coming over from San Jose, the Watford-born 49-year-old has seven prior years in Major League Soccer, and as far as league experience and accolades go, he's got it all.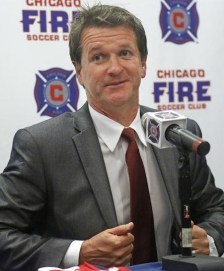 Unfortunately, arguably the biggest knock on Yallop's resume is the 2007 season with the Galaxy, failing to make the playoffs due to a squad with plenty of turnover.
That will be the challenge Yallop faces this season.  Thankfully for him, the front of his formation remains mostly intact, and he takes over a squad that boasts the reigning league MVP.  The defense has plenty of question marks, but it's still experienced and has had a very promising preseason.
Yallop's credentials are without question, and as far as head coaching openings go the Fire one was very attractive, but there remains work to be done, and with a pretty solid squad to boast, much of it rests on the coach to make sure everyone plays at their optimal level.
Outlook: This team could surprise. If they can recreate last year's attacking form around Mike Magee, the top of the table squads are in for a surprise when the match up against the Fire.
The biggest questions will be with the turnover in defense.  With so many minutes from last season lost, it remains to be seen how the back line will gel (Yallop said it could get "a little disjointed").  If the preseason is any indication, and the selected starters don't need much – if any – time to find their form, the Fire could find themselves near the top.  However, there is much to prove and they begin the season as favorites in a battle for the final playoff spots.
The start to the season is crucial for Frank Yallop. They play three of their first four fixtures on the road, and take on a spectrum of opponents.  If the Fire can get through games against Portland and New York unscathed and take advantage of last year's basement dwellers Chivas and DC United, the Fire can set themselves up for a strong season.