With the 2014 season approaching and a new coach in charge, the Whitecaps are hoping their new direction brings them new success. What remains to be seen is if the assembled roster can follow suit.
With an overload of defenders but gaps in the midfield, the Whitecaps are still a work in progress, but things appear to be moving in the correct direction. Up at BC Place they are hungry for success and the Southsiders are ready for some silverware to turn up in British Columbia. Thus far there's been just one playoff appearance for 'Caps fans to shout about, but this year they could be a dark horse in the race out West.
LATEST 2014 MLS SEASON PREVIEWS, RIGHT HERE
Players In: Steven Beitashour (trade with San Jose), Matias Laba (trade with Toronto FC), Nicolas Mezquida (transfer from Boston River – Uruguay), Sebastian Fernandez (loan from Boston River – Uruguay), Paolo Tornaghi (free agent), Mehdi Ballouchy (San Jose, Re-Entry Stage 2), Christian Dean (MLS SuperDraft – Cal), Andre Lewis (MLS SuperDraft, New York Cosmos), Mamadou Diouf (MLS SuperDraft – UConn), Michael Kafari (MLS SuperDraft, University of New Mexico), Mackenzie Pridham (MLS SuperDraft, Cal Poly)
Players Out: Camilo Sanvezzo (Transfer to Queretaro FC), Daigo Kobayashi (Traded to New England), Brad Knighton (Traded to New England), Lee Young-Pyo (retired), Greg Klazura (waived), Joe Cannon (waived), Brad Rusin (waived), Tommy Heinemann (waived), Jun Marques Davidson (wavied), Simon Thomas (waived), Corey Hertzog (waived).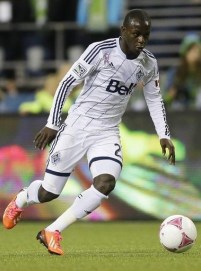 Key Players: Kenny Miller/Kekuta Manneh
On a roster completely lacking of any particular star power, it will be up to this strike pair to replace the 22 goals and five assists lost when Camilo completed his transfer to the Liga MX.  19-year-old Maneh, according to coach Carl Robinson, will receive "a lot of time and…a lot of opportunities" to ply his trade up front.
The two of them, plus support from Omar Salgado, Darren Mattocks, and the complete unknown in Nicolas Mezquida should be just fine in replacing the Uruguayan superstar.
However, if multiple pieces of this front line break just as they did last year, it will be very difficult for one particular individual to carry the load. Manneh is only 19, Miller is on the other end of the spectrum at 34 years old and remains fragile, the rest at this point are little more than bench options.
The offense should be fine at the beginning of the year, and it wouldn't be a surprise to see the attack get off to a bang. They'll need it to, especially with the completely retooled defense behind them still learning to play together. But the biggest question for the offense will be can it hold up through the rigors of a long season.
Manager: With the departure of Martin Renne after last season, the load now falls on Carl Robinson, who is fresh off his 14-year playing career. The club reportedly made a go at Bob Bradley, Frank Yallop, and Jason Kreis, but failed to bring in any big names.  That left them with one option – promote from within.
At just 37 years old, he's been thrust into the role, promoted from assistant just a year after joining the Whitecaps.  Robinson only finished his playing career in 2011, retiring as a New York Red Bull. Speaking of the Red Bulls, the bar has been set for first-year former players as coaches by Mike Petke in New York, carrying them to the Supporter's Shield in his first season as a head coach.
With high expectations in Vancouver and the club in the process of picking up last year's pieces, there is a lot on Robinson's plate this season.  But that's usually the case with any first-year coach.
Outlook: The aura surrounding the Whitecaps this year is young. Their coach is young, the drafted players out of college appear to be headed towards a significant role, and the aforementioned Kekuta Manneh is just 19.  The club has retooled quite a bit and as a result they will not be relying heavily on one or two individuals to carry the brunt of the weight.
However, with a defense that has been shuffled completely, including the exciting addition of Cal central defender Christian Dean and the return of Jay DeMerit, it may take a while for the back line to run together effectively and efficiently.  Thanks to that, the attack will need a flying start early to offset a potentially rusty defense learning on the fly.