Injuries, a shaky defense and some plain bad luck sent the San Jose Earthquakes crashing down in 2013, sliding down from the team that won the Supporters' Shield in 2012 to a team that couldn't even make the playoffs last season. But, provided the team hasn't actually been cursed, it's highly unlikely 2014 will be as disappointing for Quakes fans.
Why? They've got their new head coach locked down for the season. The side is healthy. Sensible, strong acquisitions were made since the start of the 2013 season. The defensive holes have been mended. And really, just how much bad luck can one team attract?
After scoring 27 goals in 2012, Chris Wondolowski scored just 11 last season, primarily due to playing most of the year with a broken toe. He's back to health, as are Steven Lenhart and Alan Gordon, so the goals should be coming more freely – particularly if Lenhart has learned to control his temper.
On the other end, bringing in Clarence Goodson midway through last season proved to be one of San Jose's smartest moves, strengthening the defense to the point where the Quakes conceded just 10 times in their last 14 games. And with Jean-Baptiste Pierazzi now on board, Sam Cronin doesn't need to spend quite as much time covering for the disappointing Rafael Baca, and can be more effective in his role as defensive midfielder.
LATEST MLS 2014 SEASON PREVIEWS, HERE
Players In: Jean-Baptiste Pierazzi (Discovery); Atiba Harris (Trade with Colorado); Billy Schuler (Weighted lottery); Tommy Thompson ( Homegrown); Bryan Meredith (Free); J.J. Koval (SuperDraft); Shaun Francis, Brandon Barklage (Re-Entry Stage 2)
Players Out: Ramiro Corrales (Retired); Nana Attakora, Dan Gargan, Marcus Tracy, Evan Newton, Peter McGlynn, Cesar Diaz Pizzaro (Option declined); Mehdi Ballouchy (Out of contract); Jaime Alas (Loan expired); Rafael Baca (Transfer to Cruz Azul); Justin Morrow (Trade to Toronto); Marvin Chávez (Trade to Colorado); Steven Beitashour (Trade to Vancouver); David Bingham, Sam Garza (Loan to San Antonio)
Key Player: Jean-Baptiste Pierazzi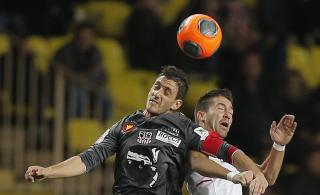 Yes, it would be easy to put Wondolowski here. But we know what he can bring to a side when fully fit: goals, goals, and more goals. He will bother defenders and even create chances. But he, alone, cannot pull the Quakes out of the mire.
Enter Jean-Baptiste Pierazzi. The central midfielder, about at his prime at age 28, began his professional career with AC Ajaccio in 2006 and has been with the French club ever since. He's not going to be a goalscorer (he's had just two goals in his career) but Pierazzi is the man that San Jose are hoping can help with ball distribution in the center of the field. If he's as good as they hope at winning the ball and getting it out wide to spark an attack, then calling him "key" is no exaggeration.
Manager: Mark Watson, who took over the reins as interim manager when Frank Yallop departed last June, was appointed as the Quakes head coach in October. He's been with the team since 2010, when he came on as assistant coach. Watson earned his promotion by righting the sinking ship, patching up the defense to go unbeaten in the last seven games of the season. Plus, he must get some credit – and some adoration from the fans – for steering his side to a comeback win over the LA Galaxy, just a few weeks after taking over as head coach.
Outlook: If luck is on San Jose's side, they'll certainly have a much brighter season in 2014. The midfield's been strengthened, the defense sorted out, and if Wondo can stay healthy, there's no reason to think the Quakes won't make an impression in the West. It may not be another Supporters' Shield season, but they should easily make the playoffs.