1. Pardew headbutt overshadows teams rout in Hull
On Saturday, Newcastle found more goals than it'd scored in its previous five games combined, yet thanks to the antics of its manager, that's a factoid you're probably reading for the first time, over 24 hours after the Magpies took a 4-1 win out of the KC Stadium. Headbutting Tigers' midfielder David Meyler in the second half of Newcastle's visit to Hull City, Alan Pardew stole the weekend's headlines while nearly seeing himself out of a job.
That possibility — one that would see him lose the security of a contract that runs through 2020 — seems slim after Newcastle said the six-digit fine it handed Pardew last night would be the last it'd have to say on the matter. Follow up reporting confirmed that owner Mike Ashley, while furious at Pardew's lack of restraint, was unlikely to let him go, even if the incident does give the Magpies a chance to get out of that ill-advised extension.
But as the club said in its Saturday statement, the real shame of the situation is the distraction. Yes, the headbutt is egregious, but Meyler is unhurt, and Pardew will surely be handed an involuntary vacation by the Football Association. After that's done and the fines are paid, people will have long forgotten Moussa Sissoko's brace and complementing goals from Loïc Remy and Vurnon Anita. They'll have forgotten a decisive result at Hull City has Newcastle threatening to claim a European spot.
More:
2. Arsenal returning to 2012-13 leVels
Speaking of overshadowed, Stoke City's incremental improvement over the last two months was relegated to subtext after their upset win over Arsenal on Saturday. With a late penalty controversially given against Laurent Koscielny, Jonathan Walters was able to snatch a 1-0 victory for their Potters, their second win over one of the Premier League's titans since the calendar turned.
(MORE: Stoke City 1-0 Arsenal: Walters penalty enough to sink the Gunners)
But with Mark Hughes' team inching toward that netherworld between relevance and relegation, all headlines focused on the loss's implications for Arsenal. With one win in their last four, the Gunners have fallen four points behind Chelsea, with a goal difference 14 worse than Liverpool forcing Arsenal to cede second place in the Premier League. With Manchester City holding two matches in hand, fourth place suddenly looks like Arsenal's most likely finishing spot.
Given the Gunners came entered the season with Champions League doubts, a top-four finish would have to be considered a successful campaign. Having spent much of the year in the top two, that spot would also represent a concession, one that becomes more likely with performances like Saturday's at Stoke.
3. RODGERS PUSHES Reds INTO second place
Southampton's regression from their strong start makes it easy to take results like Saturday's for granted, but when you see Arsenal stumble at Stoke you can appreciate what a 3-0 result at St. Mary's says about Liverpool. You can also appreciate why the Reds have tracked down Arsène Wenger's team in the standings, with the continued maturation of Brendan Rodgers evident in Liverpool's win over the Saints.
(MORE: Southampton 0-3 Liverpool: Reds slip into second)
Rodgers is a manager that regularly espouses a want to dictate games, but facing Southampton team which also enjoys their share of play, the Liverpool boss dropped Raheem Sterling in favor of Joe Allen, electing to go with four in the middle against Mauricio Pochettino's side.  The move sent the Reds into halftime up one, with Liverpool doubling their lead once Sterling was brought on in the second.
After spending the first half of the season feeling out his squad — toying with three at the back while trying to figure out how to use Luis Suárez with Daniel Sturridge — Rodgers has gotten to a point where he can do no wrong. His team's chances of claiming an unlikely title still rest behind Chelsea's and Manchester City's, but come the end of the season, no manager will have done more with their squad than Liverpool's second year boss.
4. SchÜrrle eruption stains Mourinho's narrative
Relegated to a substitute's role for most of the season, Andre Schürrle received back-to-back starts this week, with the German international rewarding José Mourinho's fate with a game-winning performance on Saturday. With goals in the 52nd, 65th, and 68th minutes at Craven Cottage, Schürrle led what's become Chelsea's trademark second half surge, the team's 3-1 win leaving the Blues four points clear at the top of the Premier League.
(MORE: Fulham 1-3 Chelsea: Spectacular Schurrle extends Blues lead at the top)
Mourinho's tried to mitigate the impact of that lead by noting Manchester City's games in hand, but with only 10 rounds left in the Premier League season, time is running out for the Citizens to make their move. At a minimum, the 12 leagues game remaining on City's schedule will come in a more compact period of time, increasing the chances the 2011-12 champions will drop points against lesser opponents. While Chelsea's possibilities of advancing in Champions League could also crowd their fixture list, Manchester City remains alive in the FA Cup.
(MORE: Jose Mourinho on Chelsea going four points clear at top: "It is a fake advantage")
With City's depth, there's reason to think the Sky Blues can manage their work load. It's a case José Mourinho makes every match day. As the months come off the calendar, however, the Chelsea boss is running out of time to convince us his team won't win the Premier League.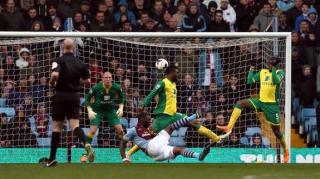 5. Villa reverses fortunes, routs Norwich City
The up-and-down season of Aston Villa took another sharp turn for the better on Sunday, with a team that had one point and one goal in its four previous matches taking out its frustrations in the first half against Norwich City. After conceding within three minutes to January target Wes Hoolahan, Villa got two before the half hour mark from Christian Benteke (right), with goals from Leandro Bacuna and Sébastien Bassong (own goal) putting the match away before the teams hit the dressing room. With a 4-1 win at Villa Park, Paul Lambert orchestrated an embarrassing afternoon for his former team, enacting a small piece of revenge for the uneasy feelings that have lingered since his departure from Carrow Road.
(MORE: Aston Villa 4-1 Norwich City: Christian Benteke leads first half Villa flurry)
For Norwich City, coming off a 1-0 victory over Tottenham, the result adds to the confusion that has defined Chris Hughton's time with the Canaries. The team looks on track for survival, if barely so, though results like today's hint a collapse could come at any time. But give him a few more weeks, and Hughton will find a way to produce another upset, one that will underscore the uneasy security the former Newcastle and Birmingham manager has brought to Norfolk.
Should Norwich move on from Hughton? More than a few Canaries fans are in this camp, but there seems to be some certainty that comes with staying the course. That contentment might make for disappointments like Sunday's, but it also avoids the risks that come with trying something new.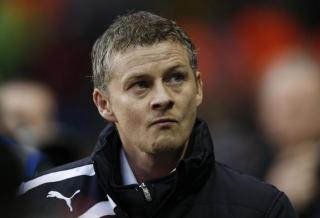 6. Not-so-moving day at the bottom of the league
Sunday's schedule looked like an opportunity to shake up the relegation race, but after the day's three games, the league's bottom six remained unchanged. Fulham still occupy the cellar, with Cardiff's loss at Spurs leaving the Bluebirds in 19th. Sunderland's place in the Capital One Cup final meant their status would go unchanged, while West Brom, Crystal Palace, and Norwich held their ground. Palace's draw at Swansea was the only point claimed by the league's bottom six.
(MORE: Tottenham 1-0 Cardiff City: Roberto Soldado puts scoring woes in past)
(MORE: Swansea City 1-1 Crystal Palace: Late Swans blunder allows Palace to snatch a point)
That's good news for the Baggies, Eagles, and Canaries, who see another week tick off the schedule without falling into the drop. For the bottom three, however, spring is coming. Felix Magath, Ole Gunnar Solskjær (right), and Guy Poyet are running out of games to figure out solutions. Even if they do find the right formula before the season closes, they may not have enough time for their answers to prevent drops into the second division.