After going three straight seasons without a winning record few people had the New England Revolution penned in as a 2013 playoff contender. But under the hardened eye of coach Jay Heaps emerged a courageous Revs side that would finish the 2013 regular season on a six game unbeaten streak, winning their last three in a row.
The form catapulted New England into the playoffs and things continued brightly as the Revs disposed of eventual MLS Cup champions Sporting KC 2-1 in the first leg of a two match playoff. In the end Sporting got the best of the Revs defeating them 3-1 in the return leg, but the loss was hardly a blight on New England's season. They had far exceeded expectations, proving to doubters that the Massachusetts-based franchise was no longer a team to be glossed over.
Players In: Paolo DelPiccolo (Waiver Draft); Brad Knighton (trade from Vancouver); Charlie Davies (transfer from Randers); Steve Neumann (SuperDraft); Patrick Mullins (SuperDraft); Teal Bunbury (trade from Sporting KC); Jossimar Sanchez (Supp. Draft); Daigo Kobayashi (rights from Vancouver); Alec Sundly (SuperDraft)
Players Out: Chad Barrett (option declined); Ryan Guy (option declined); Tyler Polak (option declined); Matt Reis (retired); Clyde Simms (option declined); Juan Toja (option declined); Bilal Duckett (waived); Matt Horth (waived); Gabe Latigue (waived); Juan Agudelo (out of contract)
LATEST 2014 MLS PREVIEWS, RIGHT HERE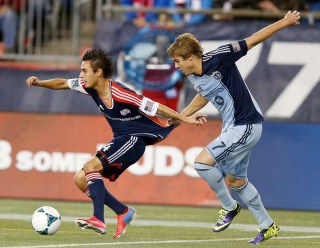 Key Player: Diego Fagundez
19 year-old Diego Fagundez was the toast of young talent in MLS last season, scoring 13 goals and registering seven assists in 31 games. That output earned the Uruguayan-born forward Most Valuable Player honors for the Revs with his goal haul making him the only teenager in MLS history to score 10 or more goals in a season.
The 5'8″ Fagundez is a versatile attacker who can impact a game from either wing or as a striker, breaking teams down with his electric speed, slick technique and clever footwork on the ball. Putting the "key player" label on a 19 year-old is a tough ask but if the maturity with which Fagundez has handled his rise to fame is any indication, the starlet is well-equipped to continue his skyrocketing status.
Manager: It took Jay Heaps only one season before he righted the ship at New England, bringing the club to the playoffs and nearly knocking off eventual MLS Cup champions, Sporting KC. Heaps has managed the turn-around by encouraging a possession-based style of play that features his side's impressive young talent (Fagundez, Kelyn Rowe and Andrew Farrell). Heaps' free-flowing offense is nicely complemented by a robust defense and an infectious team spirit that thrives on passionate play and a tireless work ethic.
In just one season Heaps took the Revs from 9-17-8 to 14-11-9, an improvement that makes him one of the most up-and-coming coaches in Major League Soccer.
Outlook: In 2014 there will be no underestimating the Revs. The biggest concern will be whether they can recover from losing Juan Agudelo, who was transferred to Stoke City and is currently on loan at FC Utrecht. Two-time MAC Hermann trophy winner Patrick Mullins, fourth overall in the 2014 MLS SuperDraft Steve Neumann and former Sporting KC stud Teal Bunbury could all provide cover for the loss of Agudelo. One or more of these gentleman will have to step up if the Revs are to continue to have offensive bite, and to reduce the physical/mental burden that young Fagundez will be facing.
Adding to New England's worries is the loss of goalkeeper Matt Reis, who retired this offseason. His veteran leadership will be sorely missed on this young squad and it will be up to Heaps to ensure a new leader steps up.
Those issues aside, New England possesses the tools to be a playoff team come next fall. And while success beyond that is certainly possible it is not necessarily expected.