Despite once again making the playoffs, 2013 was a forgettable campaign for the Seattle Sounders.
Yes, the club did manage to acquire Clint Dempsey but they started poorly and unraveled at the end of the season amidst rumors of infighting. This offseason they brought in a number of fresh faces, strengthened the defense and got rid of some deadwood.
Players In: Stefan Frei (trade from Toronto); Tristan Bowen (trade from Chivas); Chad Marshall (trade from Columbus); Kenny Cooper (trade from FC Dallas); Corey Hertzog (Re-Entry Stage 2); Aaron Kovar (Homegrown); Sean Okoli (Homegrown); Chad Barrett (Re-Entry Stage 2); Jalil Anibaba (trade from Chicago); Damion Lowe (SuperDraft); Marco Pappa (allocation)
Players Out: Michael Gspurning (option declined); Marc Burch (option declined); Blair Gavin (option declined); Steve Zakuani (12/9/13 – out of contract); Mauro Rosales (traded to Chivas USA); Adam Moffat (traded to FC Dallas); Eddie Johnson (traded to D.C. United); Jhon Kennedy Hurtado (traded to Chicago); Patrick Ianni (traded to Chicago); Fredy Montero (transfer to Sporting CP); Will Bates (waived); James Ockford (loaned to New York Cosmos); Eriq Zavaleta (loaned to Chivas USA)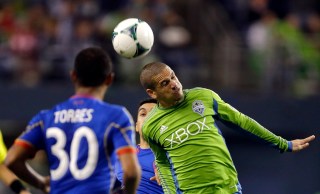 Key Player: Osvaldo Alonso
The midfield destroyer, along with Dempsey and Brad Evans, is one of the key leaders of this Seattle squad.
To ensure collapses like that of last fall don't happen again, the four time team MVP must produce both in his play and his leadership.
Manager: Sigi Schmid is seemingly never at fault for anything that goes wrong in Seattle but after completely losing the squad at the end of the 2013 season – resulting in only one win in their final 10 matches (playoffs included) – the 60 year-old will be hard pressed to produce consistent quality in 2014 or else face the possibility of moving on.
Outlook: The Sounders front office has done well to right the salary cap and clear out a number of highly paid players who failed to contribute down the line last year. With the revitalized budget the Sounders made a number of smart moves, including making Osvaldo a DP, strengthening the defense by adding Chad Marshall and Jalil Anibaba, and bringing in Kenny Cooper to add power to the front line.
Brad Evans hit the nail on the head earlier this year when he said "I think, in years past, we probably had better players. But I think we filled those shoes with better people. And it's something that had to happen." In other words, getting rid of Eddie Johnson was massive.
If Dempsey can work well with Cooper and Obafemi Martins, the Sounders could be a dangerous team down the line. Winning championships isn't likely but anything less than making the playoffs would be hugely disappointing.