.
CHELSEA'S STAR 'STRIKER,' SCHURRLE
Last week Jose Mourinho was embarrassingly caught saying Chelsea wouldn't win the PL title because his strikers can't score goals. Against Fulham on Saturday a striker/winger he's had waiting in the wings for quite some time came up trumps, as German international Andre Schurrle bagged a second half hat trick to give the Blues a vital 3-1 win against their West London rivals which kept them top of the Premier League standings.
"He [Schurrle] is a cold blooded finisher," Mourinho said of Schurrle. "He has good finishing technique, but he is not a striker."
It's no surprise Schurrle tore Fulham apart with his 'cold blooded' finishing, as Mourinho put it, as the German scored his sixth PL goal in just eight starts. It was only his second start since December when he scored twice away at Stoke City in a 3-2 loss and Schurrle's time on the sidelines, despite costing $27 million from Bayer Leverkusen last summer, seems to have done him the world of good. Schurrle discussed how his manager has helped changed him during a tough opening to life in the PL.
"We talked a lot. He told me I needed to change, to change my game and my body. And that's what I've done over the last two months. I've really worked very hard to be aggressive, to be in a good shape with my body. I did a lot in the gym. Now I'm ready to play more often."
With Samuel Eto'o scoring just six PL goals all season as a lone forward, the Cameroon international was dropped to the bench for the last two games after Mourinho's negative comments about Eto'o's age and goalscoring form were leaked by an undercover reporter. Fernando Torres looked bullish as a long forward with Eden Hazard and Schurrle feeding off him. If you look at the heat map of Schurrle on the left and Hazard's touch map, right, you can see where they operated to devastating effect. Schurrle wandered in and out, while Hazard's touches mainly came on the left as he cuts in to create all kinds of holes for Schurrle and Torres to run into.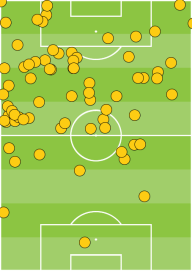 Okay on Saturday, Chelsea were playing Fulham, the PL's leakiest defense which has now given up 62 goals in 28 matches, but in the second half the Blues tore the Cottagers apart with precise movement and deadly finishing. Hazard was the catalyst for a second half revival after Mourinho had wandered into the locker room at half time, muttered "It's your s***, sort it out," then walked right out after a tired looking first half from his team that had just returned from a long midweek trip to Galatasaray in Turkey.
Hazard took the game by the scruff of the neck with sublime assists on Schurrle's first two, and Torres battle to find space and fed Schurrle for his third. Hazard now only trails Wayne Rooney since the start of the 2012-13 season in assists, as the tiny Belgian wing-man has 18 assists to his name and was a menace in the second half. As for Schurrle, he became just the third German to score a hat trick in the PL, Fredi Bobic and USMNT coach Jurgen Klinsmann were the others, and the last three PL hat tricks have all come from Chelsea players as Hazard and Eto'o had previously bagged three in one game. There's only been six hat tricks all season in the PL, and Chelsea have scored the last three in a row.
Despite that treble of, trebles… goals have been an issue this season for the Blues, and although Schurrle may not be a forward, if Mourinho wants to win the title it's probably a good idea to let Schurrle keep sniffing around up there. 'Cold blooded' finishing is something that comes in quite handy this time of year.
Premier League Schedule – Week 28

PARDEW'S HEADBUTT… FIRED OR LENGTHY BAN?
In 22 years of the Premier League, I've never witnessed anything like I saw on Saturday. With just under 20 minutes to go at the KC Stadium, Newcastle United were 3-1 up and cruising to victory against Hull City. Cue pandemonium.
For some unbeknown reason, Newcastle's manager Alan Pardew decided to contest a ball, that had gone out of play and strayed towards the Newcastle bench, with Hull City midfielder David Meyler in pursuit. The latter put his arm out and brushed Pardew aside, which the Magpies boss reacted angrily to and surged towards Hull's player aggressively. What happened next could define Pardew's entire career in soccer. TV announcers, radio hosts and pundits all gave a collective gasp as to what they were seeing before them and then exclaimed in various ways: "I don't believe it… Pardew's just dropped the nut on him." For those of you unfamiliar with UK slang, that means Pardew had just headbutted Meyler, as the Premier League manager has written himself an unwanted chapter in PL folklore.
Watch the below to see what our pundits think of the incident, and no matter if Pardew's coming together with Meyler looks slightly timid, the Newcastle boss did duck his head and attempted to headbutt Hull's midfielder.
.
Should Pardew get the book thrown at him? Yes. Should he be fired? Many think so. Is he likely to get a lengthy ban? Most definitely.
The man who signed a ridiculously long eight-year contract at the start of last season has thrown his future into disarray after one of the most bizarre and ill-thought out incidents in the league's history. It's not like he hasn't had previous, either. This season his coaching staff have been involved in a brawl with Southampton's bench on the sidelines, plus Pardew himself was warned about his conduct after verbally abusing Manchester City boss Manuel Pellegrini, which was picked up by TV microphones. And last season Pardew also pushed a linesman who was just in front of his technical area, and got in serious trouble for that. The long and short of it is that Pardew was in the wrong and he knows it, Newcastle already fined him $167,000 and more is to come from the English FA. This incident on Saturday is bigger than Pardew's previous discrepancies put together.
"It was a heat of the moment thing," Pardew said. "I massively regret it and I will have to sit down from now on. Of course, I didn't mean to do anything aggressive. I did move my head forward and that's enough. Perhaps I need to sit down from now on. It's a shame beacons it's taken the gloss off a terrific performance. Of course I apologize. I represent a big club."
His punishment should be harsh and swift, as Pardew will likely not coach in the PL again this season. After that? Who knows. There's simply no other incidents' to use as a measuring stick, because we've never seen anything like this in PL history.
FOUR BECOME THREE – GOODBYE GUNNERS

Some would argue we've never seen a title race in PL history like the one we have this season. Before Week 28, four teams were battling it out at the top of the standings to try and lift the crown; scratch that, make it three.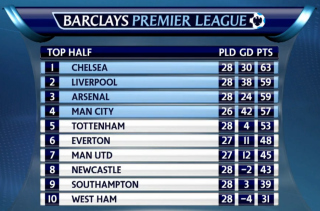 Many knew February and March would be pivotal months for Arsenal as the Gunners battled it out on multiple fronts to win their first trophy since 2005. And as many expected after previous late winter/early spring collapses, Arsenal have once again fallen by the wayside. Stoke City beat Arsenal 1-0 on Saturday at the Britannia Stadium, as the Gunners title hopes seem to have all but evaporated. In their past four PL games they've lost 5-1 to Liverpool, 1-0 to Stoke, drawn 0-0 at home to Manchester United and beat Sunderland 4-1. Sandwiched in between that was a morale shattering defeat to Bayern Munich in the Champions League, as Arsene Wenger could well be forced to zip his incredibly puffy jacket all the way up, to hide his eyes from the horror of seeing his side implode before him.
The sad thing is, we all knew this collapse was coming. Pundits, Arsenal's fans and strange as it may seem… Wenger and his players. Time and time again I've been in post-match press conferences where Wenger has been asked about his teams title charge. Non-committal and lackadaisical would be the words to sum up the responses Wenger dishes out. The entire season he hasn't believed in his side to win the title, and that negative vibe has now eaten away and eroded the confidence of his players.
Latest Premier League Standings
Against Stoke on Saturday the Gunners crumbled under the pressure of it all, as wins for other table toppers compounded what has been a miserable few weeks in the red half of North London. They've had to deal with Olivier Giroud's off-field issues with adultery and lack of form, Mesut Ozil choking against Bayern in the Champions League then being dropped, humiliation away at Liverpool and now a damaging defeat at Stoke. The Gunners still have the FA Cup to play for, and right now it seems as if their main focus should switch to that as they search for a first piece of silverware in almost a decade.
Four points off the lead with games against Tottenham, Chelsea, Manchester City and Everton coming up… it looks like Arsenal's PL title dream could be over for yet another season.
U.S NATIONAL TEAM UPDATE: IT'S GOING WELL…
.
Three out of the five U.S. internationals plying their trade in England's top-flight fared extremely well over the weekend. USMNT 'keepers Brad Guzan and Tim Howard both grabbed big wins, Guzan's Villa eased any lingering relegation worries they had, while U.S. defender Geoff Cameron helped Stoke to a massive upset victory over Arsenal at the Britannia. Cameron and Stoke have now beaten, Chelsea, Manchester United and Arsenal at home this campaign and have given themselves some breathing space in the race against relegation.
The Potters should easily keep their PL status for next season, and Cameron once again looked assured and aggressive from the right back spot he has made his own. In the second half he also had a great a chance to score but the chance flew just wide. That would've capped off a marvelous day for Cameron and Stoke.
Elsewhere there was more disappointment for Jozy Altidore as he didn't make Sunderland's 18-man squad and the Black Cats let an early lead slip to lose 3-1 against Manchester City in the League Cup final at Wembley. But a brighter moment came for the U.S. national team and Clint Dempsey, as Deuce looked fired up from the start as he marked the final game of his loan spell at Fulham by almost scoring vs. Chelsea and putting the opponents defense under intense pressure. Good signs that Dempsey is finally get back to full fitness as he heads back to Seattle for the start of the 2014 MLS season.
Above is a video recap of all eight games in the PL this weekend, as the League Cup final meant we'll have to wait a little longer for a second installment of the Manchester derby which was postponed. Week 28 is in the books, folks. Relive it.
Premier League Playback takes an alternative look at all the weekend's action from the PL, it comes out every week.